A troubled economy, soaring fuel prices and the abrupt closure of the sport's last remaining national series in late June, are all reasons why 2010 looked to be one of motorcycle drag racing's gloomiest and pessimistic years.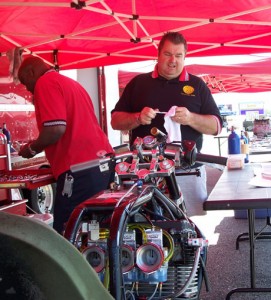 Longtime Murdoch Racing Enterprise owner and dragbike enthusiast Jay Regan is hoping to reverse the trend and end the season on a high note.
Regan, along with support from eight other industry companies, will run the finals in Valdosta, Ga., Nov. 12-14, as they were scheduled to be contested by the now defunct AMA Dragbike organization.
Although Regan makes no guarantee that this season finale will lead to a national series next season, he is possibly on the cusp of a concept that could revolutionize the sport.
"When Scooter (former AMA Prostar owner, Keith Kizer) wanted to get out in 2006, I was the first one to talk to all the different companies who supported the series to see if we could get something going on our own," Regan said.  "The businesses are the ones who pump money into the sport. We are also the ones who depend on the series surviving, so why do we need someone else to take orders from? We've taken orders from so many promoters over the years, why don't we do it ourselves?"
Clearly Regan is not alone in that school of thought. Along with his MRE backing, Regan has gained support from Brock's Performance, Fast by Gast, MPS, MTC, Orient Express, PR Factory Store, Schnitz Racing and Star Racing.
That's an impressive list of supporters, considering all of these companies spent full-season advertising dollars with AMA Dragbike at the beginning of the year and were not refunded after the series only made it through four of eight races before folding.
Regan believes it's possible for competing businesses to co-exist and work in harmony for the good of the sport if everything is conducted fairly.
"We all have people we don't care for and I'm sure there are people out there who don't care for me. At the end of the day, if it makes sense to do business together, that's what we are going to do," Regan said. "Everybody will have a voice.  We will not let personal grudges or hard feelings dictate any of the decisions we have to make."
Regan promises to use the same strict business acumen he has used to make MRE a financial success to ensure the Valdosta Manufacturers Cup Finals is a financial success.
"Part of the reason AMA Dragbike is gone is because it carried way too much expense," Regan said. "We are ready to make the tough decisions to keep dragbike racing alive. Everything is going to be looked at thoroughly and decisions will be made as a committee."
One such dilemma the committee will face is which direction to go with the fan-favorite Top Fuel class.  Nitro bikes have a history of being a huge attraction if marketed correctly, but a rain-plagued race or dismal gate often leaves little funding to pay the expensive Top Fuel purse. Also Top Fuel participation has often been limited to only one or two racers as of late.
Regan says he has a verbal commitment from five different import Top Fuel competitors to attend the finals.
"I love nitro racing and I know it's expensive, but these guys have to understand if only four bikes show up, the purse is going to reflect that," Regan said. "We are going to have to find a way to make it work financially."
Many experts, such as Top Fuel legend Larry "Spiderman" McBride, have suggested that the sport needs the presence of both the import and Harley Top Fuel bikes to survive. The problem is most Harley riders don't want to race against a quicker McBride. Also they are accustomed to receiving hefty payouts from the Screamin' Eagle supported AHDRA Series.  Regan has a solution.
"They don't want to run Larry, fine.  They want $7,000 to win, fine.  I'll give them their own class. The entry fee will be $1,000 and I'll pay it back," Regan said.  "These guys aren't poor. If you own a Top Fuel Harley you aren't on Welfare.  People spend that kind of money to enter poker tournaments."
Regan is still awaiting feedback on his bold proposal.
For now the event being billed as "The Largest Motorcycle Drag Race of the Decade" will feature Top Fuel, Pro Comp, Pro Street, Top Gas, Super Comp, Real Street, Super Sport and Street Fighter classes.
For dragbike racers, maybe 2010 won't be that bad after all.