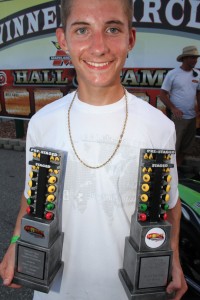 The Adams Performance/RS Motorsports team picked up four huge wins at America's biggest all-motorcycle drag race—Maryland International Raceway's July 17-18 Fast by Gast WPGC Bike Fest. One Real Street and two Pro Street wins for rider Jeremy Teasley and a Real Street B win for team boss Coby Adams meant the team returned to the Carolinas loaded with checks, trophies, and thousands of new fans.
Although "Target" Teasley's famous HTP Performance Real Street win streak was broken, a new one started in Orient Express Pro Street. In the heat of the summer, Teasley's nitrous oxide huffing Kawasaki ZX14 has proven to be the most competitive and consistent combination in a class that has been dominated by turbocharged bikes for nearly 10 years.
After leaving the tree within .001 of each other, Teasley ran 7.31 to pull ahead of number 2 plateholder Rodney Williford for the rain delayed June race final round win. Sunday's race saw plenty of Pro Street upsets, with number 1 qualifier Bud Yoder breaking in the water box before his round 2 match with Sean "Skinny" Walsh. Sean carried that break all the way to his first Pro Street final against Teasley, and stepped up by taking the tree and running his quickest lap of the weekend. But that wasn't enough to keep Teasley and the Adams/RS team from their second Pro Street win of the event.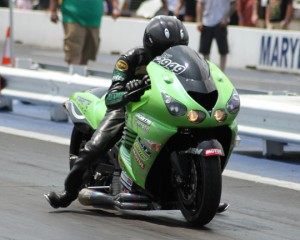 "Both the finals were very close, and it felt pretty good to get two Pro Street wins with a nitrous bike," said Jeremy. "Garron (crew chief Garron Miller), Coby, and Roger (owner/tuner Roger Starrette) are starting to get a very good handle on it, which gives me an easy bike to ride. So they get all the credit, I just show off how good their skills really are."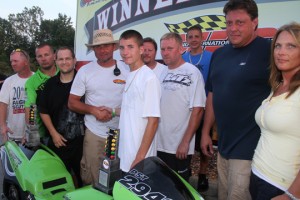 "The kid definitely rode it in the finals," said Garron. "Wheelied, short shifted it, and pulled out a win again. But that Pro Street Kawasaki was a bracket bike. I think Roger wanted to put it in Pro ET, Quick 32, and win them all!"
"After we got the Pro Street bike halfway figured out, we didn't touch it all weekend," said Coby. "We really couldn't ask for a better motorcycle than that, with those Roger Starrette Racing nitrous jets. I think he tells us there's a certain jet in there, but it's really bigger!"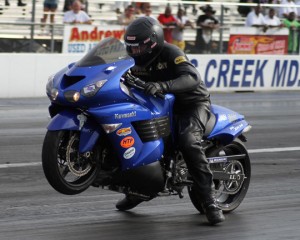 And the team's Pro Street points total got dramatically bigger as well. "I was looking at the points," said Jeremy. "We made a big jump (up to second behind Williford) and I'm hoping to keep it up for the next three races. We'll see."
The bounty that the Mickey Thompson Performance Tires MiRock Superbike Series levied on Teasley's head had swelled for the July race and Adams' former rider Chip Ellis planned on taking it back to Indiana with him. But before Ellis could take on Teasley for the win, Jeremy had some unfinished business to attend to. He still had to win the rain delayed June final over Eddie Murphy and that he did on Saturday, doubling the bounty for anyone that could beat him and his Adams Performance/RS Motorsports Kawasaki ZX14 on Sunday.
No combination rose to that challenge better than multi-time AMA Prostar national champ and NHRA national event winner Ellis. Chip qualified number 1 and made his way to a semifinal made up entirely of riders who'd ridden for Adams Performance at some point in their careers—Ellis himself, Ryan Schnitz, superstar Rickey Gadson, and current pilot Teasley. Ellis advanced in style, nailing a record 7.83 to beat Schnitz. Teasley beat Gadson, then took the tree against Ellis in the final. But setting the record was no fluke for Chip, and Blake Ritter had the bike firmly in the 7.80's at this point. Teasley, running a whole new nitrous system installed by Starrette, was stuck in the .90's and event promoter Jason Miller handed the cash bounty over to Ellis in the MIR winners circle.
"I think it's my fault we didn't win them all," said Roger. "I'm a tinkerer, I can't leave anything alone. After the last race when we ran an .83, I changed the whole nitrous system and several other things on the bike. That's just me. I was aiming for the .70's and found myself in the .90's, but we'll get there."
"Chip was on the whole weekend," said Jeremy, who maintains a vast lead in Real Street points. "He and Blake are a good team and I couldn't have lost it to better people. I'd love to see them come and race the last three races."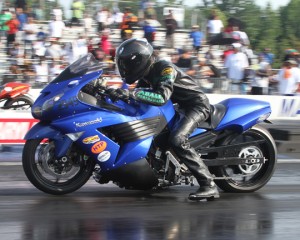 Adams is final round tested after many matches with his rider Teasley, but couldn't get his own ZX14 to hook up on Saturday and was stuck in the B race on Sunday. "I never made it down the racetrack on Saturday," said Coby. "The first two passes I spun, then the next two passes the bike shut off. Blew the main fuse. So I had no idea what we'd have today. Then in the shakedown it went an 8.05—not bad." But the bike fluctuated as the day wore on. Coby's worst light and ET of the day came in the final against fellow builder/tuner heavyweight Del Flores. But Del and his 'Busa were hovering around 8.40 and Adams had enough in the bank to take the B race. "My favorite part of the weekend, though, was the Real Street semifinals with all my old riders in it," said Coby. "That was pretty cool seeing all them fighting it out, and ol' Chip pulling out the win and getting the bounty for beating Jeremy."
"All in all, we had a very good weekend," said Jeremy. "We had fun with everybody and I'm really looking forward to Rockingham."
Adams Performance races next August 21-22 at the Schnitz Racing Summer Sizzler at Rockingham Dragway in Rockingham, North Carolina, USA