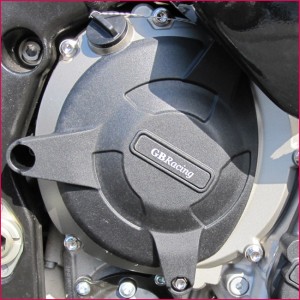 Orient Express is excited to present GB Racing Motorcycle Protection systems to the U.S.A.! GB Racing, manufactured in the U.K., provides the finest protection kits available for a wide range of Japanese and European sport motorcycles. Protection bundles can include secondary engine covers, frame sliders, shark fins, swingarm spools, and axle sliders which are designed specifically for each bike. GB Racing protection bundles offer tremendous security for the street or the track, often at a fraction of the price of other products – you can have more protection for less cost!
All GB Racing protection bundles are precision engineered using advanced CAD/CAM techniques, and feature injection molded 60% Long Glass Fiber Nylon components. Long Glass Fiber Nylon is high impact fracture resistant, and also resists wear from abrasion (sliding on the pavement) better than conventional materials like delrin, billet aluminum, or cast magnesium. Long Glass Fiber Nylon materials absorb more energy before and after an impact or fracture when compared to traditional crash protection materials, because the long fibers direct the energy pathways. This allows less energy transfer to the motorcycle, because the specially designed materials absorb the energy without transmitting it.
Injection molding allows for precise tolerances and exacting fit over the OEM engine covers, without the need for messy adhesives. Rapid prototyping allows GB Racing to produce protective covers for all the engine covers on your machine, including hard to protect clutch covers and crankshaft covers. Replacement hardware is provided where necessary for an easy installation.
For more information regarding GB Racing protection bundles, and the complete range of products, please contact Orient Express or visit www.orientexpress.com. Orient Express is proud to be a warehouse distributor and your supplier of choice for advanced technology, custom engine work, and exceptional service since 1973.