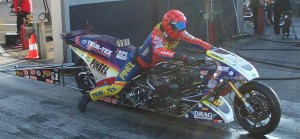 Don't try telling Top Fuel dragbike legend Larry "Spiderman" McBride  it's been a slow year for motorcycle drag racing.
He won't have time to listen because the 10-time champion is busier than ever.
This coming weekend, August 27-28, McBride will make exhibition passes in front of what is expected to be a huge crowd at Summit Motorsports Park in Norwalk, Ohio for Pinks All Out.  McBride will make a minimum of three passes at the event. The race will be centered around the popular television show Pinks, which will air on the SPEED network.
"I'm very excited.  It's always a thrill to run in front of that many fans.  It gives me the opportunity to really get my sponsors out there as well," McBride said.  "Last year at the Norwalk AMA race, Bill Bader (Summit Motorsports Park President and Co-Owner) asked me if I would be interested, and I said most definitely."
For now, McBride doesn't plan to take part in the Pinks-style racing. Instead he plans on dazzling fans with low elapsed times.  McBride will be leaving off a pro tree and not the arm drop of Rich Christensen, and The Spiderman says he won't be running for pink slips either.
"I don't have a title," laughed McBride.  "I'll run for lane choice though."
McBride enters Pinks fresh off another popular motorsports show: TLC's American Chopper.  The Top Fuel icon was recently invited to Lebanon Valley Raceway in East Nassau, NY to ride Orange County Chopper's (OCC) new electric drag bike. McBride propelled the innovative machine to a best time of 8.50 at 155 mph.
"It was like nothing I have ever ridden before.  It was so quiet when I had it up on the starting line. I could hear people talking.  Once you got it going, you could hear the tire spinning," McBride said.  "It was a lot of fun, but it was certainly no Top Fuel bike."
For McBride the ultimate thrill was getting to hang out with Paul Teutul Sr. and touring the posh OCC shop in Newburg, NY.
"Paul was really down to earth. He's a very cool guy," McBride said. "His shop is phenomenal.  All of the employee parking is underneath the shop and it's climate controlled all year long.  The whole building is unbelievable."
The show is scheduled to air on TLC in September.
McBride is also eagerly anticipating the recently announced Manufacturer's Cup in Valdosta, Ga. in early November.  McBride praised Jay Regan of MRE for putting together this season-ending event in light of AMA Dragbike going out of business. Regan has verbal commitments from McBride and four other Top Fuel riders to attend the race.
"I'm definitely going. I had 28 emails the day the race was announced, and I have had several more since," McBride said. "Right now we need to all pull together and keep this deal going."
Chris Hand, Korry Hogan, Jeff Pollard and Tom Perry are all expected to attend the race.
McBride remains optimistic on the future and extended a special message to all of his sponsors and supporters.
"Thanks a lot for hanging in there with me.  We got a lot of good things coming up. The future is bright," McBride said.
The team thanked; Pingel Enterprise, Drag Specialties-Parts Unlimited, Red Line Synthetic Oil Corporation, K&N Air Filters and Web-Cam as well as his other sponsors.
Trim-Tex Drywall Products, Vance & Hines Motorsports, PR Factory Store, Muzzys Performance, Ferrea Valves, Kibblewhite, Precision Machine, World Wide Bearings, Vanson Leathers, Performance Machine, Belt Drives Ltd, Street & Competition, Simpson Race Products, Nitrous Express, APE, EK Chain, Arias Pistons, R/D Spring Corp, Autolite, MSD, Protect ALL, Whipple Industries, Cometic Gaskets, B&J Transmission, Carolina Cycle, L.A. Sleeve, PJ1, Mickey Thompson Tires, Valco, Goodridge, Carlisle Belts and Gates Belts.