Mickey Thompson Performance Tires MiRock Superbike Series headlines have mostly screamed "Jeremy Teasley" so far in 2010, as the Ohio teenager has dominated the season at the nation's biggest all motorcycle drag racing events. And it didn't look like it would be any different in Orient Express Pro Street at the end of Saturday's qualifying sessions for the Schnitz Summer Sizzler at North Carolina's Rockingham Dragway.
Teasley laid down a perfect final round lap to set a new street legal nitrous record of 7.19 on the lime green Adams Performance/RS Motorsports Kawasaki ZX14 and claim the number 1 spot. But the team swapped motors overnight and a clutch malfunction pulled Teasley through the staging beams in round 2, giving Brandon Tyree an uncontested win on Big Bo Miller's nitrous Hayabusa.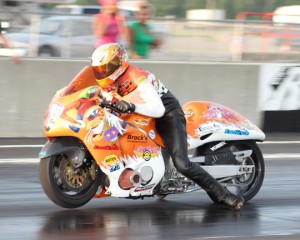 Tyree carried the opportunity all the way to the final against longtime independent racer Ken Edwards and his "No Joke" turbo 'Busa. If not a thing of beauty, the nighttime final was at least exciting. Tyree spun at the hit, while Edwards nailed a James Bond .007 light at the tree before an alternate set of spins and wild wheelies that nearly threw Ken off the bike. The would-be rodeo rider stayed with it and crossed the line for his first Pro Street win in dramatic fashion.
Second generation racer Caleb McDougald won HTP Performance Real Street aboard the Mike Mace Racing/Team Dre Suzuki GSXR1000. McDougald beat record setting number 1 qualifier (7.836) Johnny "Turbo" Dobrin in a classic nitrous vs. turbo, 1000 vs. Hayabusa final round.
Teasley's huge Real Street points lead caused the Adams Performance/RS Motorsports team to neglect the class at this event and focus on setting records and gaining points in Pro Street, and Jeremy lost to team boss Coby Adams in round 1 of Real Street on Sunday when Coby drove around Jeremy at the big end.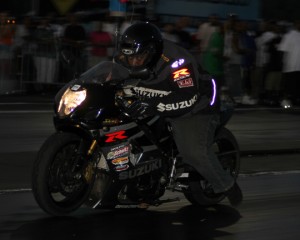 One class that didn't see a fresh winner was Schnitz Racing Street ET, as frequent champ Stanley Russell took both wins on the weekend, beating Gerrell Clemons on Saturday and Terry "T-Bone" Singleton on Sunday. Nitrous Express Pro ET wins went to Eric Griffith over Kenny Cornell on Saturday and Shawn Smith over Michael Herman Jr. on Sunday.
"Eddie Who?" Chapman broke the three-way tie for first in the House of Speed Crazy 8's points battle by beating Ray Morris in the final. "Fearsome" Andy Baumbach won the Motorcycle Tire Outlet 5.60 final with a better light over Jim Shifflett, who also runner-upped to Shayne Proctor in FBR Shop Quick 32.
And finally, local hero Johnny "Airtime" Locklear took a dramatic after-hours grudge race win late Saturday night over the Leonidas bike. In all, 394 riders from 14 states competed in the Schnitz Summer Sizzler.
The Mickey Thompson Performance Tires MiRock Superbike Series races next October 2-3 at Maryland International Raceway in Budd's Creek.
Find out more about the MiRock Superbike series at http://www.mirockracing.com