An interview with Team Spiderman crew chief Steve McBride following the team's record performance at the AMA/Prostar National Finals, Nov. 3-5, 2006.
CycleDrag – Your team recorded an astonishing nine five-second runs, and Jimmy Brantley ran the quickest pass ever.  Where did this performance come from?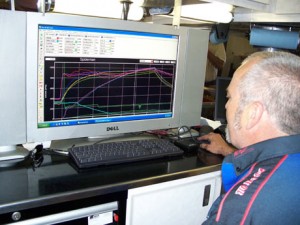 Steve McBride – The air was awesome and the track was superb. We tore up three tires on each bike because the track was hooking so good. We couldn't get enough wheel speed. You need to be able to black-track, and lay down a nice print. We were throwing everything we had at the track and they still weren't black-tracking. We went back to the drawing board and made a few changes to get the clutch spot-on.
CycleDrag – Were you surprised to see Brantley run 5.800
Steve McBride – I was shocked.  We didn't have anything set-up out of the ordinary. Larry (McBride) was behind him in the water-box and asked me, "Is my timing the same as his?"  I said yes and he said, "turn me up."  Larry's bike was set-up to run a 5.70 for sure.
CycleDrag – Larry ran a 5.91, what happened?
Steve McBride – He hurt a valve in cylinder No. 2. If it stayed together it was going to be a new record.
CycleDrag – You and Larry won your first championship way back in 1991. How's it feel to now be an eight-time champion crew chief?
Steve McBride – It's unreal.  Last year I won with my best friend Jimmy, and this year I won a seventh with my brother. It's a lot of hard work, but we live for this.
CycleDrag – What was the most difficult part of the weekend?
Steve McBride – We spent a lot of time changing motors and tires.  It can get kind of hard for this old 50-year-guy. (Steve turned 50 on October 27th.)  It's okay though.  Larry is chasing me.  (Larry is 48)
CycleDrag – Anyone that has ever walked by your pit area at the races knows there's hardly ever a moment of inactivity. What's it like to have an experienced Top Fuel rider and tuner in Roland Stewart helping to turn the wrenches.
Steve McBride – Ro and (his son) Chuck are the best two crew guys you could ever find for a motorcycle race team. I'm not sure if it's because of their father-son relationship but they are so well orchestrated and they work so well together. It's to the point now that I don't come out of the trailer until they tell me that we are ready to set the clutch.  It gives me more time to look at the computer and consult with Larry and decide what's going happen.
CycleDrag – Congratulations again.  Is there anything you would like to add?
Steve McBride –  Thank you and yes.  I would like to thank all of the sponsors, AMA/Prostar and the entire team.