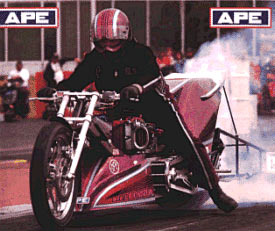 On September 1, 1996 motorcycle drag racing lost perhaps the greatest Top Fuel rider in the sport's history when Elmer Trett came off his motorcycle at the top end of Indianapolis Raceway Park.
Trett was a trendsetting genius in the world of drag bike racing. During Trett's career, his incredible home-built dragbikes reset, often shattering, the world elapsed-time and speed records over 15 times, including the legendary, long-standing record blast of 6.06 at the 1996 Prostar Pingel Thunder Nationals. Trett was the first man over 200, 210, 220, and 230 mph. For his influence and impact on the sport the NHRA recognized Trett as number-50 on its list of the greatest 50 drivers of all time – highly impressive considering the NHRA is an organization showcasing primarily four-wheeled vehicles.
Racers Comments –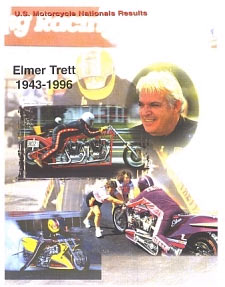 Five-Time Top Fuel Champ Tony Lang – "To me he was the innovator and everyone else just copied off him. Elmer took the sport to where it is today. He was the reason I raced Top Fuel. I remember I wanted to build a Funny Bike in 1990 and Elmer talked me out of it by telling me he'd buy me my first five gallons of nitro if I built a supercharged bike. It ended up being one of the best decisions I ever made."
Top Fuel Record Holder Larry McBride -"Elmer was everything to me. He was my mentor and best friend. If it weren't for him I wouldn't be racing. Where I'm at today is because of Elmer. We used to tour the country match racing. I never had the money back then to race, Elmer footed the bill for me and I paid him as I won. He was so far ahead of everybody; he had five-second power in 1996. Every time I go down the racetrack I wear one of Elmer's T-shirts, and I always will. I think about him every race, every lap. He was actually the first in the fives because he was ahead of me on my t-shirt when I crossed the line. I'd give everything up, all the records, all the championships, just to be able to call him up on the phone and talk for three hours like we used to."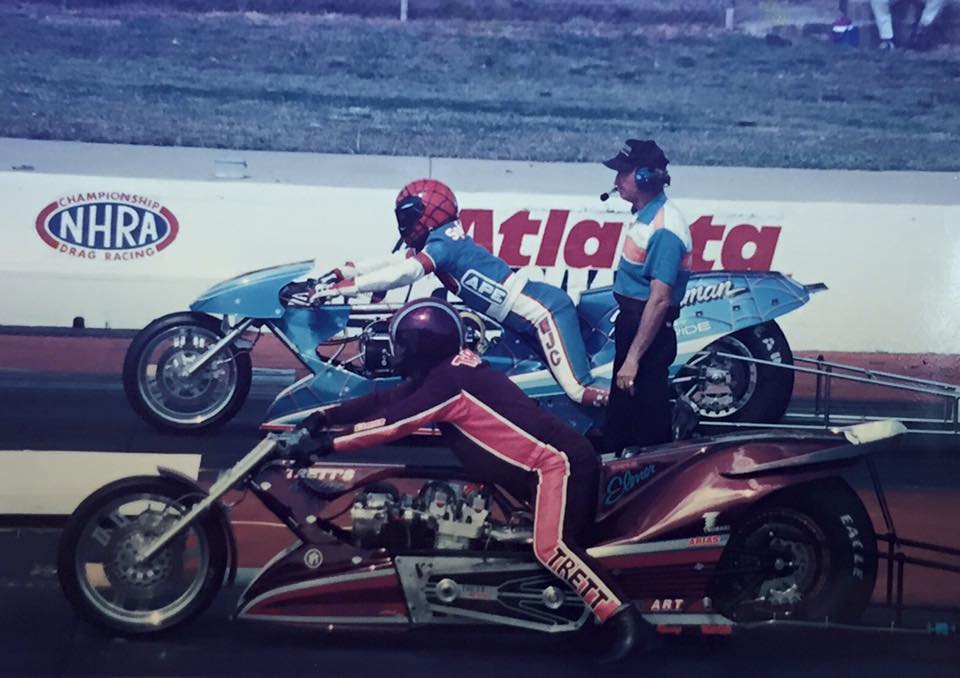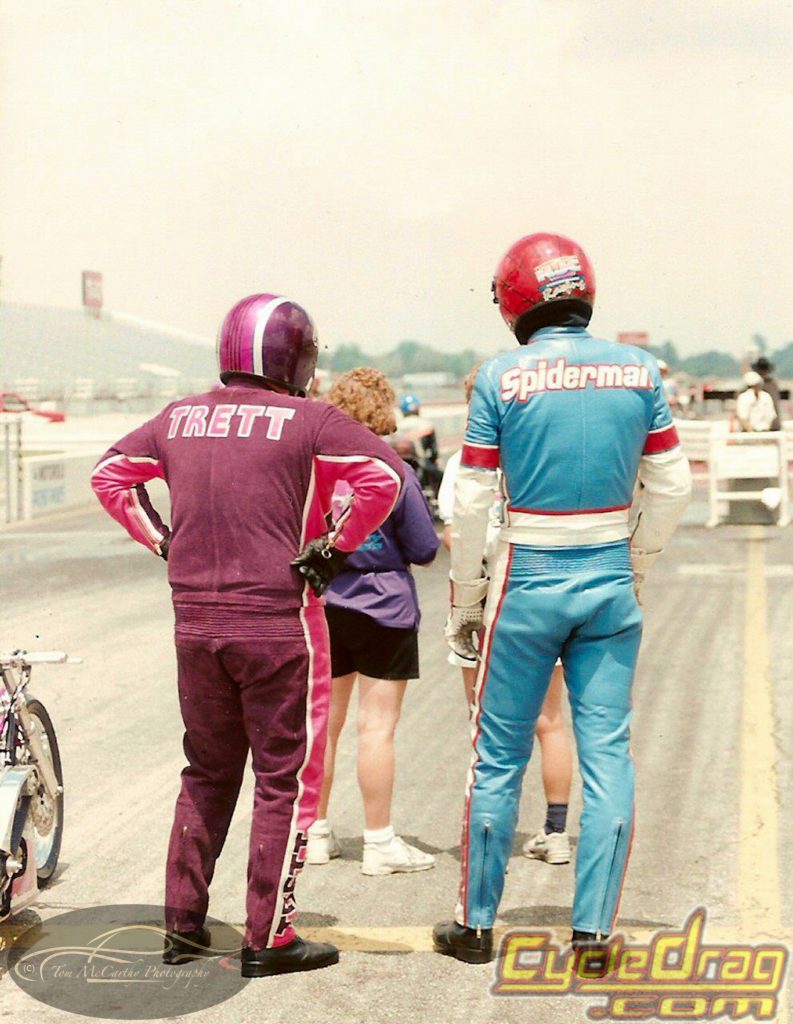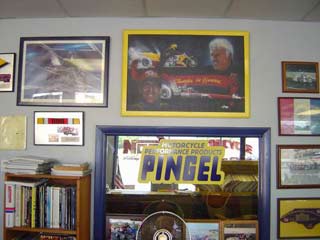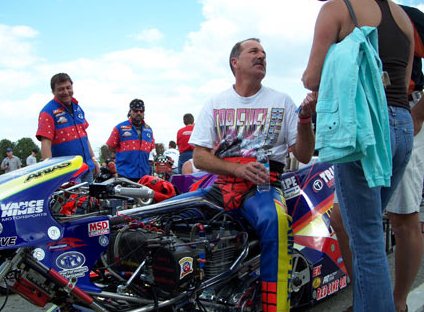 Top Fuel Racer Chris Hand – "Elmer and Gina tuned my bike to it's first ever six over the telephone. To me he was a friend, brother, father figure, and above all a hero. We would not be running today if it weren't for him. He kept me going when there was absolutely no money in it. They say it's better to live a single day as a lion than a lifetime as a lamb. Elmer spent 53 years as a lion."
Vance & Hines Byron Hines – "He was the most tenacious Top Fuel racer that there was. He put Top Fuel on the map because he never quit working on his stuff. He put together those bikes with hand made parts. He was the man."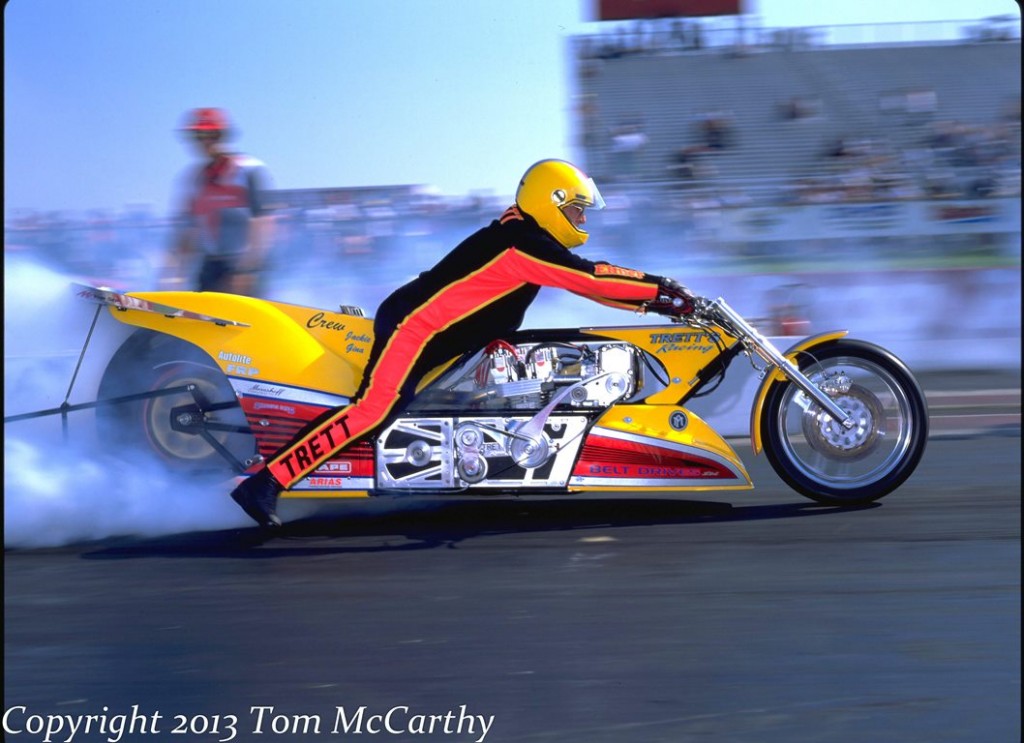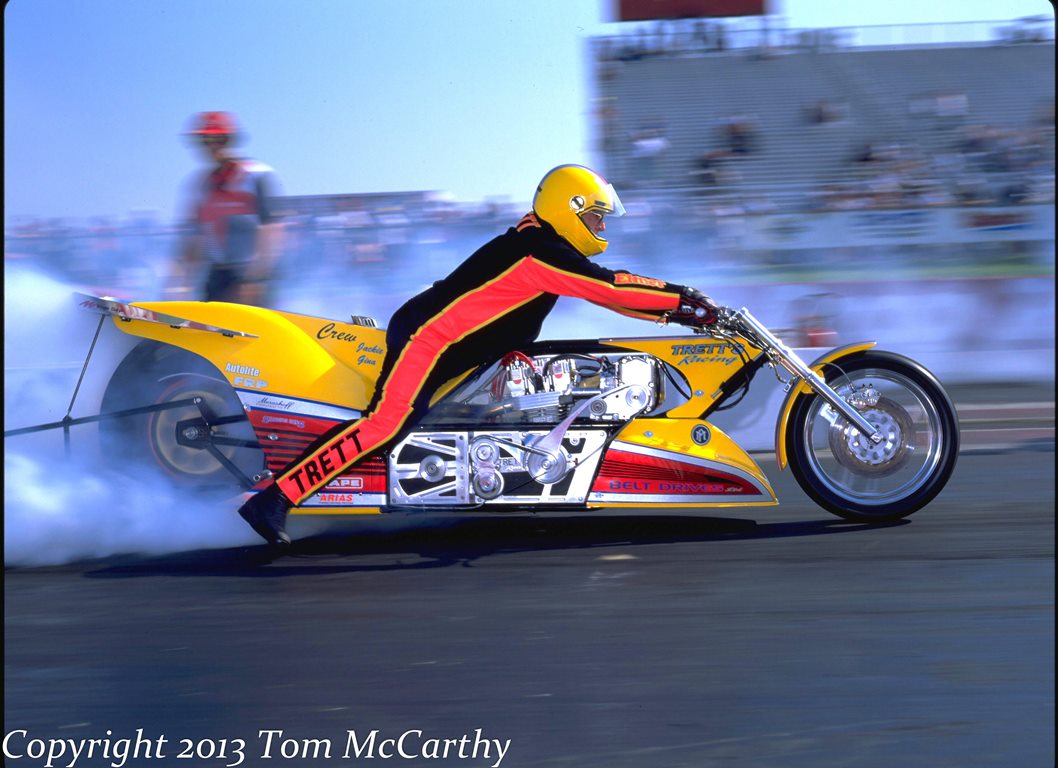 Star Racing Founder George Bryce – "A lot of people didn't know that he also had a great communication with Top Fuel car teams. When I worked on the Close Call Team, Jim Head would always compare notes with Elmer. Everybody was amazed at how much insight he had. He was an encyclopedia of engine theory. Whenever I had a tech question I had to include Elmer."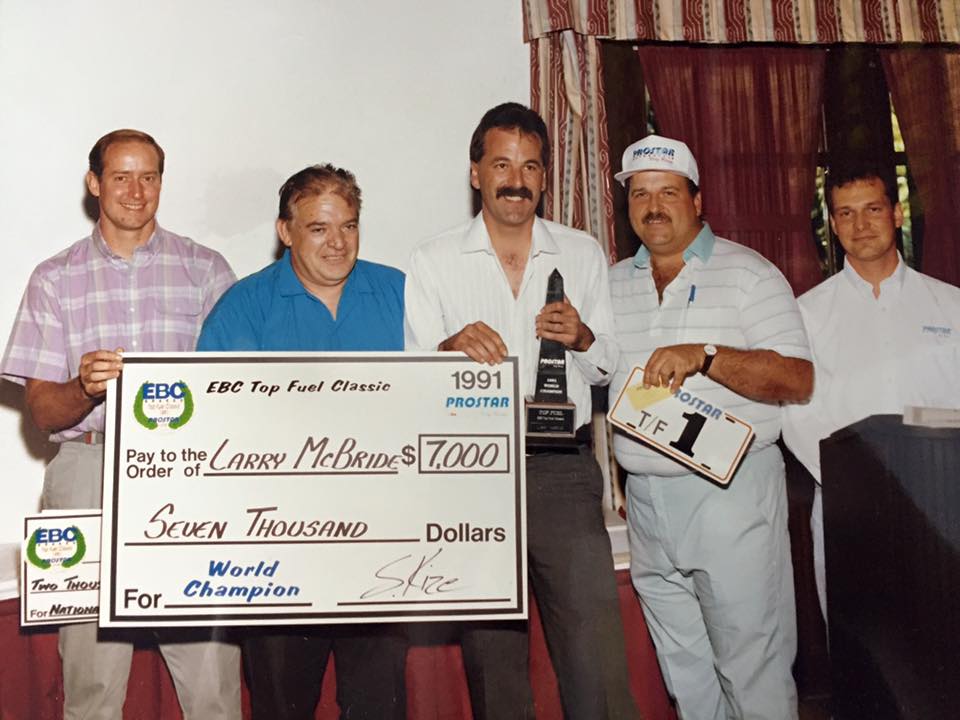 Former Top Fuel champion Terry Vance – "I remember we were at a race in Cincinnati in the mid-70s and we didn't have enough tires to finish and nobody would help us. Elmer came over and gave us one of his. That's just the kind of guy he was. He did so much for the sport; I think anybody racing a drag bike today owes a lot to Elmer Trett."
Former AMA/Prostar CEO Scooter Kizer -"He was the godfather of motorcycle drag racing. He was our Don Garlits. Back in the early 90s the main phone call we would always receive before an event was, "Is Elmer going to be there?" Elmer was my go-to-guy. If I had a big decision to make I would always go and talk to him. It was a big deal to me to have Elmer as a friend."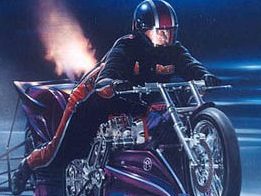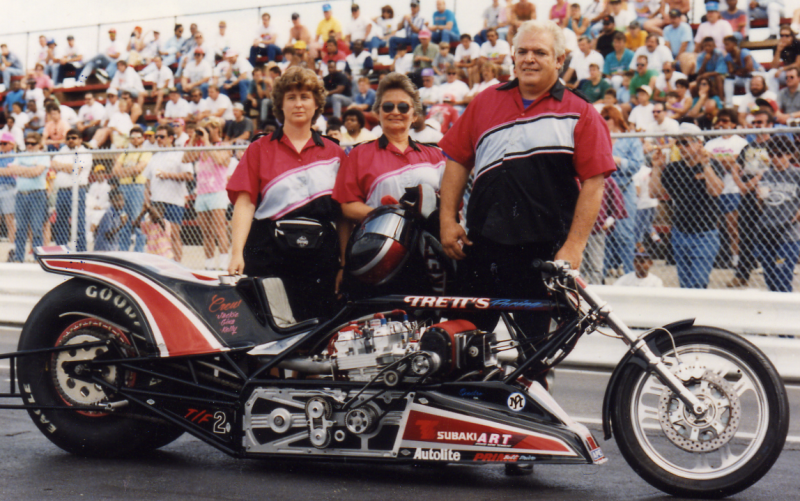 Engine builder Greg Cope – "When me and Dave Schultz were racing he was the man I would bounce my ideas off of. He was a great man to confide in. He was the best innovator this sport ever saw."
Announcer Lewis Bloom – "His 6.06 was a stunning pass that everyone was just blown away by. What I remember most is how the fans were totally in awe as he came back on the return road. He's the guy that really created Top Fuel and made it what it is. Anybody who knows drag racing knows Elmer. He was bigger than life."
There are more videos on the Cycledrag Youtube channel (please subscribe here) and the Cycledrag.com Facebook page (Please like here) and more will be coming soon. Check back daily.