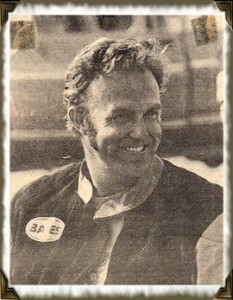 There are many memorable moments in motorcycle drag racing that racers talk about, especially when bench racing. Notable moments in time that everyone seems to know a little about, but not necessarily the correct story of what really happened. Remembering Marion Owens "Big Bang" is one of those moments.
In amongst the nitromainiacs racing fraternity, that bunch of racers who believe that gasoline is for washing parts, alcohol is for drinking, and only nitromethane is for racing; there's a long told tale of a dark but lucky day. It's known as "The Big Bang." A day when two great motorcycle fuel racers went to a drag strip, didn't make a single pass, blew their stuff up, packed up and went home. Even the best of the best have a bad day now and then. When nitromethane racing, a big bang will do that.
Nitromethane is a hard, merciless, teacher.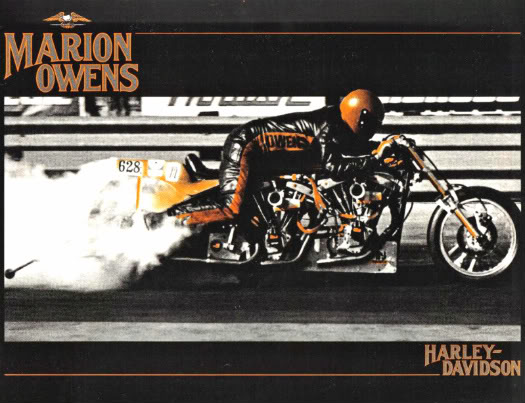 Did such a day really happen? If so how did it? Why not ask the man who is at the center of this eventful moment in fuel bike racing history: Mr. Marion Owens?
Recently I did just that, I called Marion. He is in his 70s and he's sharp as a knife, that man. Over seven decades of memories fill his recollection center and while some memories fade, the "Big Bang" is not the kind of moment a man just up and forgets, certainly not Marion Owens. It's not every day a racer starts their motorcycle and the start up alone carries a price tag of about $10,000 worth of expenses.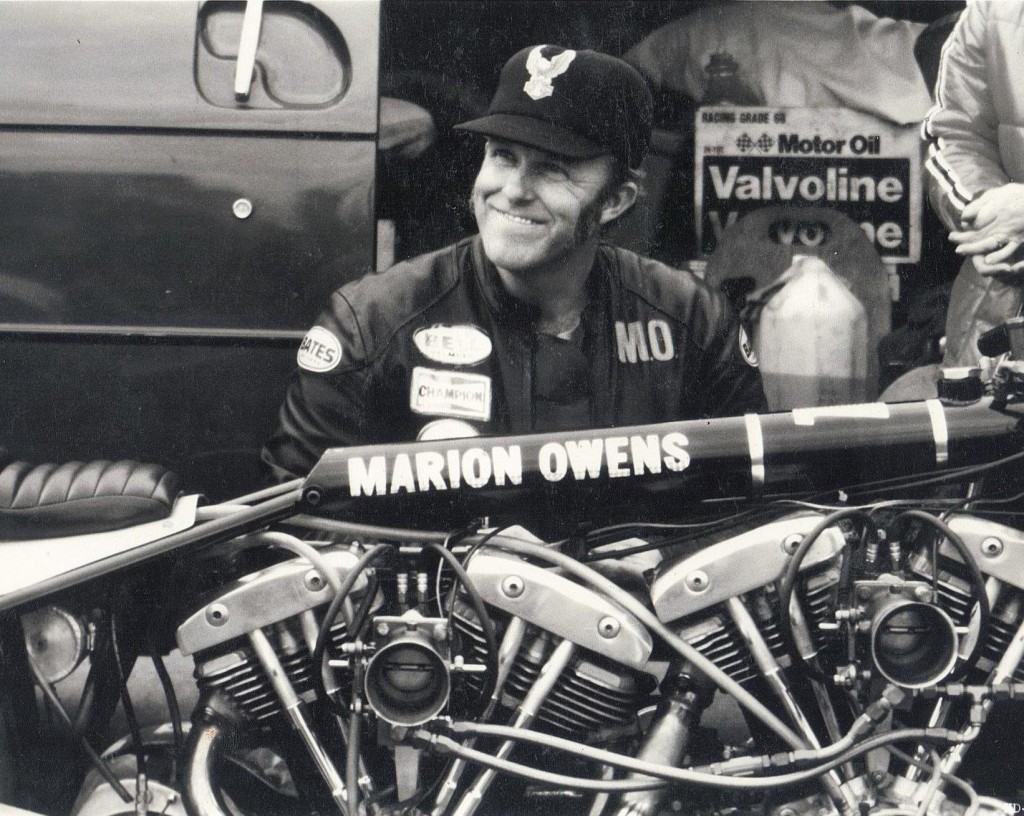 Together with some archival research and Marion's memories, we recalled what occurred the day of the Big Bang. It happened in October of 1978 at a DRAGBKIE! sanctioned event in Atco, NJ.
Marion Owens, also known as "Big Mo" by his fellow racers, left his Oklahoma City shop just a few days before the Atco race to stop in Ohio to pick up a racing buddy, Elmer Trett, on his way east. Elmer always greeted his friend with "Hey big boy," upon meeting and the two were soon off to the races.
In 1978, Elmer was in his third racing season of Top Fuel and his bike was down at the time, so rather than sit at home on a racing weekend, he offered to crew with his big buddy Marion. Marion's wife Kathy needed to stay home with the children that weekend, Tammy and Bruce. Marion's family was normally his pit crew, but as fate would have it, this trip was destined for Marion and Elmer.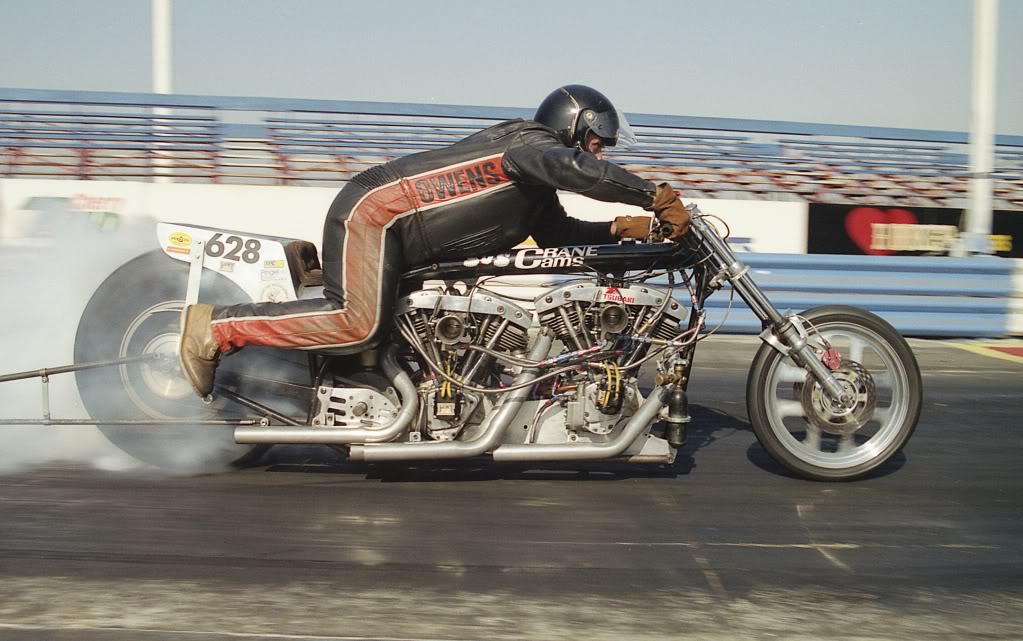 On Saturday morning of the day in question, the two Top Fuel bike titans unloaded Marion's drag bike: a double-engine Harley Davidson with twin fuel injected Shovelhead power plants. These motors were prepared to unleash more horses than Ben Cartwright ever had on the Ponderosa. Big Mo was ready to do some damage at Atco, and he did, just not the kind he wanted to. Marion was after another win like the one he had just a few weeks earlier.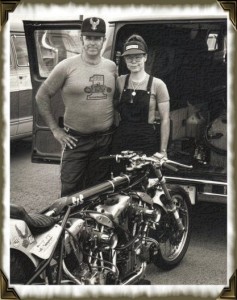 At the NHRA US Nationals weeks prior to the Atco race, Marion won the prestigious event qualifying deep with a 7.98 at 175.78mph and he beat Joe Thronson in the finals with a thundering 8.01 at 175.43 pass for a trip to the winners circle. He planed on more of the same on this trip to New Jersey. Marion was headed for the championship and a T/F number 1 plate with the DRAGBIKE! sanction that year. This was an important points race for him; Big Mo came to win.
At the Atco race, after tech, Marion and Elmer prepared the bike as Marion always did. Trett was the assistant this day. Marion had been racing with nitromethane since the 1960's, Trett began nitro racing in 1976. Marion did his best to teach his friend all he could whenever they raced and Elmer was an eager student.
When round one of qualifying began that Saturday morning, Marion and Elmer pushed the 628 pound beast into the staging lanes at Atco along the chain link fence and down into the walled in area adjacent to the tower. Then when it was their turn to fire up, they did so, but not quite in the way they expected.
Elmer took his place at the front of Mo's bike and was pressing down on the front forks to stabilize the bike when Marion spun the engines over. In an instant there was an eruption as both engines, all four cylinders of the twin motors, blew at the same time. The fireball singed the hair on Elmer's arms and his eyebrows.
In disbelief, Marion and Elmer, briefly for a moment, they just looked at each other. When they stepped back and viewed the carnage they couldn't believe their eyes. All four heads had lifted. They destroyed the back-bone frame of Marion's T/F bike, and there were pieces of Shovelhead motors flung about the pit area like leaves blown about on a windy fall day.
Marion described it like this, "We had the bike ready to go and when I spun it over it just blew, just like that. We couldn't believe it. We were picking up parts everywhere."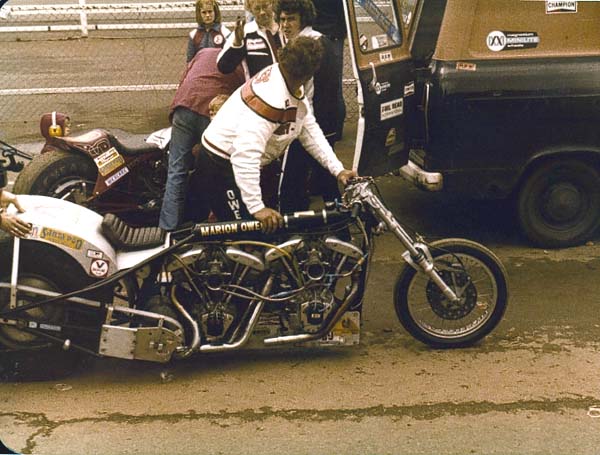 There are indicators that lend reason as to what happened and why the Big Bang occurred. The bike was outfitted with a Hilborn constant flow mechanical fuel injection system and a pair of Joe Hunt magnetos for the ignition systems. Prior to this race, in the pursuit of greater performance, Marion had upped the pump speed on his Hilborn system as he knew he needed more midrange power during his runs. Marion reasoned greater fuel pressure may well do the trick. In retrospect, Marion assumes the increased fuel pressure created a set of circumstances that caused his four cylinders to have a greater volume of nitromethane present in all the cylinders when ignition came to the twin engines.
It was great fortune that no one was crippled or severely injured during the eruption of the motors. In hind sight, it was a mighty good thing Marion's wife Kathy was not present at the moment of the Big Bang. She normally would have squirted gasoline into the injectors prior to Marion starting the bike, as he always did. Her presence so close to the blast may not have gone well.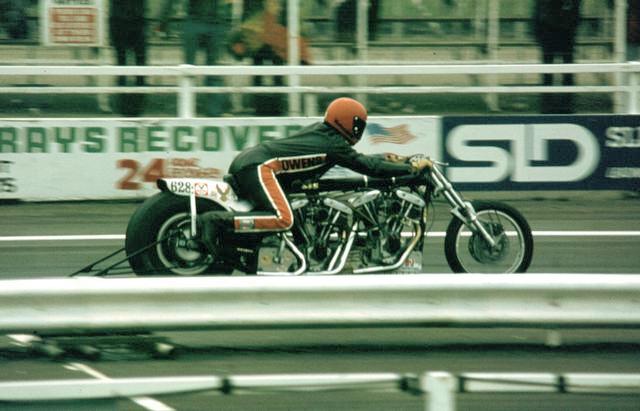 During the repairs that followed, Elmer pitched in to give Marion a hand. Elmer gave him the upper large diameter portion of his Top Gas bike, "Daddy Zeus" to assist with the frame repair. When Elmer cut up his gas bike to create his first Top Fuel bike, he of course saved the scrap. With racing buddies being true to one another, when Marion needed a good sized chunk of chrome-molly to get back out on the race track, Elmer handed over what was once Daddy Zeus's gas tank segment. Marion then installed it as his upper most frame rail to replace the one they blew out at Atco.
The "Big Bang" did stun Big Mo, but only for a moment. For him it was just another day of nitro racing with his Top Fuel bike. Marion returned home to Oklahoma City, repaired the damage, replaced the broken parts, and was at the next race. One week later, Marion was on the left coast at the Ontario Motor Speedway, in California, ready for qualifying at the next race.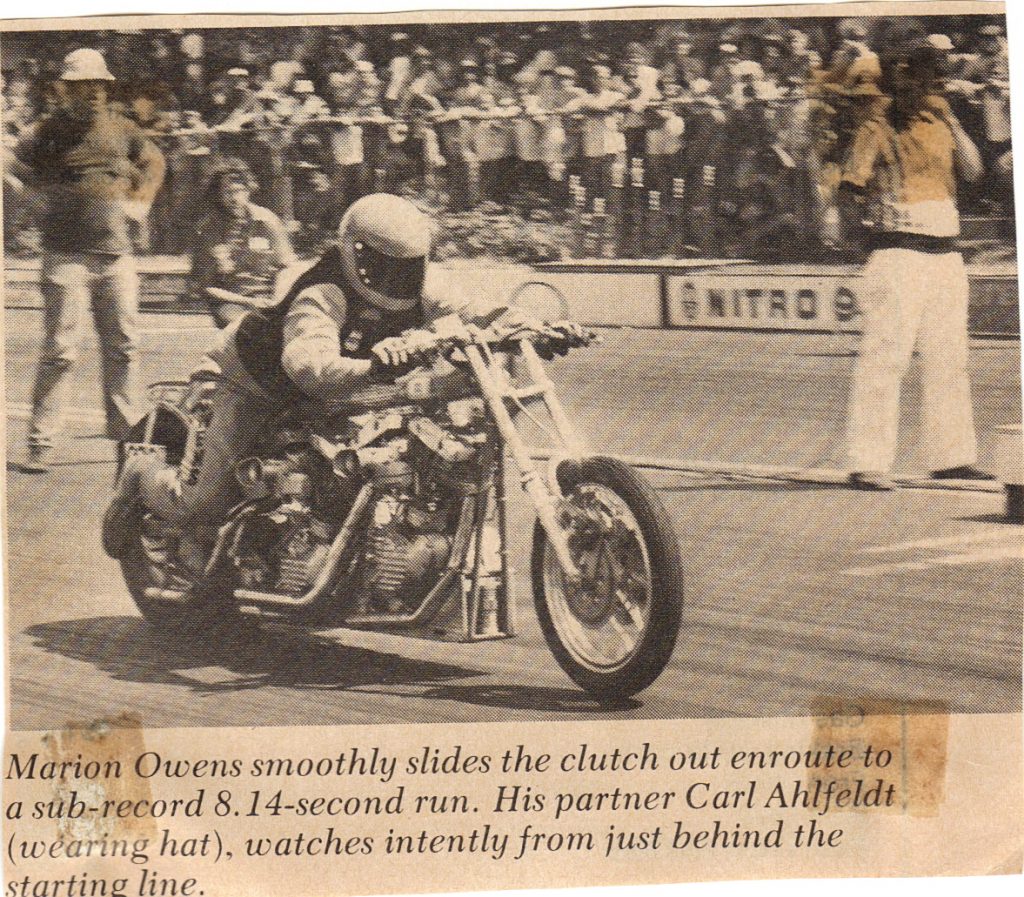 Did the Big Bang happen? You bet it did, but that's racing in Top Fuel bike. You take the good with the bad as all good drag racers do. When it breaks, you learn from it, repair it and move on to the next race, just like Marion did. At season's end, Marion Owens became the DRAGBIKE sanction #1 plate holder – he earned it.
Story by Tom McCarthy.