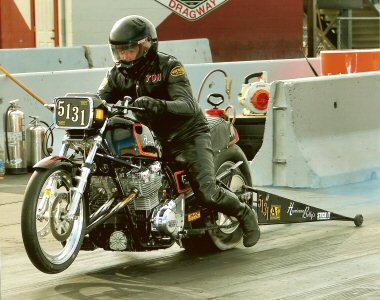 Cycledrag.com contributing writer/photographer Tom McCarthy is the author and publisher of Elmer Trett's biography, Elmer Trett and the Gods of Thunder. Mr. McCarthy's background in motorcycle drag racing both as a journalist and sportsman racer span 1981 to present.
This writer and photographer from central Massachusetts, began his love affair with motorcycles in 1979. In late 1980, after meeting T/F bike racer Steve Ruggiero, by 1981 McCarthy had started building and racing drag bikes. His years as a sportsman racer continue.
Coincidently, Tom also began his writing career in 1981 after meeting The Motorcyclist's Post editor, Bob Frink. The previous winter, while in Boston at a motorcycle show, Mr. Frink had said to McCarthy, "You're going to the drags this year anyway. Why not take a few photos, write a few words, and get paid for it?" From that suggestion, what followed became decades of traveling to race tracks all over the USA.
McCarthy's monthly column soon followed in the publication, and from the spring of 1981 until the fall of 1984, his words and photos brought regional and national motorcycle drag racing news to the seven states within the Northeast region. In 1990, after a five year break from motorcycle drag racing, the sometimes-racer-turned-journalist returned to the racing pits and took up where he left off.
He also began freelancing. His stories and photos began to appear in American Iron, In the Wind and various other publications. Pisano Publications started up a new racing magazine entitled Full Throttle which published many of McCarthy's racing photos as well as race results during the 1990's. Motorcycle publications at home and overseas began to carry McCarthy's work.
Throughout the nineteen ninety's, McCarthy's work could be found anywhere motorcycle magazines were sold. Thousands of miles were logged in his 1991 Ford Escort station wagon, traveling to race tracks from Indy to Gainesville, Fla, Rockingham, N.C., Atlanta, Piedmont, Talladega, Virginia, Maryland and, of course, Loudon, N.H.
In 1997, McCarthy graduated from the Advanced Applied Professional Photography program at the New England School of Photography. Since that time, he has hosted several solo photographic shows of his work.
Between the years 1993 and 2000, McCarthy worked full-time as a freelance journalist in motorsports. In 2000, he returned to the work-a-day world. In 2010, he founded TMC Publishing and published his first book related to his newest profession; strip club DJ. Get Naked: Stripping 101 went to print in the spring of 2010.
Over the next two years, McCarthy created his second book, Elmer Trett and the Gods of Thunder, as a culmination of his years of devotion to the class of Top Fuel motorcycle drag racing which was self-published in late March of 2012. Copies of the book are available only through schnitzracing.com. And yes, he still writes and photographs drag bikes for The Motorcyclist's Post as their Drag Racing Editor unless he's racing at his home track New England Dragway, in Epping, NH.