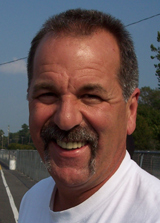 For the second time in 2008, nine-time Top Fuel Motorcycle champion Larry "Spiderman" McBride recorded the world's quickest dragbike run.  McBride's unprecedented 5.74 elapsed-time came in the final round of the season-ending AMA Dragbike National Finals from Valdosta, Ga., November 7-9.
The 5.74 surpasses the world record of 5.79, set by McBride earlier this season in Valdosta. McBride's incremental times on the record setting run were; 60′ – .987, 330′ – 2.54, eighth-mile – 3.75 at 225 mph, 1000′ – 4.81, and a speed of 239 mph at the finish line.
"I never thought in my wildest imagination it would go a 5.74," McBride said. "My first ever five second run back in 1999 will always be my favorite, but I rank this run right up there with it.  It was incredible."
The key to McBride's success may have been the team's ability to quickly adapt to the demands of his supercharged motorcycle's new blower.  After virtually locking-up the championship in September, McBride decided to test new components to make his machine even quicker.  The team added a new blower, intake manifold, and injector.
"I knew the new blower would give us more air and a better quality of air. We were just having trouble learning to tune it.  We couldn't seem to find the right way to go," McBride said. "Steve (McBride, crew chief) and Keith (Adams, longtime NHRA nitro-methane tuner) and I were lost.  We weren't exactly sure what the thing wanted."
The Spiderman found himself in unfamiliar territory on Saturday evening with a best run of only 6.42 to qualify in the fourth spot.
"We couldn't get it down the track Saturday without smoking the tire," McBride said.  "It's really hard to tune the bike when we can't get a clean pass down the track."
On Sunday morning McBride bounced back with low-elapsed-time of the round at 5.92 to defeat No. 3 qualifier Geoff Pollard's 6.19.
"We finally got the new blower acting like the old one," McBride said. "We knew what it wanted."
In the semifinals McBride defeated No. 2 qualifier Chris Hand's 9.05 with a 6.10.  Despite the victory Team Spiderman was not happy about the drop-off in performance.  Especially since final round opponent and top qualifier Korry Hogan ran 6.05 to gain lane choice.
"The track was so good it actually pulled the motor down," McBride said.  "I give Tony Williams (AMA Dragbike chief starter) and the entire track crew a lot of credit."
"I knew we had to do something.  We had to step that damn thing up," Steve McBride said. "I told Larry I'd rather smoke the tire than get outran."
The team decided to increase the percentage of nitro-methane in the fuel and add a couple degrees of timing.
"I said just act like we're in Vegas and roll the dice baby," McBride said.  "I was nervous as hell before the run because I didn't know what it was going to do.  When I left the line I said, oh my God this thing is on a run. I was blown away."
McBride officially scored the victory via a deep stage foul by Hogan.  Unfortunately for McBride the 5.74 will not stand as an official record, as the nine-time champ was without a back-up pass within one-percent of the unprecedented time.
"If we could have had one more run that night we would have backed it up without a problem," McBride said. "Either way this is the way to go into the winter time."
The team thanked; Pingel Enterprise, Trim-Tex Drywall Products, Drag Specialties-Parts Unlimited, Red Line Synthetic Oil Corporation as well as his other sponsors.
Vance & Hines Motorsports, PR Factory Store, Muzzys Performance, Web-Cam, Kibblewhite, Ferrea Valves,  Precision Machine, World Wide Bearings, Vanson Leathers, Performance Machine, Belt Drives Ltd, Street & Competition, Simpson Race Products, Nitrous Express, APE, EK Chain, Arias Pistons, R/D Spring Corp, Autolite, MSD, Protect ALL, Whipple Industries, Cometic Gaskets, B&J Transmission, Carolina Cycle, L.A. Sleeve, PJ1, Mickey Thompson Tires, Valco, and Carlisle Belts