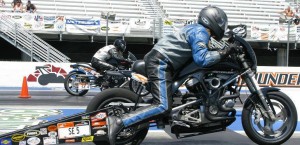 After a long season of determination and focus, Kevin Winters of Winters Racing has earned his first AHDRA National Championship in the Pingel SE Super Eliminator 10.90 index class.  It was a season long, hard fought battle between Kevin and fellow Super Eliminator competitor, Jay Wagner for the championship crown. In the end, Kevin won the war with an 82 point lead after the final event in Rockingham, NC. With this first place finish in SE Super Eliminator, Kevin will display the #1 SE plate for the 2009 AHDRA season.
As well as winning the National Championship in SE Super Eliminator, Kevin also finished first in the Eastern Division of SE Super Eliminator. His final standings in his other two classes were 3rd nationally in SEP Screamin' Eagle Performance and 4th nationally in ET Elapsed Time. During the 2008 season, Kevin went to six finals, two wins and four runner ups. The wins came in Super Eliminator Class in St Louis at the Gypsy Rendezvous Nationals and then again in the Screamin' Eagle Performance Class in Dallas at the Lonestar Nationals. The runner up finishes came with two in SE Super Eliminator, one in SEP Screamin' Eagle Performance and one in ET Elapsed Time classes.
We want to thank all our sponsors including McHenry Harley Davidson, FS Enterprises, O'Leary's Bar & Grill, RK Chain, DP Brakes, Hal's Speed Shop and Miller Motors. We also want to thank all of our contingency sponsors Pingel Enterprises, Redline Oil, Mickey Thompson, Accel, Energy One, Vanson Leathers and Sunoco Fuel.
We look forward to the 2009 season and the opportunity for Kevin to defend his #1 SE plate.
www.winters-racing.com
FINAL POINT STANDINGS 2008 AHDRA SEASON
AHDRA SE SUPER ELIMINATOR CLASS
FIRST in the nation
AHDRA SEP SCREAMIN' EAGLE PERFORMANCE CLASS
3rd in the nation
AHDRA ET ELAPSED TIME CLASS
4th in the nation