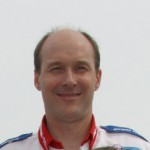 In 2008 longtime dragbike racer Joe Koenig added another championship to his impressive racing resume.  However this time it wasn't on a Suzuki Pro Stock Motorcycle, it was at the wheel of a BMW M3 in the Sports Car Club of America (SCCA) Touring 2 class.
Koenig, a multi-time dragbike event winner and NHRA championship team owner, embarked upon a new endeavor in late 2007 by deciding it was time to give car racing a try.  He found immediate success by winning the first national event he entered.
"Motorcycle racing brought me to a much higher level.  Instead of a three year learning curve in car racing it was more like a three month learning curve," Koenig said. "It's about being consistent and learning the tough lessons from guys that have been out there racing for the last 30 years – learning to pass them and learning from them when they pass you.  It's pretty fun and very exciting."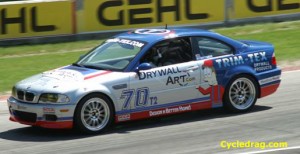 Koenig, a native of Palatine, Ill., located just outside of Chicago, began racing at age 14 as a motocross competitor. In the winter of 1978 a young and ambitious Koenig moved to California with a burring desire to find a career in the motorcycle industry. He eventually landed a job at a Kawasaki dealership.
"I got whatever job I could find," Koenig said. "I just wanted to be involved."
Koenig was now located in one of the most flourishing motorcycle drag racing hotbeds in the country, just miles away from the famed Orange County International Raceway in East Irvine, Calif. It wasn't long before Koenig caught dragbike fever and bought himself a 1979 KZ 650 and began modifying for the strip with a big bore kit and aftermarket cams.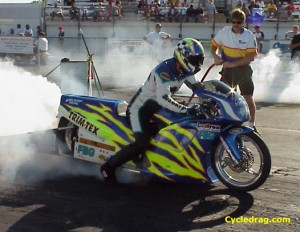 "I became hooked.  It was just a ton of fun," Koenig said. "We would go test and tune on Wednesday nights and Terry Vance and Byron Hines would be out there with their Pro Stock and Top Fuel bikes."
In 1981 Koenig moved back to Ill. and took his hobby to a more serious level by following the NMRA Jr. Pro Stock circuit with a longtime high school friend Jeff Wudi as his crew chief.  Koenig participated in the series for three years and snagged a pair of top-three finishes in the point series against the likes of Vance of Hines.
"That's where it all started," Koenig said.
In 1985 Koenig's love for motorcycles motivated him to open Kwik Cycle, his very own shop.
"I built everything and anything – dragbikes, street bikes, snow mobiles, dirt bikes, tires, tune-ups, I did it all," Koenig said. "That's where I really honed my mechanical skills. But the downside of having your own shop and working on other people's motorcycles 90 hours a week is that it leaves no time to work on your own."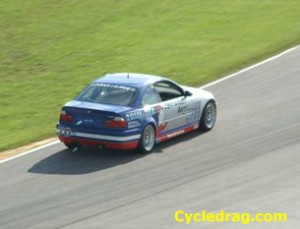 Koenig was forced to sell his beloved KZ 650 to a customer. But not before he earned himself some serious bragging rights on it.
"I got it into the nines.  My best pass was a 9.92," Koenig said. "I put a six-speed transmission in it from a GPZ 550 and that was the difference."
Although Koenig had enough work at the shop to keep him busy, the pending arrival of his first child and need of more funds forced him to close Kwik Cycle and make a career change in 1989.
"My wife Deb was pregnant and I wanted her to stay home to take care of our kid.  I just couldn't make enough money at Kwik Cycle for that to be possible.  She was really the bread winner in the family at that point," Koenig said.
That's when Koenig went to work for his father as plant manager of the elder Koenig's successful drywall product business, Trim-Tex. Koenig eventually took over for his father and helped guide Trim-Tex into a new echelon with the aide of many lessons he had learned in the racing world.
"It's a fun deal because it's a lot like racing.  Racing is about innovation, trying new things, working hard and doing all the little things to make it run properly," Koenig said. "That's the same way I run my business."
Trim-Tex is currently the world leader in extruded vinyl corner beads and many other drywall products and went from 23 employees in 1990 to over 160 employees in 2008.
While Koenig stayed busy growing Trim-Tex and developing innovative products he still made time for his straight-line hobby by dabbling on a GS 1150 Top Gas bike.
In 1999 Koenig decided it was time to take a shot at his dream of competing at arguably the highest level of dragbike racing – Pro Stock.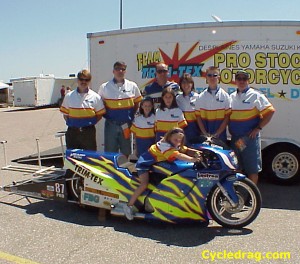 "My friends Jeff Wudi, Kevin Fardoux and I had a vision," Koenig said. "We said let's try this pro deal. That's when we got hooked up with Paul Gast and stared to run some AMA Prostar Pro Stock races."
Koenig rented Gast's No.2 Suzuki GSXR on a race-by-race basis.
"I was paying him $2,500 a race for the rental and he was providing the power but we were also taking it home and working on it to make it better," Koenig said. "By the second race of the year we were running great."
In only his third start Koenig scored his first Pro Stock event victory later that year in Columbus, Ohio by winning a rained-out Atlanta race from weeks before.  He won on three holeshots over Geno Scali, Chris Bostick, and Todd Doege.
"I was hooked on Pro Stock from that point on," Koenig said. "It was a day I'll never forget."
Eventually Koenig bought his own PMFR chassis and within just a few races supplanted Antron Brown's longstanding AMA Prostar record of 7.04 with a 7.02 in 2002 in Dinwiddie, Va.  The record run had Koenig just a fraction of a second away from becoming the first Pro Stock rider to run in the six-second zone.
"The bike didn't even have a paint job on it yet," Koenig said. "We were really proud of all of our hard work coming together."
Koenig points to this race as one of the highest highs and lowest lows of his racing career.  The pinnacle of the weekend was setting and backing up the record, the letdown was not being able to complete the event and take a shot what appeared to be a prime opportunity for a sub-seven-second elapsed-time in the final.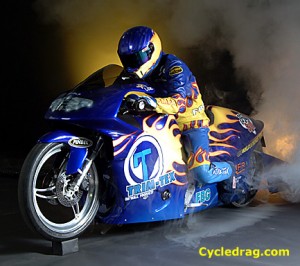 Due to darkness and traces of moisture on the windscreens Koenig's then teammate and final round opponent Gast was given the option to finish the race in Virginia or wait until the next stop on the AMA Prostar tour in Norwalk, Ohio.
"Paul refused to run me. I was really disappointed we couldn't finish the job. Especially since I gave Paul my No. 2 motor earlier that night so that he could keep racing," Koenig said.  "Looking back Paul is a professional and he did the right thing for him because when we went to finish the race in Norwalk he kicked my butt."
Following the 2002 season Koenig retired from racing to devote more time to his family and company. Koenig's retirement as a rider still couldn't squash his love for racing. For the 2003 season Koenig assembled an NHRA Pro Stock Motorcycle team with veteran rider Geno Scali and former Fast by Gast crew chief Earl DeGlopper.
"It was never a dream of mine to win a championship as a team owner because I always thought if you're not riding the bike, you're not having fun," Koenig said. "After I made a promise to my family and company to retire from driving, my competitive side said, ok what's the next best thing?"
Amazingly this fresh new team captured the PowerAde championship in its first year of contention by winning three events and holding off former three-time champion Angelle Sampey by 78 points.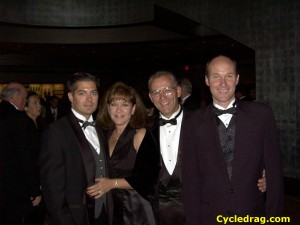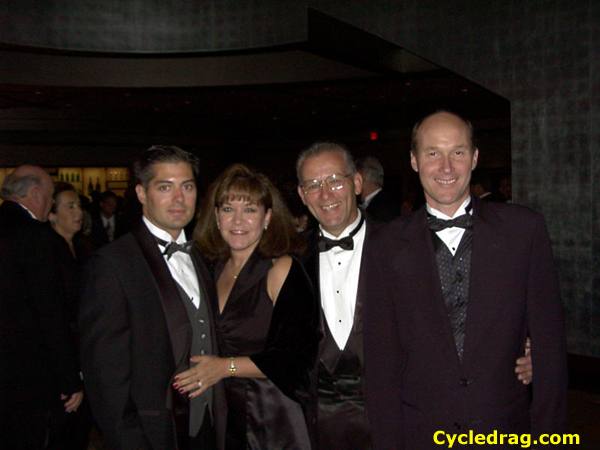 "Geno was a great driver, Earl was a great mechanic, and we had all the resources and machine shop capabilities of Trim-Tex. Everything just fell into place," Koenig said. "It was one of the biggest challenges of my life. I ended up working as hard or even harder than when I was riding because aside from the technical challenges, I was working on the marketing side of things, trying to land us that big sponsor."
Koenig and Scali kept the team intact for the next two seasons before parting ways after the 2005 campaign.
"My commitment to Geno was three years.  We had a dissatisfying 2004 and 2005 and I sold my part of the team to Geno," Koenig said. "We felt our power was taken away. It was a hard fall, but where else can you go when you start out at the top?"
Koenig continued participating in various forms of local motorcycle racing until one unfortunate incident changed his perspective.
"In August 2006 I was motorcycle flat track racing and my front tire washed out at about 60 mph and my shoulder was driven straight into the clay.  I broke my collar bone and four ribs. I was lying there in the clay gasping for air thinking, I could die right here," Koenig said. "After this experience my daughter and I took off and attended the Skip Barber Racing School later that November at Laguna Seca (Calif.).  At that point I realized racing cars is a hell of a lot safer than racing motorcycles around the corners."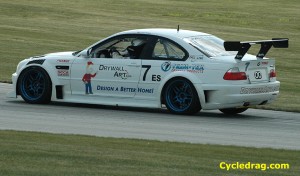 Koenig bought a BMW M3 and started competing on the SCCA tour in November of 2007. He also purchased a custom-built BMW M3 wide body with a V8 motor, as opposed to the traditional six-cylinder from the factory.  The car was designed for endurance racing and there are only six of it's kind in existence.
"At the race shop they stressed to me that the BMWs are the safest race cars to be in.  After my painful crash on the flat track I wanted to put myself in the safest situation where I could still go out and be competitive and have fun," Koenig said.  "I am hooked on sports car racing now like I was hooked on drag racing."
Koenig finished the 2008 SCCA season with five wins, two runner-ups, and one fifth place finish to secure enough points to win the central division Touring 2 class championship. Koenig also found success with the V8 wide body BMW winning two 3 hour endurance races and 2 sprint races.
"I think the bike guys have an advantage in road racing cars because we have already learned to get past the pucker factor. The pucker factor is when you get near the edge and your brain says don't go any faster or we are going to self-destruct and you tense up. As bike guys we are used to that and know how to deal with it," Koenig said.  "When I'm in a car going 140 mph and there's a kink in the road, I might get through a little quicker than someone who has never raced bikes."
Despite his love for motorcycles and drag racing, Koenig says there are certain things he admires a lot more in sports car racing.
"Drag racing is a ton of work for very little seat time.  If you make one mistake you're done. When I drag raced I would have so many butterflies and nervous stomach aches on Sunday morning before first round," Koenig said. "It's weird because I climb into my race car and I'm totally relaxed. It's like somebody lying on the beach reading a book. I feel safe in the car and I'm having fun again."
That's not to say Koenig is completely removed from dragbike racing.  He is a sponsor of the world's quickest motorcycle drag racer and Top Fuel legend Larry "Spiderman" McBride, the innovative NHRA Muzzy ZX-14 ridden by Ryan Schnitz, and several local racers in the Chicago area.
"The lessons I learned through the trials and tribulations of drag racing, especially the last six seasons in the NHRA, have been a real positive influence on my life," Koenig said.  "I take a lot of these lessons and I carry them into my professional career and other racing ventures."
Above all Koenig says a perpetual positive attitude is to thank for his success on and off the track.
"My glass is always three-quarters full."