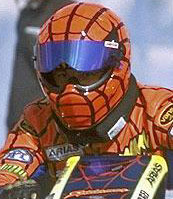 Before the start of the season Larry "Spiderman" McBride said one of his 2008 goals was to be the first to run in the 5.70-zone. He didn't say he'd do it at the very first race.
McBride recorded the quickest dragbike run of all-time with a jaw-dropping 5.799 to defeat Tom Perry in the finals of the AMA Dragbike B&B Bikeweek Nationals from Valdosta, Ga.
"I knew it was a good pass but I didn't think it was a new record," said McBride, who broke his former career mark of 5.809 set at Virginia Motorsports Park in 2006.  "Roland (Stuart) came over the radio and told me we had just ran a .79.  I was in shock.  It was like, wow we finally did it. I felt like I did in Houston when we went 5.99."
It marks the first time any dragbike racer has reached the 5.70-zone, and surpasses McBride's teammate Jimmy Brantley's unofficial record of 5.800 from the 2006 World Finals in Gainesville, Fla.  McBride admits running in the 5.70-zone has been a major goal of his for the past few seasons.
"We knew the bike had it in it, it was just a matter of getting it out of it," McBride said.  "The scary part is that it will definitely go quicker."
McBride's incremental times on the record setting run were as follows – 60-foot 1.00, 330′ 2.58, 1/8 3.80 at 196 mph and 235 mph at the finish line.
"It's really cool to be the first guy in the fives, the 5.80s, and now the 5.70s," said McBride, an eight-time AMA Dragbike champion.
McBride credits the gain in performance to technological advances the team made over the off-season. McBride, along with his brother, Steve, revamped the record-breaking machine's clutch set-up and drive-pulley system.  The results of the McBride brothers winter overhaul were immediately evident.
"We unloaded and ran a 5.86, and that was on a shut-off pass," McBride said. "Steve (McBride) did a lot of work over the winter and it made all the difference in the world."
Throughout the weekend McBride also posted extraordinary runs of 5.96, 5.84,  and 5.91.
"The air really came to us and the track was just excellent all weekend," McBride said. "It was a great way to start the season for all the fans and all of my sponsors."
Next up for McBride is the AMA Dragbike Elmer Trett Nationals from Atlanta Dragway, April 4th-5th.