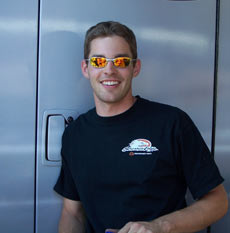 Racers in at least two Professional classes produced unofficial record times, and track records took a beating during the ninth annual CSR Eastern Spring Test Nationals presented by Torco's CompetitionPlus.com at South Georgia Motorsports Park near Valdosta, Ga.
Andrew Hines left several thousand race fans stunned when he reeled off an incredible 6.845 elapsed time at 194.41 mph. This run came after an impressive 6.888 an hour earlier.
"It's the first and only major test for us this season," Hines said. "We just wanted to see where we stacked up with some of the other times. Last year we were out here for five days trying to get [teammate] Eddie [Krawiec] a bunch of laps, and this year it's just going to be about trying to perfect everything for us. We're not going to try to beat on everything. We just want to see how consistent we can get down the track."
Top Fuel driver Clay Millican may not race in competition this year, but he's certainly gained the inside track for a testing world championship. The six-time IHRA champion obliterated the SGMP track record with the first full nitro pass of the day with a 4.585, 323.50.
"I love this place," Millican said. "I had never been here before this weekend, but I'm so glad we came in this weekend. These guys [SGMP staff] have busted their humps to give us a quality racetrack. We greatly appreciate it."
Other Top Fuel drivers in attendance include Brandon Bernstein, Bruce Litton, Bobby Lagana, and Kevin Jones.
Funny Car driver Del Worsham paced the Funny Car contingent with a 4.868 at a slowing 294 mph. Other Funny Car drivers at the event include Gary Scelzi, Jerry Toliver, Frank Hawley, Melanie Troxel, Bob Gilbertson, and Matt Hagan. Bob Tasca III and Tommy Johnson Jr. were late arrivals Sunday.
The NHRA 500-inch Pro Stock fraternity was led by Matt Hartford, who drove the brand-new David Nickens Dodge Stratus to 6.664, 207.98.
"We knew we needed to get some laps on the car, and this really helped us out," Hartford said. "We learned a lot that will help us next weekend [at the ACDelco NHRA Gatornationals]."
Hartford's impressive break-in lap was followed by an impressive final licensing run by rookie Rickie Jones, son of veteran chassis builder Rick Jones. The second-generation driver was picture perfect as he drove to a straight-as-an-arrow 6.696 at 206.89 mph, the first run to the quarter-mile for Jones.
Chris Russo had the quickest of the 30 Pro Modified cars in attendance. His 6.063 was the quickest of the fast doorslammers and edged out the 6.079 of Kirk Kuhns.
IHRA Mountain Motor Pro Stock champion Robert Patrick astonished the spectator contingent by reeling off the quickest naturally aspirated pass in doorslammer history. The Fredericksburg, Va., driver pushed his Purvis Ford-sponsored Cobra Mustang to a 6.266  at more than 223 mph.
Day No. 1
Race officials for the ninth annual CSR Eastern Spring Test Nationals presented by Torco's CompetitionPlus.com decided that Friday's poor weather forecast warranted extending the first day of testing by three hours. Several racers were pleased, but none more than three-time NHRA POWERade Pro Stock Motorcycle world champion Andrew Hines.
Hines blasted out a South Georgia Motorsports Park [SGMP] track record of 6.889 at 193.13 mph. This run marked the first time that Hines had been in the 6.8s with his Screamin' Eagle-sponsored Harley-Davidson.
"We didn't change a thing from our earlier run," said Hines, who had belted out a 6.94. "I knew it was a great run going down the track because when you don't have to correct it, you get the big numbers. I saw our earlier runs and figured I'd run a 6.90. I was just hoping to run quicker than Angelle [Sampey]."
Hines' final pass of the evening surpassed the 6.916, 192.08 of Sampey, who was in just her second test outing since converting from Suzuki to Buell.
Top Fuel driver Clay Millican posted the quickest run in SGMP history when he lifted just past the eighth-mile and coasted to a 4.721.
"A lot of those racers were having trouble finding the right combination early on," Millican said. "When we pulled [teammate] Bobby Lagana's car up there, we were just hoping it would go down. He went out there and went right down the track. The funny thing is everyone else did, too. There's no question this is a good racetrack and it has a lot of teeth."
Millican estimated that he would have recorded a mid-4.5 had the car run to the finish line.
"I had instructions to lift early," Millican said. "Next time I'm guessing the instructions won't be the same."
Billy Glidden's 6.763, 208.88 topped the runs of  the NHRA Pro Stockers. Danny Rowe (6.023) was the quickest in Pro Modified, and Robert Patrick (6.319) paced the field in IHRA Mountain Motor Pro Stock.