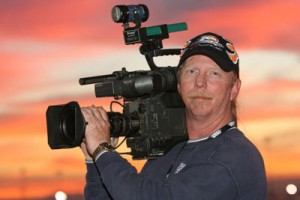 Television producer and videographer Timothy Scott "Bubba" Barnes, whose career in
motorsports spanned thirty years, passed away on Friday, March 21, 2008, after battling cancer since the summer of 2007.
A long time racing enthusiast, Barnes began his television career as a news cameraman with WCYB-TV in his hometown of Bristol, TN, and became a cameraman for ESPN's drag racing coverage in 1985. He became one of the original employees of Masters Entertainment Group (MEG) in Bristol and went on to produce and direct MEG television shows for a variety of networks including ESPN, ESPN2 and SPEED Channel.
Barnes was responsible for all facets of production of MEG's weekly "Inside Drag Racing" series which covered hundreds of events from dozens of racing associations.
He also produced the "Street Rodder" weekly series for ESPN and was the chief videographer for "NHRA Heat" and dozens of other television programs. As chief videographer for MEG for the past decade, Barnes attended over one hundred events per season and covered a wide range of motorsports. He maintained close relationships with thousands of individuals throughout the racing world including drivers, crew chiefs, constructors and officials though out his career.
Barnes actively participated in sprint car racing and drag racing and was also a capable builder of street rods and Harley-Davidson motorcycles. His knowledge of all aspects of hot rodding was employed in his television productions and helped garner major attention of MEG television shows resulting in numerous industry awards.
A native of Richlands, VA, he was the son of the late Fred and Ruth McGlothin Barnes. He was a former member of the Sullivan County Planning Commission and was a member of the National Harley Owners Group. Mr. Barnes was a member of Poplar Ridge Christian Church.
Survivors include his wife Kimberly L. Barnes, daughter Megan Lee Barnes, son Brandon S. Barnes, U.S. Air Force, Turkey; a brother William (Sandy) Marrs and his wife Peggy, Ocala, FL; and a sister-in-law, Lisa A. Simpson and her husband Ricky, Bluff City, TN. "Bubba" Barnes enjoyed the friendship of many of racings' biggest stars.
"Everyone liked Bubba" said Ted Jones, MEG President. "Everyone respected his opinion, he was an integral member of our company and like the fans and racers who knew him, and we will miss him tremendously."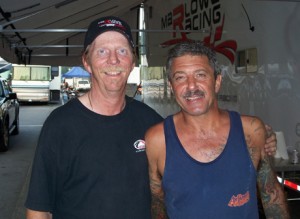 Editors note – "Barnes was a huge fan of motorcycle drag racing.  After being on the road for months and months at a time he would spend his off-weekends at the drag strip helping his longtime buddy Larry "Drums" Brancaccio, who became like family to Bubba.
As a motorsports enthusiast Barnes brought a tremendous amount of passion to his work, which shown through tremendously. He was a professional, and at the end of the day he was the guy you wanted to go out and have a drink with.  He was a ton of fun to be around. His karaoke rendition of Lynyrd Skynyrd's Simple Man at dive bars all across the country will live on forever.  Bubba will be greatly missed.  God speed my friend."