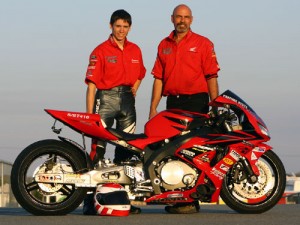 Wow! What a great way to start a race season. The Stotz Racing Honda Drag Race team built a new bike over the winter. Kent's personal turbo cbr1000rr daily driver ran some 8.30's playing around last year. They took that bike and redid the chassis, turbo system and motor. It is essentially a new bike and new rider. Kent is tuning this year while his son Frankie jockeys the Super Street cbr1000rr. Testing on Friday showed how far out the new combination was. Kent and Frankie worked on it and qualified #8 out of 29 bikes. Knowing this was not good enough, they entered the Saturday Street Chaos and continued there search for the right combination. Sunday they applied what they learned and ran a better 8.36. "I think we have found a tune up that the bike likes to leave the starting line. We just hope we have enough info in only 6 passes to run in the 8. teens" Kent said. Well if you were at the race or watching on the internet you know that when Frankie finished the run, Kent jumped about three feet in the air and landed on Richie from Richies Tires, when the scoreboard showed 7.99. Announcer Lewis Bloom and color commentator Brock Davidson said that it looked as if Kent was more excited about his son's 7 second run than maybe his own many National record runs. Later when asked about this, Kent said "I think every parent wants more for their kids than whatever they had or achieved, and there is not a happier father anywhere in the world right now."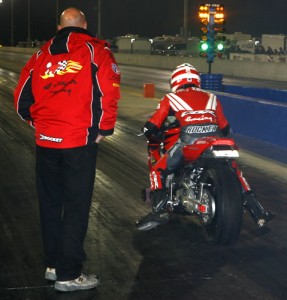 Still in race mode, the celebration was put on hold as they got ready for the next round. The National record to start the race was 7.935. Could it be possible to come to the first race, new bike, new rider, and break the record. Frankie's next pass was even better, running a 7.96 at only 176 mph. Unfortunately Frankie had come up against last years champion team who ran a 7.83 at 183 mph. Kent's feet did not leave the ground this time but his hands were up in celebration with Frankie improving and riding his cbr1000rr to one of only three bikes to run in the sevens all weekend.
It was a great race, great crowd and over 520 entries. With the economy the way it is and still get that many bikes, it is a great testament to the excitement the new AMA Dragbike owners have created. Kent and Frankie want to thank all the sponsors that help make this happen: Honda Rider's Club of America, Pro Honda Oils and Chemicals, Velocity Racing Turbo Systems, Joe Rocket, Scorpion EXO Helmets, Star Racing, JE Pistons, Air-Tech Streamlining, Falicon Crankshaft Components, Schaumburg Honda, HyperPro Racing Suspension, and BST Wheels. Stotz Racing is also the record holder of the AMA Dragbike Horsepower Challenge in the Import V-Twin Cruiser Open class on a Honda VTX1800.