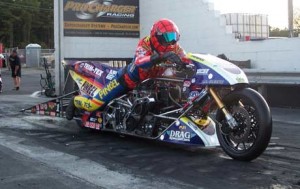 The world's fastest motorcycle drag racer Larry "Spiderman" McBride dominated the competition at the AMA/Prostar U.S. Nationals from Atco, NJ, winning the event and securing an unprecedented eighth Top Fuel championship.
"I'm very proud of No. 8," McBride said.  "It means a lot to me.  It represents a lot of hard work by this team over the years."
McBride, who will turn 50 this January, has no plans of retiring anytime soon and aims to pile on even more No. 1 plates in years to come.
"I want to get more than ten. I feel like this one actually should be my tenth," McBride said.  "I had to sit out the 2005 season because I had a stroke and in 1999 I lost the championship by one point to Tony Lang. I love this sport and as long as I continue to have the support of all of my great sponsors I don't see why I won't be able to keep racing for the next 10 years. Ray Price did."
In opening qualifying McBride took the pole with a rapid blast of 5.87, surpassing his Atco track record of 5.98 from last season.
"I've always loved Atco," McBride said.  "The track was great this weekend. It was very nice to be back.  I have a lot of friends there."
After losing his first race of the season a month earlier in Indianapolis, McBride says his team was as eager as ever to get back to the winner's circle.
"In Indy the bike just walked out of the groove and smoked the tire.  I can't really call it a mistake because in nitro racing it's just something that happens.  I've seen Tony Schumacher and Gary Scelzi have the same problem many times," McBride said.  "The loss made our whole team step its game up."
In Sunday's final round McBride was awarded a broke bye when Korry Hogan was unable to repair his motorcycle from damage sustained during his first round victory over Korry Hogan.  McBride sealed the event victory with a crowd-pleasing blast of 5.88.
"I really thought it had a .79 in it" McBride said.  "That's how good the bike was running.  I'm very excited to see what we can do in Gainesville."
Another reason McBride is excited for Gainesville is that, for the first time this season, his teammate and former class champion Jimmy "Hulk" Brantley will be in competition.
"I called him up and told him I'm sick of running this single barrel shotgun.  I want my double barrel back," McBride said. "He's got one bad motorcycle and it will be ready for Gainesville."
McBride sent a special thanks out to his dedicated crew, who worked through transmission problems and kept the bike in prime condition.
"I've got the best crew in the world," McBride said.  "These guys are so die-hard and they do such a great job getting the bike ready."