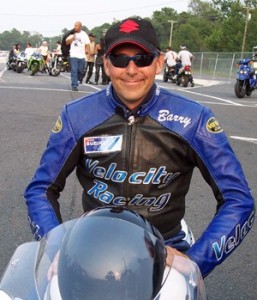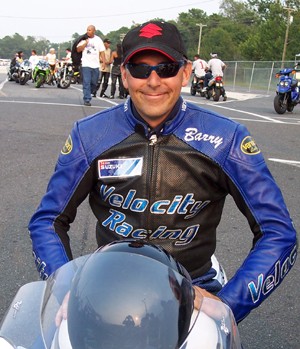 Velocity Racing's Barry Henson made the run of his short drag racing career when he shattered the Street Bike Shootout record with a track-blistering 7.52 at 192.6 mph at the 2003 AMA/Prostar World Finals from Gainesville, Fla.
The rapid lap surpassed the mark of Henson's former teammate and then record holder Kent Stotz, who held the honor for over a year with a seemingly untouchable 7.64 at 192 mph.
"It's an incredible feeling," Henson said of surpassing the lofty mark.  "I wanted the record really bad.  It's a huge accomplishment to be able to say you have the world's quickest and fastest street bike."
Now for all of you weekend warriors that bracket race on a 10-second or so street bike that want to know how intense a 192 mph no-bar pass feels, get ready for this.
"It actually felt pretty comfortable," Henson said of his swift pass.  "It was easy and smooth."
It's hard to believe that "easy and smooth" are adjectives a rider would use to describe a run in which the front tire never touches the ground on a bike that doesn't use a wheelie-bar, but fact is, Henson has become so comfortable running at high speeds that the record-setting blast was nothing out of the ordinary. However, Henson admits the transition from running 8.0s to 7.50s definitely got his attention.
"Sometimes in the .50s it feels more like the bike is constantly trying to pull the handlebars from you," Henson said.  "Also, when we run in the eights the front tire will touch the track at different points.  When I finally got my tune-up right and hit the .50s the tire stays in the air the whole time. I actually had to change my riding style so that the bike won't flip over and I can keep the power on the ground.
Henson attributes much of the record-shattering performance to the premiere racing surface of Gainesville Raceway and the progress he and Stotz made at a pre-race test session.
"We were as quick as 7.47 during testing," Henson said.  "The track was outstanding.  We got there on Wednesday and were in the 7.50 zone before the end of the day."
In the wrong hands Henson's 500-plus horsepower Honda CBR1100XX could easily become a traffic cop's nightmare in that it is 100 percent street legal. Henson wouldn't dare race on the street, but he does takes advantage of his monster machine's street-ability and cruises around town.
"I did a Toys for Tots run and sat in traffic for three-and-half hours and the bike never overheated," Henson said.  "Sometimes I go to the bike nights at Hooters and Fudruckers. It's a lot of fun."
This is why you have got to love Street Bike Shootout, how many racers can ride their national record-setting drag bike down the road for some pizza and wings
Henson has developed his straight-line skills in an impressively short period of time and in just two seasons has successfully converted from road racer to one of the nation's premier drag bike racers.
"I think the fact that I've been riding motorcycles since I was five years old helped make the switch a little easier," Henson said.  "Also, I put a lot of effort and time into evaluating the sport of drag racing, and what I need to do to succeed. We regularly put long hours in at the shop. It's not uncommon for us to be there until three in the morning."
Henson says despite falling short in the points race to Kawasaki-backed Rickey Gadson, setting the record made the season gratifying.
"Initially the season was a little disappointing because going in I really felt like I had a chance to win the championship.  So to set the record was a huge accomplishment for me.  It was like a personal pat on the back," Henson said. "It took a lot of clutch and chassis work, but we did it."
Henson has proved he is a quick learner.  Two years ago he was making left-hand turns on the road racing circuit. Today, he holds one of drag racing's most prestigious and sought after records.  Look for the trend to continue and Henson to further improve in 2004 – and if you are ever in Davie, FL, keep an eye for this record breaking big red machine prowling the local roads and bike nights.