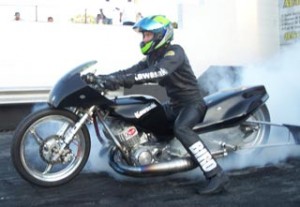 Most dragbike racers are always striving to go quicker and faster.
Two-cycle enthusiast Bill Baxter, 52, of Dallas, TX, has spent most of his life trying to build the world's quickest naturally aspirated Kawasaki H2-750.  On September 30th, 2007 Baxter and rider Joe Bird of Arlington, Nebraska accomplished the much-sought-after goal by recording a stellar 8.33 at the AMA/Prostar U.S. Nationals from Atco, NJ. The run surpassed the late great Dave Schultz's over 20-year-old NHRA Pro Stock Record for a naturally aspirated motorcycle 750cc-800cc.
"I don't know if I can put into words just how much this record means to me," Baxter said. "It's one of those things that you fight and struggle with for so long and then it finally shows up and all you can say is wow."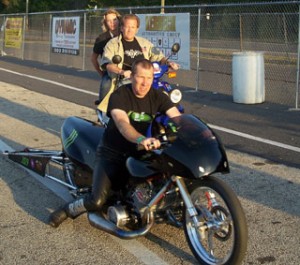 Bird was equally satisfied with the stunning pass.
"It's been a long time coming.  I have been racing with Bill for six years and we've paid our dues," Bird said. "It means a lot. We worked hard for this record."
These famed two-stroke machines dubbed "triples" were produced by Kawasaki from 1969 to 1976 in the United States. The name comes from the motorcycle's unconventional engine layout, an air cooled three cylinder two stroke with two exhaust pipes exiting on the right side of the bike and one on the left.  In 1972 Kawasaki released the Mach IV 750 c.c. two stoke and it quickly became the undisputed king of street bikes.  The machine was capable of out running legendary muscle cars of that era.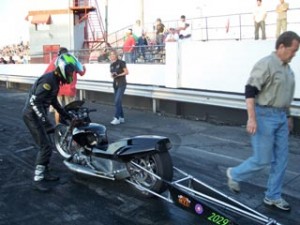 It didn't take long before the 750 two-strokes showed up at the drag strip.  Pioneers like Schultz and Paul "Fast By" Gast competed on H2-750s in the early days of Pro Stock Motorcycle.  By the mid-eighties the duo invaded the record book by pushing  the bike into the low 8.60s, before forgoing the small-bore machines to concentrate all of their efforts on the more reliable and consistent four-cylinder four-stroke muscle bikes.
It seemed two stroke dragbikes were destined to become a thing of the past. Emission standards were ratified and pressure from the Environmental Protection Agency (EPA) eventually led to the end of production for the two-stroke street bikes by Kawasaki.  The H-2 was discontinued in 1976.
Very few two strokes were found at the race track as they gave way to more conventional machines like the Kawasaki KZ, Z1R, and Suzuki GS.  The eventual birth of the sportbike gave drag racers even more straight-line options and the two-strokes became even more rare.
But a select few die-hard triple fans refused trade in their rides.  The two-stroke category received a huge boost in 2004 when the AMA/Prostar series added Super Eliminator as an exhibition category.  Then Prostar owner Keith Kizer thought fans might get a kick out of the unique sound and smell of a two-cycle.
Baxter had been experimenting with two-strokes all throughout the 90s and it wasn't long before he decided to build the ultimate weapon.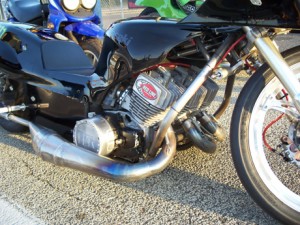 "There are parts on this bike from all over the world," Baxter said. "Todd Athanas built us a state-of-the-art chassis. We have had a lot of porting and engine work done by Darren Abrams at Laurens Race Engines. A guy in England built the clutch, a guy in Australia built the data-logger, the outboard bearing support and the brake components, and a guy in Brazil built all the titanium studs. Dave Conforti did all the bearings, Richie Engineering LTM, MPE and a lot of other people have helped us a great deal.  We have people from Connecticut, New York, and all over the United States that have had a hand in this bike. We just tried to find the absolute best components in the world to put on it."
Baxter, who weighs close to 200lbs, piloted the machine to elapsed-times in the 8.70-zone, but to break Schultz's record Baxter knew it made more sense to find a lighter jockey.
"Joe and I have been good friends for a while and he came to a race and I realized that he was 55 pounds lighter than me. If we were going to chase a record where every pound counts, he would be the guy," Baxter said.
Bird clearly had the physical qualifications to pilot the bike but how would he adapt to such a unique combination?
"I actually had to teach him how to ride it.  They are so fragile you have to know exactly how to ride them or you will just tear them up.' Baxter said. "The first time he ever rode it he did a 15,000 RPM burnout and scattered parts all over the starting line."
Bird is quick to admit that the bike can be quite handful.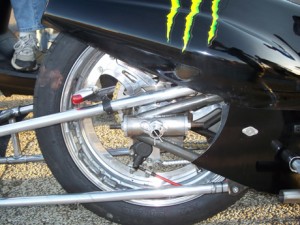 "It's a slingshot.  It's unlike anything else I've ever ridden," Bird said.  "It runs 1.16-1.17 sixty foots, so it's like getting shot out of a cannon."
As evidenced by his record run of 8.33, Bird has come a long way since his first pass.
"After a while he really took to it.  He was like a duck in water," Baxter said.  "He's probably the best H2 rider on the planet."
So what's next for the Baxter-Bird team?  Baxter says he will continue to campaign the H2 and attempt to further lower the record.  "No Valves" Baxter says he's a two-stroke racer for life.
"Two strokes are just different. You can make a lot of horsepower with just a few pounds of engine. They are unique and odd and very few people actually know how to make them go fast so the challenge is a big part of why I do it," Baxter said. "They are very fragile  The transmissions are out of a 500 cc bike.  They are tiny and they snap at the drop of a hat. It's a tremendous challenge but when it finally comes together it's a lot of fun."
They're a lot of fun to watch too.