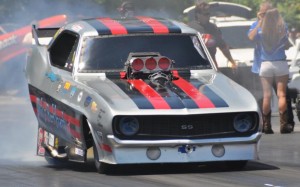 2014 has not been kind to John Hale.
A perennial favorite in the nostalgia Nitro Funny Car class for some time, Hale came into the season looking to seriously contend in the IHRA's all-new Nitro Jam Drag Racing Series championship program and instead, Hale found himself in a situation very unfamiliar to him and his crew. DNQs, oil downs and an overall lack of consistency left Hale without even a single round win through four races and a disappointing sixth place in the championship standings.
John Hale
But on Saturday night, that all changed.
With a complete overhaul of his nitro-fed '69 Camaro between IHRA's last race in Rockingham, N.C. and this weekend, Hale finally found the consistency that had been missing. In front of a crowd eager for the return of nitro, Hale drove the "Mike Burkhart" tribute nostalgia Nitro Funny Car to the win at the 20th annual IHRA Nitro Jam President's Cup Nationals at Maryland International Raceway.
"These past few months have been very frustrating for myself and for my team. I often tell people, you may lose your job, your house may burn down, you may wreck your car, but the people that rebound from adveristy the quickest are always the most successful," Hale said. "I just made it my goal to rebound from this, get this thing off my back, and win a race. And that is exactly what we did here this weekend."
Joining Hale in the winner's circle at MIR was John Konigshofer, who pulled the upset bid in Mountain Motor Pro Stock for the second race in a row, Mike Scott (Nitro Harley), Don Blackshear (Nitro Altered) and Elaine Larsen (Jet Dragster).
John Konigshofer
Sportsman winners during Saturday's Summit Racing Equipment Pro-Am Tour presented by AMSOIL race one were Kathy Gallo (Top Sportsman), Bobby Spence (Top Dragster), Kevin Clark (Super Stock), Bill Bricker (Stock), Jake Milstead (Quick Rod), Keith Mayers (Super Rod) and Robert Robertson (Hot Rod).
Hale beat IHRA's own three-time champion Peter Gallen in the final of Nitro Funny Car on a day that saw the entire field turned upside down when current points leader and top qualifier at every race this season, Jason Rupert, failed to make the field. With Rupert out, Gallen and Hale jumped at the opportunity, qualifying first and second Saturday afternoon.
With the door open, Hale whittled the field down via wins over Tim Boychuk and Mike McIntire Jr., while Gallen took out Greg Jacobsmeyer and Mike Smith, setting up another epic final round between two of the top Funny Car teams in the country. With an Ironman on the line, Gallen got the jump at the line in the "Poverty Stricken" '77 Vega, but quickly went up in a ball of fire while Hale pedaled in the other lane, taking the stripe with a 6.319-second pass at 237.05 mph. Gallen limped across the line with a 10.817, 84.95.
"Pete is such a great driver. He has a great racecar and is capable of putting down some solid numbers. I was a little surprised that he took the left lane, I was ready for our car to do something goofy in that right lane and it did when we smoked the tires. I just happened to slap the pedal and recover it and cross the finish line first," Hale said. "For once luck was on our side."
After the race, Hale gathered with his team and thanked each one of them for believing in him despite the trying start to the year.
Elaine Larsen
"I have to say that my crew stuck with me through all of the hurt motors, spinning tires, oiling the track and not qualifying. They never once hung their heads. Now we are going to celebrate together," Hale said.
John Konigshofer joined Hale in a surprise trip to the winner's circle on Saturday when the Otterville, Ontario native took the Ironman in Pro Stock. Another driver not seeing the results he had hoped for, Konigshofer put together three solid runs after qualifying next-to-last on Saturday, eliminating the first, second and third place drivers in points to take the win Saturday evening.
"This is very exciting for us. We were definitely the underdogs coming in here, all of the GMs are running really strong right now and we simply did what we could and came away with the win. We are pretty excited about what we accomplished here today," Konigshofer said.
After qualifying sixth on the ladder, Konigshofer defeated John DeFlorian, Cary Goforth and Todd Hoerner – the three most dominating cars to date – to take the win. In the final Konigshofer blasted down the track with a 6.296, 223.99 to Hoerner's shaking 7.113, 146.89.
"We tuned her up pretty good for the final. He and I both cut a good light, but we had a little bit more this time," Konigshofer said. "Those guys have been running so strong all weekend. It is tough being the lone Ford in the battle with all of these GM guys, so it is quite a feeling with what we have accomplished."
Konigshofer had laps of 6.322, 6.290 and 6.296 on his way to the Ironman trophy.
Don Blackshear
Nitro Harley saw another incredible battle as Mike Scott and Randal Andras, who have combined to win three of the first four races, once again met in the final. Andras qualified first for the second race in a row and powered his way to the finals until an issue with the bike prevented him from making the final call. With a clean pass to victory, Scott put down a 6.350, 229.78 in the final to pick up his third win this season.
Scott had wins over Larry Brancaccio and Mark Cox and had the most consistent weekend of the two-wheel competitors to claim his second Ironman in a row.
In Nitro Altered, Don Blackshear picked up his second win of the season in similar anticlimactic fashion, making a solo pass for the win. Final round opponent Ron Maroney made the call, but couldn't get the "Blind Faith" machine fired on the line, allowing Blackshear to make a leisurely 6.283, 213.70 pass in the "Bullet Bob" Altered for the win.
Finally, in Jet Dragster Elaine Larsen bested Dawn Perdue in an incredible finale that saw Larsen post a 5.731, 276.01 to Perdue's 5.766, 272.01 for her second win of the year.
The IHRA Nitro Jam Drag Racing Series will be back in action June 20-22 at the IHRA Mopar Nitro Jam Nationals at the Grand Bend Motorplex in Ontario, Canada.
IHRA NITRO JAM PRESIDENT'S CUP NATIONALS FINAL RESULTS
Budds Creek, Md. – Final results from the 2014 IHRA Nitro Jam President's Cup Nationals at Maryland International Raceway
Nitro Funny Car – John Hale, Addison, Texas, '69 Camaro, 6.319, 237.05 def. Peter Gallen, Broomall, Pa., '77 Monza, 10.817, 84.95
Pro Stock – John Konigshofer, Otterville, Ont., '13 Mustang, 6.296, 223.99 def. Todd Hoerner, Forest, Va., '11 GXP, 7.113, 146.89
Nitro Harley – Mike Scott, Blind Bay, B.C., '13 American, 6.350, 229.78 def. Randal Andras, Amelia, La., '13 Weekend, broke
Nitro Altered – Don Blackshear, Brookfield, Ohio, '23 Roadster, 6.283, 213.70 def. Ron Maroney, Chandler, Ariz., '32 Bantam, broke
Jet Dragster – Elaine Larsen, Port Orange, Fla., dragster, 5.731, 276.01 def. Dawn Perdue, Oxford, Pa., dragster, 5.766, 272.01
Top Sportsman – Kathy Gallo, Murrysville, Pa., '96 Cutlass, 7.605, 171.77 def. Tommy Johns, Henrico, Va., '63 Corvette, 7.451, 183.54
Top Dragster – Bobby Spence, Woodbine, Md., dragster, 6.815, 200.77 def. Jason Hoff, Littlestown, Pa., dragster, 7.037, 186.43
Super Stock – Kevin Clark, Alexandria, Va., '86 Regal, 10.656, 121.22 def. Richard Preiser, Jackson, N.J., '67 Mustang, 9.386, 134.07
Stock – Bill Bricker, White Plains, Md., '86 Camaro, 11.264, 117.03 def. Kevin Riner, Autryville, N.C., '98 Camaro, 10.544, 120.24
Quick Rod – Jake Milstead, Lexington Park, Md., dragster, 8.888, 159.83 def. Brett Nesbitt, Burlington, N.C., dragster, foul
Super Rod – Keith Mayers, Middletown, Del., '85 Porche, 9.959, 139.10 def. Jack Schnitzer, Butler, Pa., '91 Daytona, foul
Hot Rod – Robert Robertson, Laplata, Md., '85 Camaro, 10.906, 147.10 def. Robbie Welch, Mechanicsville, Md., '66 Fairlane, 10.885, 114.83
IHRA PRESIDENT'S CUP NATIONALS ROUND-BY-ROUND RESULTS
Budds Creek, Md. – Final round-by-round results from the 2014 IHRA Nitro Jam President's Cup Nationals at Maryland International Raceway
Nitro Funny Car
Round 1 – Peter Gallen, 5.803, 239.74 def. Greg Jacobsmeyer, 6.084, 231.87; Mike Smith, 5.831, 250.51 def. Bruce Litton, 5.924, 245.27; John Hale, 5.800, 250.41 def. Tim Boychuk, 11.075, 76.21; Mike McIntire Jr., 5.849, 238.26 def. Mark Sanders, 5.857, 244.60
Semis – Gallen, 5.790, 245.18 def. Smith, 5.845, 243.90; Hale, 6.515, 191.27 def. McIntire, 6.850, 177.23
Final – Hale, 6.319, 237.05 def. Gallen, 10.817, 84.95
Pro Stock
Round 1 – Todd Hoerner, 6.233, 225.79 def. Bye; Pete Berner, 6.307, 222.07 def. Kevin Bealko, 8.993, 102.52; Cary Goforth, 6.226, 225.82 def. Dean Goforth, 6.345, 220.91; John Konigshofer, 6.322, 222.66 def. John DeFlorian, 6.400, 217.56
Semis – Hoerner, 6.402, 195.70 def. Berner, 6.763, 154.71; Konigshofer, 6.290, 224.02 def. Goforth, 7.247, 138.37
Final – Konigshofer, 6.296, 223.99 def. Hoerner, 7.113, 146.89
Nitro Harley
Round 1 – Randal Andras, 6.454, 225.41 def. Takeshi Shigmatsu, 9.853, 100.16; Jay Turner, 6.405, 220.12 def. Tracy Kile, 6.444, 218.80; Mike Scott, 6.387, 229.16 def. Larry Brancaccio, 6.605, 175.37; Mark Cox, 6.515, 228.04 def. Alvin Kobernusz, broke
Semis – Andras, 6.368, 226.24 def. Turner, broke; Scott, 6.374, 230.10 def. Cox, 6.470, 221.67
Final – Scott, 6.350, 229.78 def. Andras, broke
Nitro Altered
Round 1 – Kyle Hough, 7.825, 129.49 def. Shane Harter, foul; Don Blackshear, 6.968, 126.64 def. Bye; Ron Maroney, 6.370, 216.03 def. Mike Hilsabeck, 9.163, 76.58
Consolation – Harter, 6.417, 194.18 def. Hough, 7.418, 144.98
Final – Blackshear 6.283, 213.70 def. Maroney, broke
Jet Dragster
Round 1 – Dawn Perdue, 5.813, 272.34 def. Kat Miller, 6.262, 246.93; Elaine Larsen, 5.748, 277.15 def. Marisha Falk, foul
Consolation – Falk, 5.736, 279.44 def. Moller, 6.083, 260.56
Final – Larsen, 5.731, 276.01 def. Perdue, 5.766, 272.01