Dragbike racers and fans tend to love milestones.
However, the sport's apparent next performance barrier, the Pro Street Motorcycle 6.80-zone, is starting to irk Vance and Hines/DME-backed rider Joey Gladstone.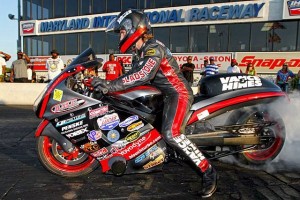 "Dimey (Eddinger/DME Team Owner) and I feel the same way about it. If we hear 6.80 one more time we are going to rip somebody's head off," joked Gladstone. "We are here to win championships and go fast, but truthfully, the 6.80 is definitely a huge goal of ours."
Gladstone could not have come much closer at the meticulously prepped Maryland International Raceway during the MIROCK Spring Nationals, April 25-27, and the Summer Nationals, May 30-June 1.
In April, Glastone unleashed multiple 6.90s, including a new MIROCK record at 6.907, before damaging a bucket in the cylinderhead of his turbo Haybusa and slowing to mid-to-high 6.90s for the remainder of the event.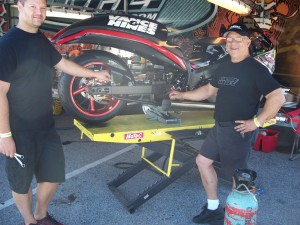 "We are constantly pushing ourselves and trying to go quicker, but all those changes and variables can add up," Gladstone said.
During the Summer Nationals, the DME-tuned racer was again on the precipice of a 6.80. Gladstone piloted the quickest Pro Street run ever at 6.903 with an astounding MPH of 220, following up his 6.905 pass from earlier in the event.
"It was right on the verge of wheel-standing at the stop of second gear. I really thought it was a 6.80. Is the 6.80 untouchable? It has seemed like it lately," Gladstone said.
Gladstone's Summer Nationals weekend and 6.80 bid concluded in disappointment when he was pushed through the beams in the subsequent round due to a malfunction with the two-step switch.
"It bums you out but it's part of racing. When this stuff happens you just have to realize you can't go back in time and you have to to take it on the chin," Gladstone said.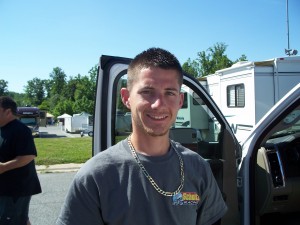 Multitime MIROCK champion Jeremy Teasley, who struggled early in the season, nearly beat Gladstone to the 6.80s when he unexpectedly stepped up to a 6.907 in qualifying and a 6.909 in the opening round. Like Gladstone, Teasley was also upset in round No. 2.
Gladstone just hopes nobody accomplishes the feat before he gets another chance.
"You never know. There are other races in the country and we are not always at the same track at the same time," Gladstone said. "It keeps us motivated when we are there."
The odds of seeing a 6.80 this season seem overwhelming with MANCUP races forthcoming in Virgina, Atlanta and Valdosta, and the MIROCK Series returning to MIR in late July and early October.
"It's a nice reward for how hard this team works in between races (at the shop) in Winston Salem (N.C.). It keeps us motivated," Gladstone said.
In the meantime, fans can speculate. When and where will it go down? And who will get there first?
Dragbike barriers sure are fun.
Unless you are Joey Gladstone.