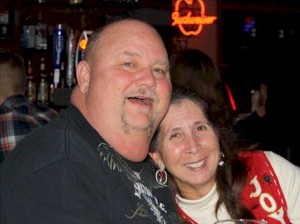 Cycledrag.com is saddened to learn of the passing of longtime Maryland International Raceway announcer Joe Plug.  God bless Joe and his family.
The first few times I announced dragbike events at Maryland International Raceway in 2002, Joe Plug was my partner for the weekend.  I always looked forward to working with him because I knew I would be spending half of the weekend announcing and half of the weekend laughing hysterically.  Joe was a great announcer and an ever better comedian. He could find a way to make Street ET time trials on a Friday night funny.  When it would start to sprinkle rain he would ask if the guys working the burnout box were "jerking our chain" again.  He would tell outlandish stories of how he tried to do a burnout in his garage on his Honda Gold Wing.  He said, "It was going well until the snow blower jumped out at me."
Joe loved his weekend job and he loved motorcycles. He would often ride his bike into MIROCK events, even if he was not scheduled to work.  Plug also loved his family very much and talked about them often.  He had been announcing at MIR for over 25 years, even before the Miller family purchased the track.  He would jokingly remind Royce Miller of that stat after a long day of work.  He was a great entertainer, a great man and he will be missed dearly.  Godspeed Joe, you have the best seat in the house now my brother.
– Jack Korpela