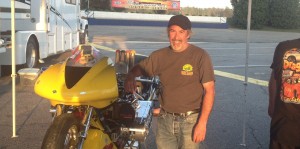 When college football players transition into the NFL, many express how it's an overwhelming challenge, adapting to how much quicker the game moves at the highest level.
Longtime dragbike racer Dave Vantine is saying the same thing about his recent transition into the pinnacle of motorcycle drag racing, Top Fuel.
"On a good pass on my Pro Mod I'm going 202 MPH at the finish line.  When we get this Top Fuel program figured out, I'll be doing that at half-track," Vantine said.
According to the experts, Vantine is adapting and assimilating himself to the sport's most rapid  and challenging category at an impressive pace.
In just a few events and test sessions, Vantine improved his personal best ET to 6.17 and recorded a top speed of 223 MPH.
There's little that could truly prepare an individual for the intricacies and unforgiving nature of a   Top Fuel dragbike, but just like college players stepping up to the pros, a solid background of fundamentals and great coaches can greatly expedite the learning process.
For Vantine, his strong foundation comes from racing fast dragbikes since 1987, garnering an IHRA championship and several top-fives along the way.  He couldn't have asked for a better coach than 11-time world champion Larry "Spiderman" McBride.
"I owe so much of this to Larry. Not only has he taught me a lot, he was the one who suggested I give this a try," said Vantine, who rides for nitro veteran Greg Pollard.
Despite his early success, Vantine says the fearsome machine keeps him humble and lets him know there is still a lot to learn.
"A nitrous bike takes off at about the same rate, but after the first 100 feet it's a completely different animal. With my Pro Mod, by the time I get about 500 feet out I can pretty much just concentrate on making minor adjustments and getting to the finish line," Vantine said.  "On a Top Fueler you have to constantly work to stay ahead of the bike. It pulls so hard."
Vantine has done so well that he has already committed to racing Pollard's Top Fuel dragbike again next season. He will also squeeze in select events on his Pro Mod.
"We don't get to race Top Fuel a whole lot so I like to still hit several events on my other bike to stay sharp," Vantine said.
It's another sign of Vantine's veteran mentality. In the high stakes world of Top Fuel dragbike racing, staying as sharp as possible is not a bad idea.