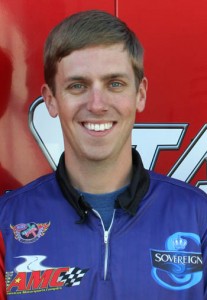 Sovereign-Star Racing's Michael Ray moved up to the No. 2 position in the National Hot Rod Association (NHRA) Mello Yello Series Pro Stock Motorcycle overall points standings after advancing to his third semifinal round in a row and claiming four bonus points during qualifying.
His 19-year-old rookie teammate, Chaz Kennedy, also had a successful weekend during his second Pro Stock Motorcycle appearance ever. He posted his first six-second pass that earned him the No. 9 qualifying position at the NHRA Toyota Nationals at The Strip at Las Vegas Motor Speedway in Las Vegas, Nev.
The team came out strong on Friday when Ray posted the low ET (elapsed time) of the first qualifying round and third lowest of the next session. Ray was the second quickest of Sunday eliminations and the quickest bike to turn on a win light all day. Kennedy also ran very consistent numbers over the weekend, matching Ray in impressive 60-foot and reaction times.
"The championship – that's something that we knew mathematically was a possibility but we knew realistically all you can do is go out and fight for every round you can. We just came up a little short this year. We moved up in points and took a pretty good lead (over third place). It was great to run so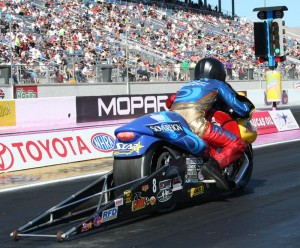 well this weekend, especially in front of all our sponsors – Jeno (Rujp) from Sovereign Racing, my personal sponsors, and of course George and Jackie (Bryce). Especially looking toward the future, that was really great for us to go out and drive well," Ray said.
Ray moved into second place in the NHRA Countdown to the Championship, while the No. 1 position was clinched by Matt Smith after his win in the finals against Jerry Savoie. Before going into the Las Vegas race, Ray was only two points behind previous No. 2 competitor Hector Arana Jr. Ray's round wins and bonus points this past weekend have now advanced him one position to No. 2 and extended his lead to 37 points over third place Hector Arana Sr. and 40 points above No. 4 Arana Jr.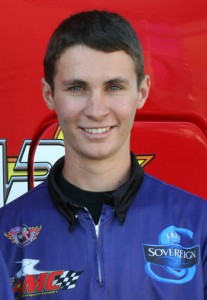 "Second is not the goal when you start out to run for a championship, but it's pretty darn good when our team has only been assembled for two years with Sovereign Racing as our partner. So far this year, our equipment and our team have been very reliable compared to 2012. Throughout the season, Michael (Ray) has gone from No. 8 to No. 2. With only one race to go, we're not counting our chickens before they're hatched, but we have a good chance to finish second," Star Racing owner and team crew chief George Bryce said.
During round one eliminations in Las Vegas, No. 6 qualifier Ray gained a big reaction time advantage off the starting line with his .021-second light against No. 11 qualifier Eddie Krawiec's .047. Ray took the win with his 6.957/191 mph pass against Krawiec's 7.032/189 mph. Ray's 6.957 ET was the second quickest of the round and the quickest winning pass all day.
"At the starting line, I stayed very focused on myself instead of everyone else. I didn't let any other team distract me, get in my head or take me out of my routine of knowing how to drive very well. That really helped me a lot to stay focused on that routine," Ray said.
In only his tenth pass in Pro Stock Motorcycle, No. 9 qualifier Kennedy also posted a good .026-second reaction time against No. 8 John Hall in round one. What started as a very close race ended quickly for Kennedy when a broken coil wire slowed his bike, giving Hall the win.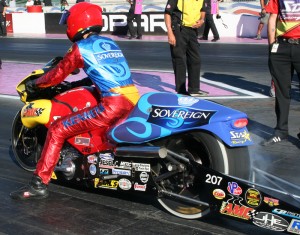 "Well, sometimes it's just not your day, and (Sunday) was not mine. I had a .026 light to John Hall's .022. The bike left like a rocket and was on a great run when the wire broke. On the bright side, I had the best race weekend ever! I made my first six-second run and felt more at home on the bike every lap. I felt like it was a 100 percent improvement from (the race in) Reading, and I think Pomona will be even better," Kennedy said.
"Chaz (Kennedy) was once again on the verge of being a hero but was slowed down by a five-cent part. He is going to surprise a lot of people, though, and will end up being a little bit of a stomachache for some people. With that 1.06 (60-foot time) and the straightness of his lap, we were certain it would have been his best run ever if the wire hadn't broken," Bryce said.
Ray continued to post competitive numbers in round two to take the win against No. 14 qualifier Katie Sullivan. Ray's 7.004/190 mph run was the second quickest pass of the round once again.
In the semifinals against No. 7 Savoie, Ray posted another great reaction time with his .010-second light against Savoie's .022. However, an unexplained mechanical "gremlin" cost Ray the win when his bike slowed to post a 7.089 versus Savoie's 6.991 pass.
"Michael (Ray) had a great .010 reaction time. He did everything right, but we slowed down to a 7.09 out of nowhere. I am responsible for the tuneups and the power of the engines, so I let him down. That was Michael's race and the bike let him down, which doesn't usually happen. We have everyone working on this to correct the issue so that it doesn't happen again," Bryce said.
The Sovereign-Star Racing team will compete again on Nov. 8-10 at the final race of the 2013 NHRA season, the Auto Club NHRA Finals at Auto Club Raceway in Pomona, Calif.
The 2013 Sovereign-Star Racing Team is a partnership between Georgia-based Star Racing and the Hungarian-based Sovereign Racing Team, the 2011 UEM European Pro Stock Bike Championship Team, owned by sugar distributor Jenõ Rujp.
The Sovereign-Star Racing Team would like to thank the following sponsors: Sovereign, Star Racing, Americus Motorsports Complex, S&S Cycle, Daytona Sensors, Worldwide Bearings, CP Pistons, Cometic Gaskets, and Uncle Hal Gottspeed Racing.