The Arana Racing team figures now is the time to place their bets in Las Vegas casinos because their luck is bound to change after a tough Sunday in the NHRA Toyota Nationals at The Strip at Las Vegas Motor Speedway.
Lucas Oil Buell riders Hector Arana Sr. and Hector Arana Jr. each had mechanical issues, and ProtectTheHarvest.com/MavTV Buell rider Adam Arana tripped the red-light as all three fell in the first round.
"I'm just going to take it that maybe Vegas wants us to go to the casinos early because there's something awaiting us," Hector Jr. said.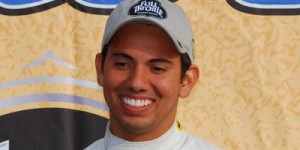 Hector Jr. was the first of the Arana Racing Buell riders to race, but after a long staging duel with L.E. Tonglet his bike did not get off the starting line. A sensor malfunctioned, causing the engine to rev down just as the Christmas Tree started.
"I went wide open and the rpm jumped up," he said. "But as soon as I was full wide-open, it was like I shut off the bike. It's definitely not a good feeling in your stomach."
Hector Jr. was feeling confident in the staging process, and he and Tonglet each took their time. Hector Jr. was the last rider to stage as the pre-stage bulbs stayed lit for several seconds before Tonglet moved in.
"I had a good staging battle," he said. "It was exciting and I enjoyed it. I'm just going to look at it in a positive way because there's no sense in getting yourself down."
That was Hector Sr.'s attitude as well as he had to pull in the clutch early after his bike wouldn't go into third gear. The No. 1 qualifier slowed to a pass of 9.885 seconds at 84.75 mph as Shawn Gann ran a winning 7.014 at 191.00 mph.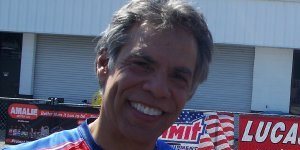 "It just didn't shift into third," Hector Sr. said. "It hit the rev limiter, and once it hit the rev limiter I was hoping it would unload. I kept hitting the shifter but it wouldn't shift. All I could do is pull in the clutch. It was over."
Adam's race was over quickly when he left .047-second too soon against Katie Sullivan. He admitted watching his older brother and father lose hard-luck races in front of him may have affected his preparation.
"I didn't want to lose," Adam said. "I thought I saw the light but I don't know. Stuff happens. This is hard and it bothers me. This one is about as tough a loss as I've had all year. I had a great qualifying position and the bike ran excellent. I just messed up on the Tree.
"We were having fun and were happy, and I was looking for a change in momentum. It didn't happen and it stinks."