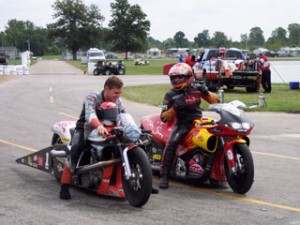 After a clutch win at the NHRA Las Vegas Nationals, the tour's next to last event, Andrew Hines and the Screamin Eagle Harley Team don't need any help from the competition to take a third straight championship.
Andrew Hines and the Screamin' Eagle/ Vance & Hines V-Rod Harley-Davidson team now like The Strip at Las Vegas Motor Speedway. They really don't have a reason not to like it now. Sunday was that good for the team.
Hines rode his way back into the NHRA POWERade Pro Stock Motorcycle points lead with a victory Sunday during the ACDelco Las Vegas NHRA Nationals. Hines started the event with a 27-point gap between him and first place rider Antron Brown.
Hines is leaving the event with a 37-point lead and his first career Las Vegas victory.
"This has not been one of my favorite tracks because the last two years we blew up the engine in the early rounds when we were leading the points with a championship on the line," Hines said. "But I think the casinos are going to love our team tonight because I think we're all happy about breaking that streak. This was a great weekend for the entire team."
Hines faced teammate GT Tonglet in the final round. It's the first final round appearance for Tonglet since the Memphis event in August 2005.
The runner-up finish also helped Tonglet move back into the top 10 in the NHRA point standings.
"We had one goal in mind for the last two races and that was to get back into the top 10," Tonglet said. "We've struggled a bit this season but we've made some good strides lately and this was such a good weekend for both bikes. It's a relief to be back in the top 10 and now we have to do what it takes to keep it through the last race of the season."
Tonglet beat Chip Ellis in the first round with a 7.228-second pass at 182.60 mph over Ellis' red-light foul at the starting light. He beat No. 1 qualifier Shawn Gann in the second round with a 7.352 at 178.57 over Gann's red light. Tonglet then beat Geno Scali in the semifinals with a 7.191 at 184.95 over Scali's foul.
Hines topped Tom Bradford in the first round with a 7.088 at 188.44 over Bradford's red light foul. Hines moved on to beat former points leader Antron Brown with a 7.151 at 186.00 over Brown's foul before he beat Ryan Schnitz with a 7.126 at 187.42 to Schnitz's foul.
Hines earned his third win in five final rounds this season and seventh career victory with a track record pass. Hines recorded a record 7.080 pass at 188.65 to take the win over Tonglet's 7.310 at 181.91.
"Las Vegas has been a tough city for us," Harley-Davidson Racing Manager Anne Paluso said. "We've struggled there and we knew we could not let that happen this time. This was such a successful turnaround compared to the last few years here and it's a great way to be able to head into the final race of the season.
"We wanted to be in the position to run for the championship at the season finale and we did that this weekend. The team has worked very hard to make it all happen and both riders did their jobs too."
Hines gave credit to Terry Vance, his mentor and dad's friend in partner in racing for more than 30 years.
"Terry talked to me a lot and really hammered the point about being inside a box before making each run," Hines said. "He's been so instrumental in helping me become a better rider at the starting line and I think it made the difference this weekend."
Now Hines is looking to earn his third championship in less than five years of professional drag racing.
"It's been such a fun ride over the past four and a half years," Hines said. "To already have two championships under my belt and a chance at a third is a testament to the team I have working on the bikes. They took a rookie with very little experience and the Screamin' Eagle team gave us great equipment and we've done some great things on the V-Rod. It's an amazing thing."
Hines said they have been focused on regaining the points lead. Hines had the points lead following three of the first 13 events of the season.
"Right now we're clawing tooth and nail to get every point we can," Hines said. "You have to be on your best game, especially this time of year, because everyone is aiming for the final race wins and the championship."
The last time Hines got past the first round at this track was 2003. This year, he's leaving happy.
"The bike ran so well all weekend, it was on a rail," Hines said. "The best pass of the day came in the final round and that was good enough for the track record. The team made an extraordinary effort. My dad (team owner Byron Hines) was so proud of the crew and what they all accomplished this weekend."
The season finale of the NHRA POWERade Drag Racing series is the Automobile Club of Southern California NHRA Finals at Pomona (Calif.) Raceway, Nov. 9-12.
Screamin' Eagle Performance Parts are inspired by and built in the spirit of the raw adrenaline and power of motorcycle racing. Screamin' Eagle Pro parts are specifically designed for race-use applications, while Screamin' Eagle parts offer street-use performance options for the Harley-Davidson motorcycle owner. Visit www.harley-davidson.com for more information.
The Screamin' Eagle/Vance & Hines Pro Stock Motorcycle team is sponsored by Ford Truck, Dunlop, Matco Tools and S100.