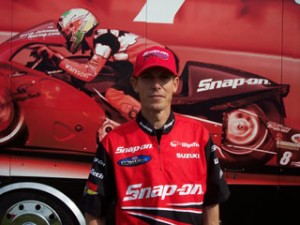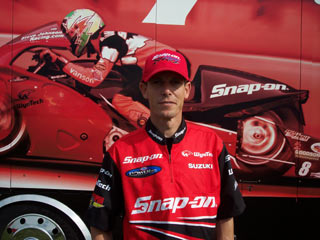 I Feel Like A Rookie" – 20-Year Pro Stock Motorcycle Racer Steve Johnson After Redlighting In Las Vegas
"I've 'thrown away' more trophies this year than I've ever had a chance to win," said Snap-on Tools Suzuki racer Steve Johnson after redlighting in the first round of eliminations at the AC Delco Nationals, the penultimate race on the 2006 NHRA POWERade Series circuit. "At two races in a row I've had the motorcycle capable of winning thanks to crew chief Mark Peiser and the rest of our guys, but I just didn't get it done.
"Now that we've got the power to win races I've got to bring a whole different mental approach to racing," added Johnson in obvious frustration. "Two weeks ago we lost because of a staging issue, but this time around it was nothing short of a mental problem – mine. I wish I could point a finger of blame at someone or some thing. You know, maybe some mechanical problem, or breakage, but that's just not the case. I blew this one, plain and simple.
"We were in Las Vegas, where everything's a gamble, and for us everything came up snake eyes. I know I can fix this problem. A quick visit to any licensed psychiatrist will solve this!"
While Johnson tried to make light of his plight, his frustration was obvious. After a very good 2005 season during which he won two of the most important races of the year he'll be heading into the NHRA AAA Finals in Pomona, California in two weeks with just one chance remaining in which to earn a victory.
"I'm not about to start spouting clichés about how hard everyone's been working and stuff like that, because our guys always work hard. If we're going to succeed in California in two weeks it's going to be up to me to get the job done, and I am determined that there won't be a repetition of what our fans saw in these last two races.
"As of this moment you've heard the last from me about the AC Delco Nationals. I'm not about looking back, I'm about looking forward, and that means the Finals in two weeks. There's going to be a lot of talk about the racers still in contention for the championship, but our goal is to steal some of their thunder by out-running those contenders on the track. We've got the power to be extremely competitive. Now it's up to the driver to deliver, and that's what I intend to do!"
Results:
Qualifying:
Session #1: 7.264/185.03 #15 (7.278 Bump)
Session #2: 7.380/183.54 #19 (7.201 Bump)
Session #3: 7.147/186.36 #10 (7.169/ Bump)
Session #4: 7.267/181.06 #10 (7.166 Bump)
Eliminations:
Round #1 -0.109 R.T. (Redlight, no elapsed time or speed), lost to
Antron Brown (-0.032 R.T. 7.185/184.95)
Next: NHRA AAA Finals, Pomona, CA, Nov. 9-12