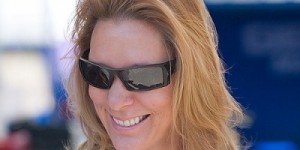 What a difference a year makes.
Last season GEICO-backed NHRA Pro Stock Motorcycle Karen Stoffer was involved in a near-career-ending accident in the pits of the NHRA AC Delco Las Vegas Nationals.  This year she is enjoying the most successful season of her career.
In 2005 the rear door of Stoffer's massive transporter came loose, struck her in the head and violently drove her into the ground.  Doctors predicted Stoffer's recovery to last at least a year.   Not only has Stoffer recovered much quicker than expected, she's assembled her best NHRA season yet and is sixth in the POWERade Point Series following the Las Vegas race.
"I never really had any kind of notion that I would never race again," Stoffer said of what happened a year ago. "I'm proud of how we were able to turn something negative into something positive."
The accident, in which Stoffer broke her pelvis, hand, nose, and cheekbone and sustained cuts to her head and dislocated her finger, occurred on October 23rd 2005.  To the astonishment of many Stoffer was back on the bike by February 8th 2006 – less than four months from her accident.
"The rehab was easy for me because it involved two things I enjoy greatly, walking and sitting in the jacuzzi," Stoffer said.
After a euphoric weekend last race in reading, Pa, where Stoffer won the event and joined the elusive Mickey Thompson six-second club, Vegas proved to be less fulfilling for the team.  Stoffer qualified 14th and redlit in the opening round against three-time series champ Angelle Sampey.
"We struggled this weekend trying to deal with air that was a lot dryer than air in Reading. We ended up swapping motors three times, but we just couldn't seem to get a handle on the tune-up," Stoffer said. "It's frustrating knowing that we had a chance to win."
Nonetheless Stoffer hasn't lost sight of the fact that she only trails fifth-place Matt Smith by three points heading into the tour's final race.
"After my accident our goal was earn a single digit to put on the GEICO-bike.  I'm really proud of where we have come.  A top five would be awesome," Stoffer said.
'The main goal is to win the race."
Stoffer's bid for a career first top-five will culminate November 9-12 at Pomona Raceway in California.
Stoffer went on to extend special thanks to all of the 2006 sponsors.