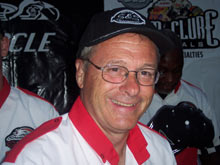 Over the past several seasons seven-time AHDRA national champion Dan DeGood, of Mountain Top, Pa. has cemented his place in history of one of the greatest dragbike bracket racers ever.
Now in the stretch-run of his farewell, retirement-bound season DeGood seems to be as sharp and competitive as ever.  At AHDRA's race in Richmond, Va, in September, dedicated to the late Jim McClure, one of DeGood's closest personal friends and mentors, DeGood performed flawlessly and collected the 38th win of his career by outlasting 64 of his adversaries in SYN 3 ET.  It marked the 57th time DeGood had reached an AHDRA final. But for DeGood it marked much more.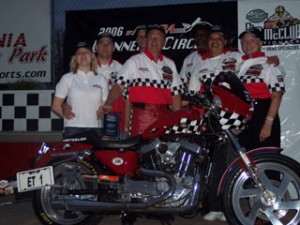 "The more I thought about it on the way home the more I realized that was the most meaningful win of my career," DeGood said.  "It's really special for me to come out here and win my favorite class on Jim's track in an even dedicated to Jim.  We were great buddies and I miss him a lot."
DeGood and McClure first met in 1993 at Sturgis and became great friends shortly thereafter.  "He taught me what it takes to be a winner and was a major help to me in learning how to conduct a professional race team," DeGood said. "We played golf often."
After the race DeGood said it would be fitting if the Richmond win was the last win of his career.  However, with two races still remaining, and DeGood running incredibly consistent, he found the winner's circle yet again a few weeks later in Rockingham, NC, in The Pingel ET Race of Champions.
"That race is  certain proof of the adage "the cream rises to the top," DeGood said. "There were so many tough racers left in the late rounds."
Current ET points leader and 2003 champion, J.P. Hendrzak made it to the finals with a red-light victory over Bob Drapp.  Both Hendrzak and Drapp have 3 ET event wins so far in 2006.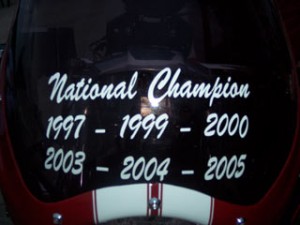 On the other side of the ladder, DeGood, the five-time and reigning ET Champion, ousted "Hyper" Liz Davis to gain a spot in the finals.  As could be expected, the final race between DeGood and Hendrzak for $2,500 was a close one, and came down to a double break-out win for DeGood.
After the race, DeGood said, "It's always fun to race J.P..  We've been facing-off for a number of years, and J.P. beats me as often as I beat him.  J.P. has been either first or second in points all year, and has been steadily increasing his lead since Seattle.  I feel pretty confident J.P. will win his second championship this year, and I can't think of a more deserving and talented racer to carry the ET No. 1 plate next year than J.P."
DeGood went on to thank Wayne and Donna Pingel for sponsoring the 2006 Pingel ET Race of Champions.  Their generosity and support for ET racing has existed for many years and is greatly appreciated by all.
Over the past 10 seasons DeGood has only missed 3 AHDRA events, in a series that holds an average of 14 events a year, coast-to-coast. The only event he has missed in the last four seasons was due to his son's graduation form college. After all that it's hard to believe that for DeGood, just one race remains – The AHDRA finals in Las Vegas.
"It's time for some young blood to get in here and win the championship," DeGood said. "We're going to sell everything and move down to Georgia. I'm looking forward to a lot of golf and a lot of fishing and boating. I'll still come out to a few of the races as a spectator."