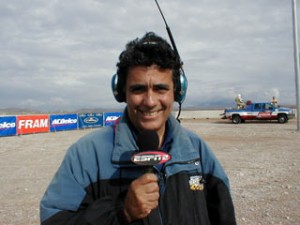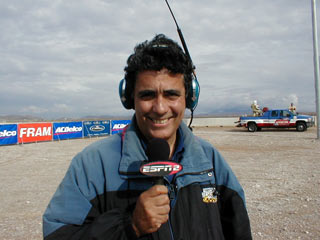 Bill Stephens is a guest columnist for CycleDrag.com. Stephens has been involved in the motorsports media for over 30 years and has compiled a lengthy resume of accomplishments. Most notably he has hosted NHRA Today, NHRA Heat, and served as a pit reporter for the Daytona 500. Currently, he can be seen on ESPN 2 on such programs as Inside Drag Racing and The Mother's Car Show
In 1999, the great three-time NHRA Pro Stock Motorcycle champion Matt Hines won his third consecutive title by overhauling Angelle Sampey (then Seeling) in the final two races of the season. His margin of victory for the PSM world championship was 8 points, and although Hines and Sampey were the only two riders still in contention as the season wound down, the tightness of that battle helped the category to win a legion of new fans—many of whom had never really paid much attention to the class previously.
Welcome to 2006.
With only two national events remaining on the bike schedule, as this is written, there is a spectacular three-way fight for this year's POWERade championship between three riders who have uncanny connections, both competitively and personally.
Antron Brown, Andrew Hines—the younger brother of Matt—and Sampey, now a three-time champion in her own right, are locked in a stretch drive Donnybrook that finds them all within slightly more than three rounds of each other with only eight rounds of racing left to go. All three have led the points at different junctures of the '06 campaign and except for Antron, all have won the "Big Prize" in the past.
Hines, of course, is the defending and two-time champion. Sampey won her titles consecutively between 2000 and 2002, while Antron's highest points finish was in 2001 when he ended the year in second place (to Sampey) in the championship standings. The connections between these three racers could have been conjured up by a clever Hollywood script writer, but in this case, the truth is far and away a sufficiently compelling storyline without any added embellishment.
Hines & Sampey: Continuing a rivalry that was first set into motion in 1997 when the elder Hines, Matt, first squared off against Angelle, who was in her sophomore season with George Bryce's vaunted Star Racing team. Matt had been the co-winner of the NHRA's Rookie of the Year award the year before—sharing the honors with Pro Stock's Mike Edwards. Matt and Angelle's head-to-head confrontations on the track were bitter, relentless, and frequent. Their acrimonious dust-ups often took root off the track with wars of words between the two adding spice and controversy to the media's coverage of their run-ins.
Andrew arrived on the PSM scene in 2002, riding a Suzuki GSX-R which he had built and tuned with help from his brother and legendary father, Byron Hines, in their Colorado-based Vance & Hines race shop.
The V&H team made the big switch to Harley-Davidson in 2003, suffered through some nasty growing pains in the formative days of their new program, but redeemed themselves in 2004 and 2005 with two straight POWERade championships.
Meanwhile, Angelle's professional and personal life was ricocheting through a twisted labyrinth of ups and downs. She would leave her Star Racing home at the end of the 2002 season, experience two marriage breakups caused in many ways by the pressures and challenges of pursuing her racing career, and mourn the loss of her former Star Racing teammate, John Myers, who was killed in a non-racing motorcycle accident in 1998. Despite those obstacles, she raced brilliantly to her three consecutive championships and tacked on two straight wins at the Mac Tools U.S. Nationals in Indianapolis in 2001 and 2002.
Brown is, perhaps, Angelle's closest friend and confidant on and off the racetrack. He is Angelle's cousin-in-law, married to Sampey's cousin Billie Joe and the relationship between the three is tight and impervious to the demands of their hectic schedules. Antron and Angelle have taken the Don Schumacher-owned U.S. Army team to the very top of the motorcycle drag racing world since they became part of the sport's biggest operation two years ago and the possibility of a 1-2 finish this year for the two veteran riders would make major waves in the PSM realm.
Heading into the 2006 season, more than a few PSM observers predicted the Harley-Davidsons and Buells would be too tough to tame for the Suzuki outfits, but such has not been the case and it's clear that the Brown-Sampey duopoly has become the Suzuki standard-bearer as the season winds down.
Great drag racing invariably leads to great drag racing points chases and that's exactly what we're witnessing as the 2006 campaign heads into its final moments. The standings tell the story: Brown leads Hines by 27 points, Hines is 37 points ahead of Sampey, and Sampey trails Brown by 64 points with stops in Las Vegas and Pomona yet to go.
This year, as in 1999, the NHRA's Pro Stock Motorcycle class will be earning an even bigger following thanks to a points race that's going right down to the proverbial wire.