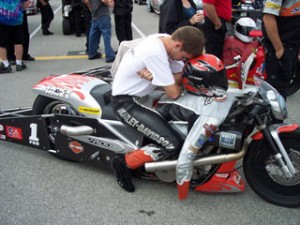 No one said it was going to be easy
In one of the most competitive NHRA Pro Stock Motorcycle seasons yet, Harley Davidson-backed Andrew Hines entered the AAA Auto Club NHRA Finals, clinging to a mere 37-point lead over US Army's Antron Brown.
At the conclusion of qualifying Hines' had secured the No. 1 qualifying spot with a 7.02 at 191 mph and appeared to have an easy road to his third straight season title.  On Sunday the mission was plain and simple – go further, or at least as far as Brown to clinch the championship.
It seemed like an easy enough plan, especially since Brown had a dismal qualifying effort to put him in the No. 10 spot with a 7.10 at 189 mph.
However, let's not forget this is gung-ho, parity-laden Pro Stock Motorcycle of 2006 – Not Pro Stock Bike of 1991 where a pole position was a first class seat with express service to the final. Back then the name on the ticket was most always Schultz and Myers.
My how things have changed.  Exemplifying the unpredictability of the class, Hines was upset in the opening round by No. 16 qualifier and eventual finalist Tom Bradford, when Hines redlit (-.019) away a 7.02 to Bradford's 7.07.  Brown went on to defeat Ryan Schnitz and suddenly the door to Brown's first championship that was somewhat ajar was swung wide open.
Again, let's not forget this is 2006.  In round No. 2, Craig Treble, who hadn't won a race all season, shattered Brown's championship hopes with a .005 light and a 7.06 to Brown's .084 and 7.14.  It was perhaps the greatest favor Treble could have paid to his long time engine builder Vance and Hines.  Treble went on to win the event and the party began in the Hines camp.
"This one means the most," Hines said. "Every single round of competition was tough. Every round, you felt like you had to be at your very best to win the race. It was very hard. The level of performance has never been so close in this class. It was tough, but it makes the championship mean so much more."
Hines, 23, has some pretty deep racing roots.  He now joins his brother Matt as a three-time champ and still remains very close with his father Byron's former teammate and business partner Terry Vance.
"With Terry's help, I think I'm finally figuring out what it takes to win," Hines said. "I'm not just letting out the clutch, relying on the bike, and looking for win lights anymore. I've taken more ownership of what's going on each pass. There's been more emphasis on the riders this year, and I've learned how to deal with it. If I stay within myself and make a pass the way I know how to make it, nothing else matters"
And just like his mentors, Hines has come to accept nothing short of perfection from himself each race.
"Something I strive for as a rider is to not only be number one, but to be perfect on the bike," Hines said. "I don't want to make a great pass; I want to make a pass that absolutely turns everyone's heads. That might result in the rule makers coming down hard on us sometimes, but I can't help myself because it's in my nature to think like that. It's the way I'm wired. There is always, always room for improvement."