"Bruce is a good guy who knows the business. I don't think Scooter could have made a better decision. It's a great change and I'm very excited." – Eight- time Top Fuel Champion Larry "Spiderman" McBride
"I think it's a very good thing.  I know what kind of person Bruce is and I know he will look at everything very objectively." – Super Sport team owner Brock Davison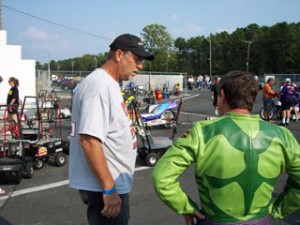 The American Motorcyclist Association (AMA) and AMA/Prostar are pleased to announce the restructuring of AMA/Prostar Drag Racing.  Beginning with the 2007 season AMA/Prostar will come in-house as part of the AMA's restructuring of its racing operations.
Bruce Sauer, 8-time AMA/Prostar National Champion has been named as Drag Race Manager for the AMA and will work with newly appointed Road Race Series Director, Keith Kizer out of the AMA's headquarters in Pickerington, OH.
According to Kizer Sauer brings a wealth of drag racing experience to the AMA not only as a rider, but also as an AMA/Prostar tech inspector and racing coordinator for local events at National Trail Raceway in Columbus, OH.
"I am personally thrilled to have Bruce at the forefront of this groundbreaking change for the sport of motorcycle drag racing," said Kizer.
Sauer's racing accomplishments include the AMA/Prostar 1999 Sportsman Rider of the Year, 9-time winner of the Mechanic of the Year award, and 52 national event wins.  As a mechanic he currently has 14 championships to his credit. "I'm excited to be involved in these changes because I care about Prostar and want to see it succeed," commented Sauer.
All current Prostar staff will continue as AMA officials at all AMA/Prostar events.  Kizer noted that racers and spectators should notice little difference in how everything looks and works at AMA/Prostar events other than a bigger and better program.
The 2007 structure will separate AMA and Prostar in their respective duties preceding each event.  Prostar offices will be relocated to New Jersey and operated by a staff lead by Prostar stockholder, Jack Musilli.  Prostar will oversee membership services, advertising and spectator promotions.  AMA, under the direction of Sauer, will oversee sponsorship programs including contingencies and series sponsorships.  AMA, similar to other disciplines, will also oversee all technical rules, event staffing, and logistics.  This new separation of duties will ensure a more productive system and a significant increase in staffing between events.
Prostar offices in Huntsville, Alabama will remain open until the end of December at which time all services will be split between the New Jersey office and the AMA office in Columbus, Ohio.  Additional information and contact information for Prostar and Bruce Sauer will be distributed shortly.
AMA/Prostar is based in Huntsville, Alabama and is the Drag Racing division of the AMA (American Motorcyclist Association). Founded in 1924, the AMA has an unparalleled history of pursuing, protecting and promoting the interests of the world's largest and most dedicated group of motorcycle enthusiasts. The AMA is also the world's largest motorsports sanctioning body. AMA/Prostar has evolved over 15 years to become the largest motorcycle drag racing sanction in the world. The organization holds records and hosts riders for the fastest (243 mph) and quickest (5.80sec) motorcycles on asphalt. The 2007, seven-race tour will bring thousands of bikes in fifteen different classes down the finest race tracks in the world. All to compete for cash and contingency prizes totaling over $1,400,000 in cash and contingency.