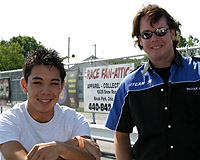 Brock Davidson, owner of Brock's Performance Products and the first man to put a street bike in the sevens, and Vince Woska, a young aspiring rider climbing the no-bar ranks, accomplished what they intended to do when they first teamed up in 2001 at the 2006 AMA/Prostar National Finals from Gainesville, Fla, Nov 3-5.
After just missing out on the elusive No. 1 plate over the last few years Woska got off to a ferocious start in 2006 and needed only to qualify at the tour's final event to consummate his championship quest. Not only did he qualify, he won the race.
"It feels really good," Woska said.  "It feels like all of the hard work we have put in over the last six years finally paid off."
Woska finishes the year with three event wins – Valdosta, Virginia, and most recently his final round victory over Brock's Performance Products teammate Danny Payton in the Gainesville final.
"When Vince first came to me in 2001 he was just like any other kid out there that wants to succeed in drag racing," Davidson said.  "I watched Vince and his father Vince Sr. get a dose of how difficult this class is really quick.  It was great to see all of their hard work pay off.  Vince has developed into an exceptional rider and Vince Sr. has become a great tuner."
Davidson says that in a very limited class such as Super Sport, it's the hard work, practice, and testing that makes all the difference.
"Since you can't do much of anything to the bikes, you have to try everything," said Davidson, who also won the Super Sport championship in 2005 with Rickey Gadson. "Vince is a big kid.  He's 50 pounds heavier than some of the riders in that class but they were still able to find a way to win, it was great. Dave O (Owen), with all of his Maxton experience, helped teach Vince a lot of tricks about getting the bike to go fast."
As for now Woska will remain on cloud nine for quite some time.  "We had a lot of fun," Woska said.  "Brock is a big part of our success and I want to thank him in particular." For 2007 Woska is contemplating moving up to one of the quicker no-bar classes.
Vince Woska again thanked Brock Davidson of Brock's Performance Products.  "None of this would be possible without his support, time, effort, and friendship," Woska said. Woska also thanked
Brocks Performance Products  www.brocksperformance.com
Vanson Leathers www.vansonleathers.com
Hindle Performance Exhaust www.hindle.com
Alisyn Synthetic Lubricants www.aerospacelubricants.com
Innovate Motor Sports www.tuneyourengine.com
Vortex Racing www.vortexracing.com
American Suzuki www.suzuki.com
AMA / Prostar www.amaprostar.com
Califf Photography www.califf-photo.com
Brock's Performance Products extended thanks to:
Hindle Manufacturing of Canada, Öhlins Advanced Suspension Technology, USA, World Wide Bearings, Bates Leathers and especially Dave "Mr. 200 MPH" Owen of Boston for his technical expertise and tuning skills. Davidson owns and operates Brock's Performance Products, which specializes in a vast array of performance products for sport bikes, for racing, and for street applications. Brock's Performance Products can be reached at (937) 298-6818.  For more information log onto www.brocksperformance.com