What's wrong with the world's quickest motorcycle?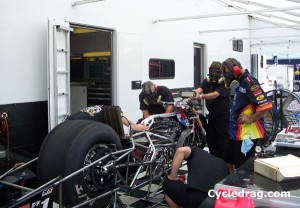 That's the question Top Fuel Motorcycle legend Larry "Spiderman" McBride and his crew chief/brother Steve have been trying to answer for over a year.
McBride's AMA Dragbike record-holding (5.79, 245 mph) motorcycle hasn't been running on all four cylinders lately. The machine will sometimes drop a cylinder early in a run.
Heading into the AMA Dragbike Elmer Trett Nationals, April 10-11, in Atlanta, Ga., McBride thought he may have finally got to the root of the malady. The Spiderman believed he was using a bad batch of nitro methane, but after a fresh barrel of fuel caused the same issues, it's back to the drawing board for McBride.
The problem first became apparent to McBride after he suffered a starting line explosion at the season-opening race last year in Valdosta, Ga. After changing or inspecting every component on the bike, McBride is a bit baffled.
"We've blamed it on everything we possibly can," McBride said. "We've changed everything; every ignition part, every fuel system component, the blower, every wire, you name it."
Steve McBride echoed his brother's frustration.
"In 32 years of racing I've never faced anything like this," Steve said. "I stripped the bike down to the bare frame and started over like I was building a new one. I made all new grounds."
It's an uncommon situation for Team Spiderman to be in. The McBride brothers' vast technical knowledge and problem solving ability has kept them at the forefront of the sport for over 30 years. In 1999 they became the first to break into the elusive five-second club.
However the team's expectations have risen a great deal and the desire to go even quicker perpetually burns inside the ten-time world champion.
"The bike will still go 5.90s right now," McBride said. "We sat down a while back and looked at the numbers from the computer and we came to the conclusion that 5.60s are very feasible. That's my goal moving forward."
In an effort to continue evolving, Team Spiderman recently went to a state-of-the-art fuel system. Despite several thorough inspections which indicated everything is working properly, McBride isn't ready to rule out a problem in the fuel system just yet.
"I had every part out on the flow bench and they all flowed exactly the same amount. Of course that's with water. You never know what the nitro is actually doing in there during a run," McBride said.
Steve McBride has a theory of his own, albeit slightly less practical.
"It's a gremlin. Not a mechanical gremlin, but an actual gremlin," Steve said. "They do exist you know."
Nonetheless Steve remains optimistic.
"We will find it," Steve said. "No doubt about it. I don't care how long it takes, or how many times we have to take everything apart, we will find it."
The McBride brothers resume competition at the AMA Dragbike Spring Nationals from Martin, Mich., May 15-16. Here Spiderman will have the opportunity to race on US 131's newly repaved dragstrip.
"I'm excited. It's a fresh track, and I have heard great things about it," McBride said. "We are going to continue to work hard here at the shop, and hopefully find our problem before Martin."
The team thanked; Pingel Enterprise, Drag Specialties-Parts Unlimited, Red Line Synthetic Oil Corporation, K&N Air Filters and Web-Cam as well as his other sponsors.
Trim-Tex Drywall Products, Vance & Hines Motorsports, PR Factory Store, Muzzys Performance, Ferrea Valves, Kibblewhite, Precision Machine, World Wide Bearings, Vanson Leathers, Performance Machine, Belt Drives Ltd, Street & Competition, Simpson Race Products, Nitrous Express, APE, EK Chain, Arias Pistons, R/D Spring Corp, Autolite, MSD, Protect ALL, Whipple Industries, Cometic Gaskets, B&J Transmission, Carolina Cycle, L.A. Sleeve, PJ1, Mickey Thompson Tires, Valco, Goodridge, Carlisle Belts and Gates Belts.