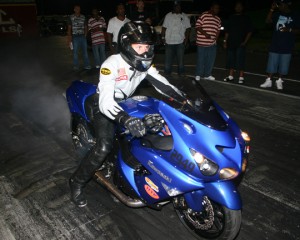 Jeremy Teasley and his Adams Performance/RS Motorsports Kawasaki ZX14 are a runaway train, and the MiRock Superbike Series is targeting the 19 year-old rider with an escalating bounty. The bounty is open to anyone outside of the Adams Performance/RS Motorsports team that can knock the kid off. Each race that the bounty goes uncollected will see the total increase, and if Teasley makes it through the season undefeated he will collect the bounty himself!
Two wins at Rockingham Dragway made it three for three HTP Performance Real Street victories so far in 2010. Teasley's first win of the weekend came on Saturday against New Jersey superstar Rickey Gadson and his Carpenter Race Engines ZX14. Sunday's Real Street final saw what's become a common sight—Teasley racing Adams Performance team boss Coby Adams. Since Adams started riding at the AMA Dragbike event at Atco, New Jersey, last year, all but two events in both series have been Jeremy vs. Coby, all-Adams Performance Kawasaki finals. "These bikes of Roger Starrette's are definitely tough to beat," said Adams.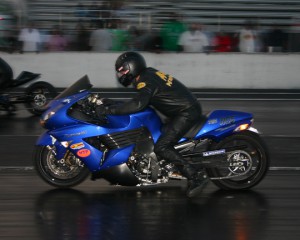 Jeremy took the tree against Coby and ran a record-setting 7.83, while Adams wheelied in the right lane and lost. "I don't know, I didn't do anything different," said Adams, who earlier in the day ran his first 7 ever on anything. "Between Jeremy and Chip (Ellis, who beat Adams the weekend before in Martin, Michigan), they seem to set records against me. I'm the only one they really wanna pick on that bad, I guess!"
Teasley, who qualified number 1 with a 7.84, practically apologized for running 7.90s all day until the final. "It looked like we were slacking all day, but we really weren't," said Jeremy, holding his two trophies aloft to prove that it all came together in the end. "It's wheelieing."
"We need to work on the chassis a little more," said Starrette, who assembles and tunes the two blue '14's. "It's not working good down track. A little more weight transfer and we can shoot a little more nitrous to it quicker, and a .70 would be a good possibility. Jeremy and I are just now learning how each other works and I'm just now getting a handle on tuning for him. He gives me good feedback but I was being a little too aggressive. I'm used to the heavyweights like Coby. Tiny changes make a big difference at Jeremy's weight. But we're getting a good system down now and we still have more left. We coulda ran .70's that round, but we turned it down to be safe."
The team's repetitive Real Street success has yet to get old with them. Teasley, Adams, Starrette and crew could read these winning headlines everyday.
The team's Atlanta-winning Pro Street ZX14 had a slow motion nitrous explosion during Saturday's last qualifier. The bike died suddenly as it passed the tree. Just past 60 feet nitrous started spraying a cloud around the front of the bike, which about two seconds later exploded, followed by a small fire. "I thought it was over, and then 'Bam!'" said Starette. Teasley coolly glided the bike to a stop, and the Rockingham staff deftly extinguished the fire without overdoing it and covering the bike in extinguisher gunk. Little damage was done, but no lessons learned, so the bike was parked for the weekend rather than risking another incident. "A nitrous solenoid stuck open but we don't know why. I don't know if it was electrically stuck open or mechanically stuck open, but it filled the airbox full, choked the motor down, then caught a spark and then 'Boom!' We coulda thrashed and put it back together, but some little small something coulda done it again. Take your time, fix it right, come back two weeks in Maryland."
Adams Performance races next June 5-6 at the Fast by Gast Summer Showdown at Maryland International Raceway in Budd's Creek.