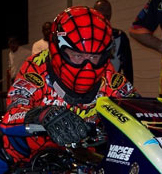 Experts agree fine wine gets better with age.
Clearly the career of legendary Top Fuel Motorcycle racer Larry "Spiderman" McBride also gets better as time goes by.
McBride began his 32nd season of competition with a commanding and consistent performance at the AMA Dragbike Bikeweek Nationals, March 6-7, in Valdosta, Ga. The Spiderman qualified on the pole, scored the event victory and recorded passes in the five-second zone during each of his five attempts. All of this was accomplished with less than favorable weather.
"It went down to 30 degrees at night. We could have used some global warming this weekend," joked McBride. "The cold made tuning the bike a bit of a challenge, although the track was extremely good."
McBride defeated friendly rival Chris Hand in the final round with a 5.95 at 227 mph.
McBride said it felt great to win the first race of the season but he is quickly realizing his team's expectation have risen a great deal over the years. Even a high five-second run has become commonplace to the veteran rider.
"We were running in the 5.90s, and we weren't satisfied," McBride said.
To keep things in perspective, only four other motorcycle drag racers have joined the exclusive MTC Five Second Club since McBride became the first to eclipse the six-second barrier in 1999. Most teams would relish a run in the 5.90s, but ten championships and numerous world records have a true competitor like McBride raising the bar on his own aspirations. In 2010 McBride wants to win an unprecedented 11th championship and boldly aims for performance in the 5.60-zone.
"If you calculate everything, we've got all of the low-end numbers to make it happen," said McBride, who currently holds the world record at 5.79 and has been as quick as 5.74 unofficially.
That's not to say the feat will be easy. It will require superb atmospheric conditions, a well-prepped track and a near-perfect run with record speed.
"I'm going to have to be right up there around 250 mph," McBride said.
Few dare to achieve such speed on two wheels with the absence of a roll cage and a seatbelt. As long as he's at a smooth dragstrip with a lot of stopping room, McBride said he isn't afraid of surpassing 250 mph.
Before McBride can put a 5.60 on the scoreboard, the team's first priority is uncovering a nagging problem, which began early last season. The record-smashing motorcycle will sometimes drop cylinders during a run or misfire off the starting line.
"We think we may have possibly got some bad nitro. We've changed every part imaginable but the issue just seems to keep coming back," McBride said. "It's hard to diagnose the problem because it doesn't show up on every run. Sometimes it just flies. I went 227 mph to the eighth one time this past weekend."
Despite the ailment, the 10-time champion is optimistically focused on the 2010 season. McBride will compete at all of the AMA Dragbike events and possibly a pair of Pinks All Out races at Virginia Motorsports Park in early June and Norwalk Raceway Park in late August.
"It's hard to believe this will be my 32nd season of racing," McBride said. "I just can't stop. I love the sport way too much."
The team thanked; Pingel Enterprise, Drag Specialties-Parts Unlimited, Red Line Synthetic Oil Corporation, K&N Air Filters and Web-Cam as well as his other sponsors.
Trim-Tex Drywall Products, Vance & Hines Motorsports, PR Factory Store, Muzzys Performance, Ferrea Valves, Kibblewhite, Precision Machine, World Wide Bearings, Vanson Leathers, Performance Machine, Belt Drives Ltd, Street & Competition, Simpson Race Products, Nitrous Express, APE, EK Chain, Arias Pistons, R/D Spring Corp, Autolite, MSD, Protect ALL, Whipple Industries, Cometic Gaskets, B&J Transmission, Carolina Cycle, L.A. Sleeve, PJ1, Mickey Thompson Tires, Valco, Goodridge, Carlisle Belts and Gates Belts.