Hawaya Racing Team headed to Cecil County Dragway in Maryland this past weekend for the NHRA Lucas Oil Screamin Eagle Series race presented by Harley Davidson Motor Company. Johnny Vickers in his sixth NHRA event this year, was riding the #2 school bike, Janette Thornley, Rich Vreeland, Billy Jackson and Kevin Garrow rounded out the all Nitro Bike School graduate, all Derringer field.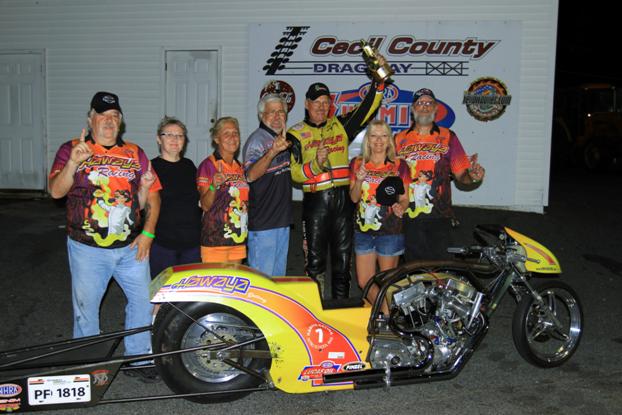 In qualifying, Vickers took the pole spot on Friday night with a great 7.278 ET @ 172.36 MPH which would serve as a back up for the national record set by him in Virginia at 7.260. HRP team mate Janette Thornley was fast all weekend and qualified in the #2 spot in the second round of qualifying running a 7.432 ET @ 171.10 MPH. Rich Vreeland qualified in the #3 spot with a 7.465 ET pass. Billy Jackson running his best numbers of the year was #4 with a 7.565 pass at 165.19 and Kevin Garrow rounded out the field, qualifying in the #5 spot with an early shut off 10.023 pass.
During the first round of eliminations on Saturday, Vickers had earned the bye run. Not wanting to loose lane choice and to see what the track would hold, Vickers ran it out to a 7.336 ET @ 181.47 MPH. Rich Vreeland ran a strong 7.402 pass to defeat Billy Jackson, and Janette ran another quick 7.319 pass at a great 182.65 MPH to defeat Kevin. This would give Janette a bye to the final to meet up with the winner of the match up between Vickers and Vreeland. In the semi-final match up, the track was at its hottest point for the day and the air was getting worse by the minute. When the lights came down, Johnny got the hole shot on Rich and went on to take the win running 7.373 @ 174.62 to Rich's quick 7.457 – 168.85 pass. Vickers 174.62 in E-2 was faster than the national MPH record held by Scott Bennett of 174.44 MPH, but not enough to back up the 181 pass. Janette in her bye run ran another quick pass of 7.384 @ 170.77 MPH This would pitch team mates Janette and Johnny against each other in the finals 's with only .011 seconds separating them in an all HRP-Derringer final. The weather conditions were the best it was going to be and the track had cooled as well. When the lights came down, Vickers and Thornley both had equally terrible reaction times. Janette was spinning a bit and had to ride it out, but Vickers on the #2 school bike was digging in. At the traps it was Vickers getting the win with a great 7.256 ET pass @ 174.87 MPH, which would give him both the NHRA National ET and MPH records.
"I had never run at Cecil County Dragway before so there were some unknowns for me tune up wise. We only had 2 rounds of qualifying due to it being only a Friday-Saturday show. The track personnel did an excellent job of keeping up with the track all weekend. I was really sweating Rich in the Semi's says Johnny. He was getting faster and faster each round. I had to really get up on the wheel against him. Janette was another hurdle I had to over come as well. She was fast all weekend. She is gonna win one of these things soon. "
The next stop for the Hawaya Racing Team will be in October at Rockingham for the fall Nitro Bike School and the AMRA finals.
Team Hawaya would like to thank our sponsors for their continued support and commitment to the sport of Motorcycle Drag racing as well as Walter and Norine Halonski & Janeane Diffin for their dedication to the Hawaya Racing Team.
VP Racing Fuels
Venom Group International
Vreeland's Harley Davidson
Mickey Thompson Tires
Vanson Leathers
PAC Racing Springs
Projack Race Lifts
CP Pistons
Pingel Enterprises