Big money, track records, a dramatic high speed crash, and quickest-ever side-by-sides were all part of the show when the Mickey Thompson MIROCK Superbike Series rolled into Steve Earwood's Rockingham Dragway for the 18th annual FBR Shop Summer Sizzler on August 15-17.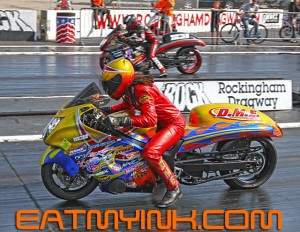 Highlighting the bill was the $5000 to win Nitrous Express Pro ET purse on Saturday—MIROCK's biggest-ever sportsman payout. A whopping 110 entries went mano y mano for the Big Money, courtesy of Rockingham Dragway, Schnitz Racing, the FBR Shop, Nitrous Express, Shinko/WPS, Shutt Electronics, and MTC Engineering.
Veteran MIROCK racer Dale Hamilton seemed particularly poised to take away the big prize, as he'd entered himself riding two separate motorcycles and both reached the semifinals! Both ended up on the same side of the ladder, meaning that Hamilton essentially had a bye to the final at that point. But on the flipside, he was denied the opportunity of putting both bikes in the final and ensuring himself the win.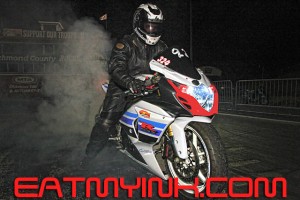 Meanwhile on the other side of the ladder, unheard-of Virginian Brian Guarino—racing his first MIROCK event ever—also had a bye to the final. Both riders were on streetbikes—Hamilton on a Suzuki Hayabusa and Guarino on an especially inauspicious GSXR. Big man Hamilton left first with a 9.66 dial-in, but Guarino left quicker with an .018 reaction time. Hamilton ran only .014 off of his dial but his .050 light did him in. The guy no one had heard of came in and took away the biggest payout ever away from the East Coast's toughest bracket racers.
"He's a good racer," said Hamilton, gracious in defeat.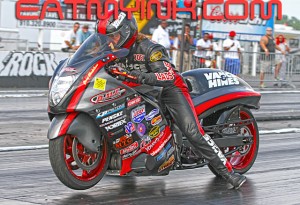 How did he pull it off? "I have no idea," said VMP track regular Guarino, still dazed in the winners circle with his wife, son, and Rockingham Dragway's Big Check. Guarino had an .017 light in the quarterfinals against dragbike specialist Alan Fields and ran .009 off of his dial for that win. "I'm just so happy I don't know what to say."
The Summer Sizzler was a double event for pro classes, with the rained-out Spring Bike Open still in play. The DME turbocharged 'Busas of champion Joey Gladstone, Jason Dunigan, Terence Angela and Ehren Litten were hoping to make it an all-DME Orient Express Pro Street semi for team boss Dimey Eddinger, but that dream ended in a dramatic way when Litten's right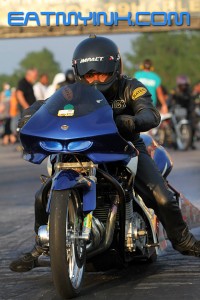 front fork snapped just before the finishline on his first qualifying pass Saturday. Litten tumbled and slid into Doug Gall's lane to the right while his bike grinded along the clutch cover hard into the left-side wall. Both Litten and the bike went through the traps separately with a 7.49 at 154 mph—good enough for fifth in Q1!
Litten was a little scraped and bruised but mostly OK. Gall got his bike stopped incredibly quickly and—always a joker—walked up to Litten with hands outstretched, saying "What did you do that for?" Litten's bike was covered in fork oil and not OK, requiring a thorough going over back at the DME shop in Winston-Salem.
Gall lost the Spring Open semi to DME's Angela, who then went on to face teammate Gladstone in the final. Aruban Angela had crucial lane choice and took the win when Gladstone floundered off the starting lane.
But there was no floundering for Gladstone when the Summer Sizzler eliminations ran on Sunday. Running consistent 7.0's except for that Saturday final against Angela, Gladstone blistered Rockingham's PJ1-prepped quarter mile with a track record 6.92 against Gall in the semis. Gladstone's dad (and engine builder) Skip quickly ran over to Rockingham starter "Little Man" and congratulated him for delivering a record-breaking track in the heat of an August afternoon in southern North Carolina.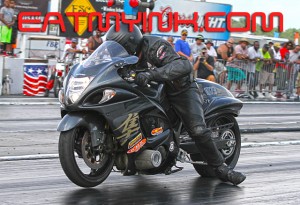 Dunigan beat teammate Angela in the other lane to set up the final against Gladstone. This time Joey had the lane he wanted and Dunigan pushed the tree in an effort to gain an advantage. It was too much. Dunigan redlit and Gladstone took the win.
Big man David Merks and tuner Roger Starrette have made steady progress with Merks' DME Real Street turbo 'Busa, culminating in a win at Valdosta a couple of weeks before the Summer Sizzler. Merks carried that success to The Rock, winning the Spring Open when teammate Jeremy Teasley redlit in the final. "I had to try something," said Teasley. "He was quicker than me."
Merks went to the final again on Sunday, this time facing Maryland winner Rickey Gadson and his turbo Kawasaki ZX14R. The result was what many railbirds are saying was the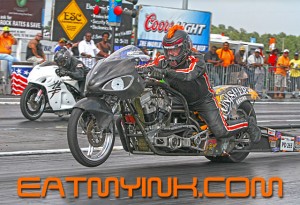 quickest-ever side-by-side Real Street race. Merks' 7.74 at 185 was quicker and faster, but Gadson's better reaction time put his 7.78 in the winners circle.
Dale Nilles' Pro Dragster nitro Harley won the Spring Open Louis Concrete 4.60 race on Saturday, overcoming number 1 qualifier Eran Pielert's .015 light in the final of the world's quickest motorcycle index class.
Gadson's nephew Richard joined his uncle in the Rockingham winners circle with his own 4.60 win on Sunday, and once again Pielert was the runner-up. It was the first time both Gadsons won at a MIROCK event.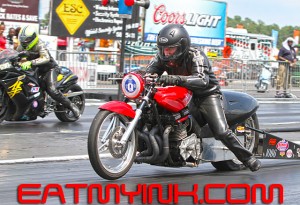 Tealsey may have stumbled in the class he usually dominates—DME Real Street—but he scored a Trac King/APE Top Sportsman win on Carroll Craft's 'Busa. Teasley rode the bike normally reserved for brother Cameron to the win when Kawasaki Kingpin Bob Carlson broke out in the final.
Teasley also rode Craft's 'Busa to the Cycle Connection Crazy 8s and FBR Shop 5.60 finals—a pretty remarkable result. Teasley lost Crazy 8s to young Kyron Drake, and 5.60 to Long Islander (and 5.60 points leader) Michael Ostrowski. Ostrowski nailed a .009 light aboard his dragbike.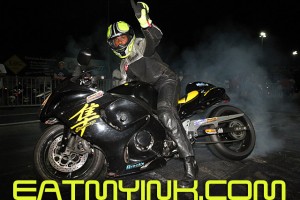 Scottie Keller won Nitrous Express Pro ET a day late, beating Shayne Proctor in Sunday's final when the purse was the standard $2000.
Barry Pryer Sr. hot-dogged his way to Saturday's Brock's Performance Street ET win over Baybay Yarbrough, showboating in the waterbox and flipping on his emergency flashers down track. Tennessee's Dustin Lee won on Sunday, beating Fun-For-All's Ron Arnold with an .019 light in the final.
Richard Gadson also lapped on the Anibal Merced-built "Deebo" grudge ZX14 in Afterdark Underground. Jeremy Tealsey was making passes on CJ400's '14, and one would hope these two camps would figure something out….they didn't.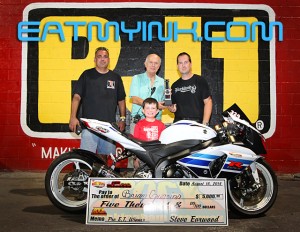 Top Fuel is back on the card when the Mickey Thompson MIROCK Superbike Series returns to New Jersey's legendary Atco raceway September 5-7 for the 45th annual Orient Express U.S. Motorcycle Nationals.
Find out more about PJ1 motorcycle products at http://www.pj1.com/
Find out more about the Mickey Thompson Performance Tires MIRock Super Bike Series: http://www.mirockracing.com
Find out more about Rockingham Dragway: www.rockinghamdragway.com
This report was prepared by Tim Hailey. Photos are for editorial use only. Enjoy everything there is to read, see and watch about motorcycle drag racing and more at http://www.eatmyink.com