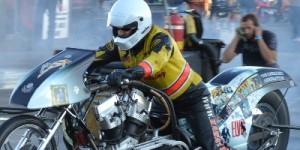 Johnny Vickers made it three wins in a row at the inaugural Manufactures Cup Indy race held in Indianapolis Indiana, and further advances his points lead in the Cup series. Vickers qualified in the #1 position running a 7.167 @ 177.63 MPH in qualifying round #2 which would stand for the remainder of qualifying. Eight highly competitive Pro Dragsters entered the event, each one trying to be the first to win in the inaugural Manufacturers Cup event at the famed Indy Drag strip.
THE RACE:
Over 760 entrants showed up at Indy to show what they had for the second Cup race of the year. Eight – AHDRA Pro Dragsters showed up to compete in the RUSH RACING PRODUCTS Pro Dragster class presented by Hawaya Racing. In round one of eliminations, Johnny defeated Walter Halonski on the #2 School Bike by running the record 7.495. In the second round of eliminations Johnny took on Nitro Bike School graduate Rich Vreeland, who was running really strong numbers all weekend. When the deal was done, Vickers got the win, but it wasn't pretty. "I spun the tire hard against Rich in the semi's and that got me out of the groove, says Johnny. Buy the time I recovered, Rich was long gone and there was nothing I could do but watch him get small in a hurry. But lady luck was on my side, as Rich also got out of the groove on the big end and clipped a cone, which disqualified him." In the finals, Vickers pitted the Hawaya Racing #1 School bike for the second Cup race in a row against the "Punisher" Dale Nilles, who is another Nitro Bike School graduate. In the end, Johnny got the nod running a 7.144 against Dale's 7.412 in what was a very good race for the fans. Vickers numbers for the final were the quickest of the entire weekend and only .016 shy of the all time record which he holds at a 7.128
"We went into the cup race expecting to run some good numbers, says Johnny. The famed Lucas Oil Raceway at Indy always produces a great racing surface and the weather was really cool for that time of year. The HRP #1 School Bike was really running strong and I was challenged all weekend with keeping the bike in the groove.
Johnny would like to thank RUSH RACING PRODUCTS for supporting our drag racing efforts and the Manufactures Cup race. VP Racing Fuels, Mickey Thompson Tires, Vanson Leathers, Purvis Motorsports, Raw Edge Photography, and Vreeland's Harley Davidson for their continued support. Johnny would also like to thank Steve and Leanne of HRP for all of their efforts that help make Hawaya Racing a success.