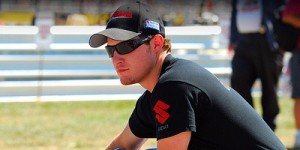 Although he wasn't even a teenager, Jim Underdahl vividly remembers when his dad, veteran Pro Stock Motorcycle rider Greg Underdahl, raced his way to his very first PSM final round in 1998 at Old Bridge Township Raceway Park. He also recalls the thrill when he reached the finals again the following year. Both times, the elder Underdahl had to settle for runner-up honors. This year, as the NHRA returns to the venerable quarter-mile for the 42nd running of the NHRA SuperNationals, 25-year-old Jim has the goal of going one step beyond his father's accomplishments: all the way to the winners' circle.
Coming off his best performance of the year with a semi-final finish in Atlanta, Underdahl feels extremely positive about the upcoming weekend in New Jersey.
"Dad had really good success at this racetrack, so we come into this race with good feelings anyway," Underdahl said. "Add that to our performance in Atlanta, and we're really pumped up."
Before the last event, the team rebuilt the carburetors on the Suzuki Extended Protection motorcycle to give a more open tuning range and greater control over the fuel-to-air mixture – something that Underdahl says will definitely come into play this weekend.
"We were able to work through some issues last time which gave us a lot more control over our fuel systems. This week, we've got a couple more things we want to try that should put us over the edge and get us from the middle of the pack into the top of the ladder.
"We proved that we can beat the Harleys, and now, we just need to go all the way through the finals. I'd love to share that Wally with dad – it'd be a pretty good early father's day gift," he said.