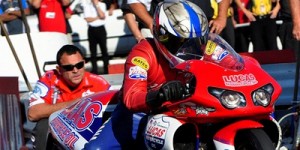 Perhaps no one is looking forward to the NHRA SuperNationals at Old Bridge Township Raceway Park more than Lucas Oil Buell V-Twin Pro Stock Motorcycle rider Hector Arana Jr.
The rookie rider had the best performance of his short career at the last tour stop in Atlanta, qualifying fifth on the elimination ladder and winning his first-round matchup.
But a loose fuel line in the second round kept Arana from advancing further, and the young rider was hopping mad.
"I really want to get back out there, especially after the mess that happened in Georgia," Arana said. "It was a shame. I was running well. I should have at least reached the semifinals. I'm just anxious to get back out there and go some rounds without any mishaps. I need to redeem myself."
The son of 2009 world champion Hector Arana Sr., Hector Jr. said the best thing he and his Lucas Oil team could take from Atlanta was simply to learn from their mistakes.
"Those things happen with a rookie team," Arana said. "We went ahead and made some checklist sheets, and they're going to be taped right on the bike so there is no way anything will get missed. We'll just go out there and try harder to be better."
This will be Arana's first time at Englishtown, where the weather forecast has temperatures in the 80s. It will also be his first time on a hot and greasy racetrack.
"I've never really been on one so it will be another learning experience," Arana said. "I'll just go out there, be careful, and have fun. Everybody's got the same track so there isn't any big advantage for anyone. We should be fine."