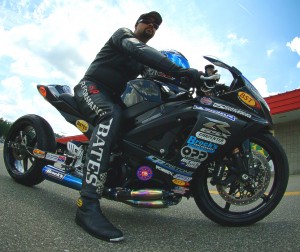 Brock's Performance-equipped Keith Thompson set a major drag-racing milestone at the AMA Dragbike Summer Nationals, becoming the first racer to reach the 7s in the BST Real Street class.
Thompson scored the record-setting 7.98/172.39 pass on his HTP Cycles-prepared 2007 GSX-R1000 using a trio of premier Brock's Performance brands: carbon fiber wheels from BST, Brock's patent-pending TiWinder, a titanium, elliptical, side-mounted exhaust system and a Brock's Dragshock by Öhlins.
Real Street is a limited-budget class with heads-up, no-breakout competition. Although internal engine modifications are unlimited, Real Street power levels are controlled by mandating an OEM-style, non-lockup clutch. Real-world reliability is proven in 10-mile road course tests at selected events.
This run was laid down during Saturday's first round of qualifying and backed up within one percent for the record books as Thompson climbed to the top of the ladder.
"The 8.01s and 8.02s have been coming easily, so I wanted to be the first guy in the sevens," said the 42-year-old straight-lining veteran from Upper Marlboro, Maryland. "Finally, I got that monkey off my back. I'd like to thank Brock's Performance for sponsoring me this year and Brock Davidson for all his tuning help and advice this weekend."
Without enough time for his bike's clutch to cool from an earlier run, Thompson went out in the semi-final round, but continues to lead the BST Real Street championship point standings with four rounds of the series remaining.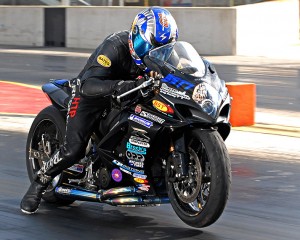 Thompson's accomplishment resonates with Davidson, Brock's Performance president and a former American Suzuki Motor Corporation-sponsored racer who, in 2000, was the first man to take a street-legal motorcycle into the seven-second bracket.
"After watching Keith run last year, I knew he would really fly with our products," said Davidson. "Drag racing is all about control and attention to details, so we chose Keith and Team HTP to prove the strengths of our exclusive product lines. This milestone is an accomplishment that can never be duplicated. In racing, records are made to be broken, but only Keith can stake claim as the first to run a seven-second pass in the Real Street class."
For more information on all of Brock's Performance parts and race team reports, go to BrocksPerformance.com.
About Brock's Performance
Brock's Performance leads the way in sportbike innovation for acceleration addicts. From exhaust systems to wheels, this championship-winning company designs, builds and sells more than 1000 products that make it easier and safer for racers and street riders to reach record-breaking results through a never-ending process of research, development and track testing.
About BST
Based near Johannesburg, South Africa, BST engineers and manufactures the world's finest carbon fiber motorcycle components—from wheels and frames to fuel tanks and fenders—to the highest international standards. In America, the company sponsors the AMA Dragbike BST Real Street series and offers more than $10,000 in contingency awards for the class.
Photo Credits
Action: Chris Simmons Photography
Static: Cynthia Higgons, Inspirations Photography