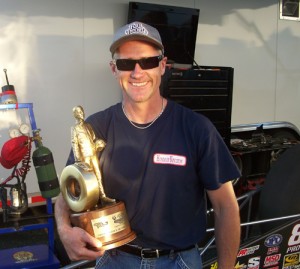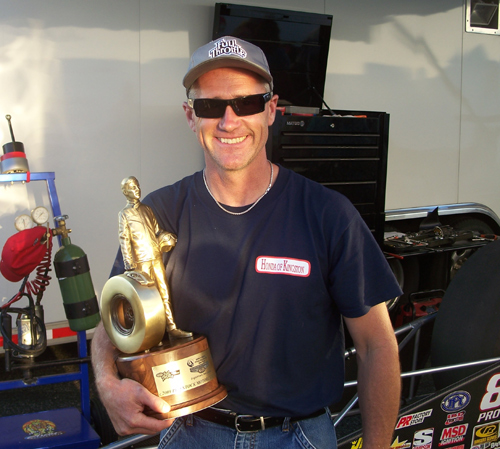 "We got West Coast money!"
These were the words of a pumped-up Craig Treble from his pit area in Englishtown, NJ, moments after tasting victory for the second time this season.
Treble is running on pure adrenaline while his racing budget is running solely on his winnings.
Treble parted ways with long-time sponsor Matco Tools in 2008 and was unexpectedly released from the Don Schumacher team prior to this season. At the outset of the 09 NHRA tour a sponsor-less Treble planned on making it to only the first three races, unless he could secure a primary sponsor. Treble didn't land major funding but something changed his plans – namely the win light, which always seems to be illuminated in his lane.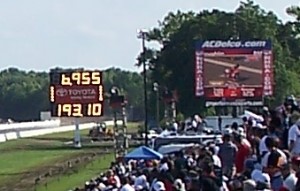 After defeating a quicker Ed Krawiec on a holeshot in the Englishtown final with a stellar .007 bulb, and a 6.95 to Krawiec's 6.90, Treble extended his 2009 win-loss round record to an impressive 11-4, with three final round appearances.
The victory was a nice way for Treble to thank his friends at Honda of Kingston, who helped out with a one-race sponsorship deal.
With the purse money from Englishtown Treble has enough funding to follow the series out west later this summer.
He's defying logic. To say he's under-funded for a professional racer is a huge understatement. He doesn't even own a motor.
Let me write that one more time. Craig Treble, No. 4 in the Full Throttle Points Series, does not own a motor.
Treble is winning on his 10-year old chassis and an updated five-year-old power plant from he borrows from his friend and teammate Michael Phillips.
"Michael is the reason I'm out here. He's the reason I won this race," Treble said. "All I have left is a rolling chassis and a bracket bike."
Treble gave his old motors to his former team owner Harry Lartigue.
"Harry was the one paying for the updates and keeping the motors fresh, so I told him he could keep them," Treble said.
Treble and Lartigue split last season.
Treble is proving in Pro Stock Motorcycle piles of money can't always trump an incredibly talented rider/tuner with years of experience.
"I'm still racing the same way I always have," Treble said. "Over the years I've worked with some really smart crew chiefs and I've learned a few things."
Treble's best season ever came in 2002 when he won the first two races and went to seven finals.
Lightning Never Strikes Twice?
In Englishtown PSM rookie Bailey Whitaker proved lightning does indeed strike twice.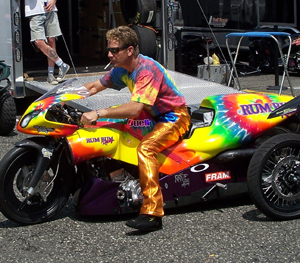 In a freaky tale from the St Louis race earlier this season, Whitaker was literally struck by lightning while sleeping in his team's RV. Initially Whitaker thought it was all just a bad dream, until others in the motor home smelled something burning.
Later doctors determined the lightning exited through Whitaker's finger, but amazingly he was not seriously injured.
At the Supernationals lightning stuck again for Whitaker, this time figuratively. Whitaker qualified last with a 7.18. He was able to make the field because there were only 16 competitors entered.
In the opening round Whitaker pulled off a giant upset by defeating pole-sitter Hector Arana. A mishap on the starting line caused Arana a .326 light and Whitaker's .056 and 7.15 were enough to oust Arana's quickest pass of the weekend at 6.96.
It was the first PSM round win of Whitaker's career.
In round No. 2 rookie sensation Doug Horne suffered his first NHRA eliminations red light, handing Whitaker career victory No. 2.
Just like that a rider two-tenths of a second behind the leaders is just a win away from the final.
Whitaker's Cinderella-ride ended in the semifinals when Ed Krawiec ran 6.95 to Bailey's 7.19.
Not only did Whitaker prove lightning can strike twice, he proved if you qualify, you can win.
They're Back….
No one was quicker on Sunday than Screamin Eagle V-Rod rider Ed Krawiec who ran a 6.906 in the final.
This comes just one race after having 20 extra pounds added to his Harley per NHRA rules. I thinks it's safe to say the V-Rods have figured out how to use the extra weight.