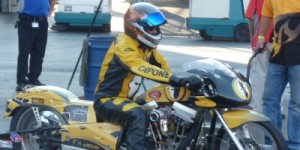 Now that Team HeadBlade and Capone Racing have made their big Nitro announcement, some folks thought or hoped they were done this season with the Pro Mod and Pro Gas program. Well get ready because they're making plans for the AMRA
KilKare Raceway at Xenia, Oh.
Capone, "We have the bikes, they're still quick, fast and fun, so why not go out and have a good time. We do have a couple potential tire kickers in the Ohio area, so we thought we'd see what the market will bear and try to run some numbers."
Mark Godin, crew chief and Capone are excited about the Nitro School, but want to wrap up this AMRA as high in the points as possible with a limited series. "We want to finish in the top 5, as we wind down our gas career. We've been really pleased with our sponsor enthusiasm for the change from Gas to Nitro."
Capone's team consists of Mark Godin, Erin Capone,Lorne Buchanan & Katy Miller and Tucker Barnes.
Capone Racing sponsors and friends supporting Capone include: HeadBlade Inc. G&G Engineering, DAS Performance,
L. Buchanan Co., Gannos Machine, Energy One Clutches, PR Factory Store, Vanson Leathers and all the staff at Capone Landscape.
Capone can be reached at:
facjr88@yahoo.com
781-224-0700
www.caponeracing.com
Friend—Frank Capone on Facebook.