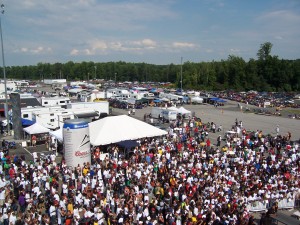 This year's MIROCK WPGC Bike Fest on July 25-27th at MIR is going to be NUTS!
1st… We are up about 100 racers per MIROCK event this year over last year. This growth has MIROCK events well over 600 racers per event!
2nd… We are looking at close to double the amount of East Coast Stunt Jam participants this year from the commitments we already have (50 competitors last year to over 100 this year)
3rd… We have a SOLD OUT vendor midway this year with over 1500 feet of vendors and 41 companies on display!
4th… We have always had one band each year at the MIROCK WPGC Bike Fest, but this year we have 2 bands (CCB and TCB) plus 5 other additional artists performing for a total of SEVEN ACTS! Acts are lined up that want to perform at the WPGC Bike Fest!
5th… WPGC has been burning through radio spots promoting the event and the demand for tickets is overwhelming at the station. Street teams have been putting flyers on the streets, direct mailings with flyers have gone out to thousands of racers, we have been promoting the event to 58,000 fans on our MIR and MIROCK FB pages, flyers inserted in orders and packages from our sponsors, web banners and links on media sources, advertisements in national magazines, e-list promos sent, cross promotions with other events like the AMA Motocross Nationals and various other major events, website listings on motorcycle events, and good old gorilla marketing and networking.
5th… And last but certainly not least a 5-second, 240mph TOP FUEL match race with Larry McBride and Dave Vantine has been added to this event, and will draw even more fans to the legendary WPGC Bike Fest.
All of this plus 13 years of rich history at the MIROCK WPGC Bike Fest for an event that hosts Drag Racing, a Bike Show, Live Bands, a Stunt Bike Competition, a Bikini Contest, Beer Garden and a HUGE sold out vendor midway will make this year's MIROCK WPGC Bike Fest an event that will truly be an EPIC EVENT!
Mickey Thompson Tires MIROCK Superbike Series
14th annual WPGC Bike Fest
Maryland Int'l Raceway on July 25-27, 2014