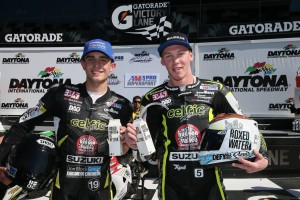 Celtic Hudson Valley Motorcycles Suzuki riders Corey Alexander and Wyatt Farris had very different weekends at the Mid Ohio Sports Car Course. This was the second two day event on the AMA Pro Road Racing schedule, and with the heavy rains and reduced track time, all the teams had very limited practice and tuning. Saturday was basically a wash out, which forced a very busy schedule for Sunday, with both SuperSport events in the afternoon. Since there was no time for an official qualifying session, the first race grid was determined by the points standings, which put Alexander on pole, with Farris starting from fourth. In the Sunday morning warm up session, Alexander was second fastest, with Farris in fifth position for what was essentially the only practice session before the races that afternoon.
In race one, Alexander got a strong start on his #5 Celtic/HVMC Suzuki GSX-R 600 and was making up some time on Gillim and Dominguez who had passed him in the middle of lap one. Unfortunately, Alexander crashed while exiting turn four on lap four, uninjured but putting an end to his race. Farris slipped into sixth at the beginning of the race on his #19 Celtic/HVMC Suzuki GSX-R 600, but with some determination and skill managed to work his way past Blevins and Camacho to take third place by lap seven. Farris continued to do close battle with the two riders near him, and would finish a strong third, his third podium finish of the season.
Race two was later in the afternoon on Sunday, with grid positions for both Alexander and Farris determined by their race one lap times. As they were on the grid waiting for the start, Alexander noticed a problem with his front brakes, and was unable to start the race. Farris got another good start, and was putting in consistently quick laps in fourth position for much of the race chasing the lead pack, until he slipped into fifth when De Keyrel worked his way past on the final lap.
Wyatt Farris was pleased to score some points and visit the podium again at Mid Ohio, stating "I'm happy to get back on the podium with a third, and bring home a fifth for the Celtic/HVMC Suzuki team and our sponsors. Even though they may not be quite the results I'm looking for, or the results we know we can get, any time you're on the podium it's a good day. I'm going to use this seven week break to work on a few things, and head to New Jersey looking to improve our results. A massive thank you to my team, our sponsors and my personal sponsors: Jon Block Group, Cortech, Shoei, Defy All Odds Apparel, Above Category, and CT Racing." You can keep up with Wyatt Farris via Instagram or Twitter @wyattfarris19 or join him on Facebook at www.facebook.com/wyattfarrisracing . Wyatt moves into third position in the points standings, with 144 points, behind Dominguez and Gillim, and just ahead of his teammate Alexander in fourth.
Corey Alexander was very disappointed with how the weekend at Mid Ohio progressed, and said "I guess bad luck comes all at once when it does come. This weekend started off rough just from the weather alone, which cut down the whole weekend to essentially one day. With that said, I felt we had a really good bike and a lot of potential to do really well. Unfortunately the unpredictable track surface caught us out in race one which ultimately caught us out in race two with a brake failure induced by the crash. With such a short schedule it puts a lot of pressure on the whole team to get everything together in a big hurry, and very little time for the riders to get a feel for everything. It's unfortunate for the team, the sponsors, and myself to be plagued with such bad luck especially with such high potential and a strong start to the season. The only thing we can do is move forward and hope to dominate at our home track, New Jersey Motorsports Park in September. Thanks to all of the sponsors and people who made this season possible. It is unfortunate when things don't go as expected as we owe it to all of you to get a good result." Corey's personal sponsors include: MJRS Freeman, Spidi Leathers, XPD Boots, Arai Helmets, Boxed Water Is Better, Defy All Odds Apparel, Oakley, Crossfit OSA, and Lapizta Watches. Please follow Corey Alexander on twitter and Instagram via @corey5alexander , keep track of him on Facebook at www.facebook.com/corey5alexander , and check out his webpage – www.corey23.com – as well. Alexander slips into fourth position in the points, just three points behind his teammate Farris.
Sponsors for the Celtic/Hudson Valley Motorcycles Suzuki team include: HVMC Racing, Suzuki, MJRS Freeman, Orient Express, Jon Block Group, Yoshimura R&D, Bazzaz, Gemini, K-Tech Suspension, Pitbull, Maxima Racing Oils, Galfer, Chicken Hawk, Motion Pro, Armour Bodies, Saddlemen, Star School, DesignStar3, Zero Gravity, Signs Ink, GB Racing, DID, and Vortex.
CELTIC RACING
Celtic Racing was established in 2001 by Barry Gilsenan, and over the past 13 seasons has established itself as a premier privateer racing team. Celtic Racing has seen consecutive championship seasons in AMA Pro Racing SuperSport from 2012 to 2013. Development of riding talent began with two-stroke 125cc, and 250cc machines competing in professional and regional championship events. More recent Celtic Racing efforts have focused on AMA Pro Road Racing in the Daytona SportBike and SuperSport classes with Ducati, Honda, Suzuki, and Yamaha four stroke motorcycles. Gilsenan's talent for coaching racers of all ages and abilities has brought Celtic Racing worldwide attention and recognition, with many former Celtic Racing riders now competing on World Championship levels. For more information regarding Celtic/HVMC Suzuki please join us on Facebook at www.facebook.com/celticracing and follow @celticracing on twitter and Instagram – we appreciate all your support!
HUDSON VALLEY MOTORCYCLES
Hudson Valley Motorcycles has been serving New York's Hudson Valley and Westchester County as well as Connecticut, Massachusetts, New Jersey, and greater New England with Ducati, Kawasaki, and Suzuki Motorcycle/ATV Sales, Parts, and Service since 1966. Established by Richard Alexander Sr, the dealership is a family run business with employees who have been part of the family for decades in some cases. With deep and long standing customer relationships around the region, Hudson Valley Motorcycles is known for outstanding customer service, in-depth product expertise, and the foremost service department for machines of all brands. Please visit www.hvmotorcycles.com, join them on Facebook at http://www.facebook.com/HVMotorcycles or follow them via @hvmotorcycles .
ORIENT EXPRESS
Established in 1973, Orient Express is celebrating its 41st year as a high performance motorcycle parts distributor and race shop. Orient Express offers engine and motorcycle building services, precision machine work, suspension servicing, and dyno tuning services. Orient Express has an extensive history of racing, including support of both professional and amateur race series and individuals. For more information regarding Orient Express, or to find out what Orient Express can do for your racing success, please call 800.645.6521 or 631.231.9552 (NY/International), visit http://www.orientexpress.com or join them on Facebook at http://www.facebook.com/OrientExpressRacing .