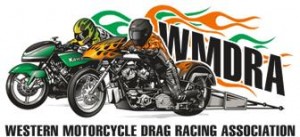 The Western Motorcycle Drag Racing Association (WMDRA) is excited to welcome Cardo scala rider® as an Associate Sponsor of the 2014 AMSOIL Sturgis Nationals, taking place August 5 and 6 at Sturgis Dragway, during the 74th Annual Sturgis Motorcycle Rally.
Winning drag racing teams know that communication is the vital link to success. Rocketing down the dragstrip, the race bike communicates its track response to the rider, who communicates what the bike is doing to the crew chief. A winning tune up comes together from these communications. And no one links vital communications together better than Cardo Systems.
The WMDRA is proud to announce that Cardo scala rider® will sponsor the "Good Call" award with a Q3 MultiSet communication system to the crew chief with the best tune up as evidenced by most improved performance during competition. As judged by legendary crew chief Jackie Hill, wife of 1990 Sturgis Hall of Famer Pete Hill, the crew chief that makes the crucial "Good Call" yielding peak performance on the track when it counts the most, will be selected for this award.
According to WMDRA President Sandra Alberti, "Crew Chiefs are the unsung heroes in our sport and we're thrilled to recognize them at Sturgis this year with the generous support of Cardo scala rider®."
"We at Cardo scala rider® are extremely excited to be involved with the WMDRA. We look forward to continuing our involvement with such an outstanding group in our industry," says Jamie Cheek, Director of Sales North America.
Headquartered in Pittsburgh, PA, Cardo scala rider® is the market leader in Bluetooth® communication systems for motorcycle and other head protection helmets. With the introduction in 2004 of the scala rider® Bluetooth line of headsets, Cardo scala rider® literally pioneered a new product category that was non-existent until then and as their product line gradually expanded, they added many "firsts" in terms of features and functions. Today, the scala rider® line not only includes the most advanced devices in the category but also the widest spectrum of products, from solid entry level products to the most feature rich communication and entertainment system available.
Communication in motion™, reflects best what Cardo scala rider® provides: Empowerment of people who are on the move with the finest communication and entertainment devices available.
WMDRA racing is scheduled for August 5 and 6 at Sturgis Dragway, located at 20523 Hwy 79, just off Hwy 34 between the Full Throttle Saloon and Buffalo Chip Campground. Competition qualifying begins at 3:00 p.m. on Tuesday, with Eliminations at 3:00 p.m. on Wednesday. Tickets are just $15/day or $25 for a two-day pass.
For more information on Cardo scala rider®, please visit them online at http://www.cardosystems.com/.