Hawaya Racing Team headed in different directions – Johnny Vickers and Janette Thornley for the NHRA Lucas Oil Screamin Eagle Series race presented by Harley Davidson Motor Company at Rocky Mountain Raceway in Utah and Rickey House and Rebel Glover headed to the American Motorcycle Racing Association race in Bowling Green Kentucky.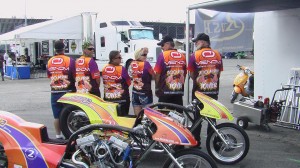 Johnny Vickers in his seventh NHRA event this year, was riding his No. 1 nitro school bike and Janette Thornley and Bill Bentz rounded out the short field.  With the AMRA race and the CMDRA finals going on simultaneously, the Pro Fuelers were split up all over the country.
Saturday's qualifying was a wash out. It rained all day long and a bike was never fired. On Sunday, weather improved and the NHRA officials gave everyone one shot at qualifying and then straight to eliminations. Vickers took the pole spot with a 7.73 ET @ 164 MPH. HRP team mate Thornley qualified in the second spot with Bill close behind in third.
During the first round of eliminations on Sunday, Vickers had earned the bye run. Due to qualifying raining out on Saturday, Johnny needed to get on a good tune up in a hurry. Running it out, Vickers improved on his qualifying time running a 7.66 ET. Bill third in points and Janette, second in points lined up against each other for their match up. On paper, it looked very close, but when the smoke cleared, it was Bill advancing with low ET of the meet, running a great 7.54 pass.
This would put Bill now #2 in points behind Johnny and move Janette to 3rd. In the final, Bill had lane choice over Vickers. When the lights came down, Vickers .082 reaction time had a slight advantage over Bill's .102. In the closest race of the weekend, it was Bill Bentz getting the win over Vickers, running a 7.59 ET to Vickers 7.62. Margin of victory, 9/1000ths of a second.  Congratulations to Bill & wife Vicki on a job well done!
"I had never run at Rocky Mountain Raceway before so there were some unknowns for me tune up wise, Johnny says. It's been since the mid- 1980's since I have run at that altitude which was over 6000 feet the entire weekend. We did not get any rounds of qualifying in due to the rain. So, Janette and I were definitely at a disadvantage. Bill has much more experience at that altitude and it showed. The #1 qualifying spot and runner-up finish put me over one race ahead of second place points wise, so that championship pressure is now off me. It won't be official until the last race in Vegas, but that's a done deal. My focus now is getting the new Terminater bike up to speed and concentrating on R&D. I have a big list of new ideas and designs I want to test out and that is my focus for the next year.
At the AMRA race in Bowling Green, Ky. Rickey House qualified in the #2 position on his HRP built Top Fueler and went all the way to the finals. During the warm up just before he was to face off against Randal Andras, a fuel system problem was discovered. With not enough time to trouble shoot and resolve the problem, Rickey elected not to make the run and take a chance on damaging the engine, handing the win to Randal. In Pro Fuel action, 12 P/F bikes were on hand. Rocky Jackson qualified in the #1 spot and would have a bye run in the first round. Rebel Glover wound up in the #3 spot with a 7.38 ET. In the first round of eliminations, Rebel advanced over George Elliot to face off with Dennis Fisher on the Dale Nilles tuned machine. In the second round, Rocky was matched up against Billy Jackson, who had run his personal best numbers during test and tune, both on HRP machines. In a good race, Rocky took the win to advance. In the match up between Rebel on the HRP machine and Dennis on the Dale Nilles bike, Rebel got a slight advantage at the tree and went on to advance, running a nice 7.413 ET to Dennis's 7.508. This pitted Rebel and Rocky against each other in the semi's. In that match up, Rocky proved too hard to hold and would advance to the finals against Clint Pleasant. In the end, Rocky Jackson stood alone at the top for the win.
Other action in Nitro Funny Bike, Rich Vreeland was running his personal best numbers on his HRP built bike as well. Rich has spent more time on the Funny bike this year getting up to speed and he improves each outing. Rich qualified 6th with a 7.239 @183. In the first round he beat points leader and # 3 qualifier Jake Stourder with a personal best ET of 7.092 to his 7.264 that put him up against current champion and # 2 qualifier Randal Andras. Vreeland got passed Randal with a 7.267 to his 8.472. That paired up Rich and Jim Doyle the #1 qualifier in the final, Rich spun the tire on the hit and the race was over. Jim went on to win with a 6.991 to Rich's 8.580.
The next stop for the Hawaya Racing Team will be in October at Rockingham, N.C. for the fall Nitro Bike School and the AMRA Jim McClure finals.
Team Hawaya would like to thank our sponsors for their continued support and commitment to the sport of Motorcycle Drag racing.
VP Racing Fuels
Venom Group International
Vreeland's Harley Davidson
Mickey Thompson Tires
Vanson Leathers
Lucas Oil
Projack Race Lifts
CP Pistons
Pingel Enterprises