The drag racing cliches "Anything can happen on race day" and "If you qualify you can win" often prove to be quite valid.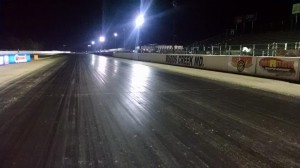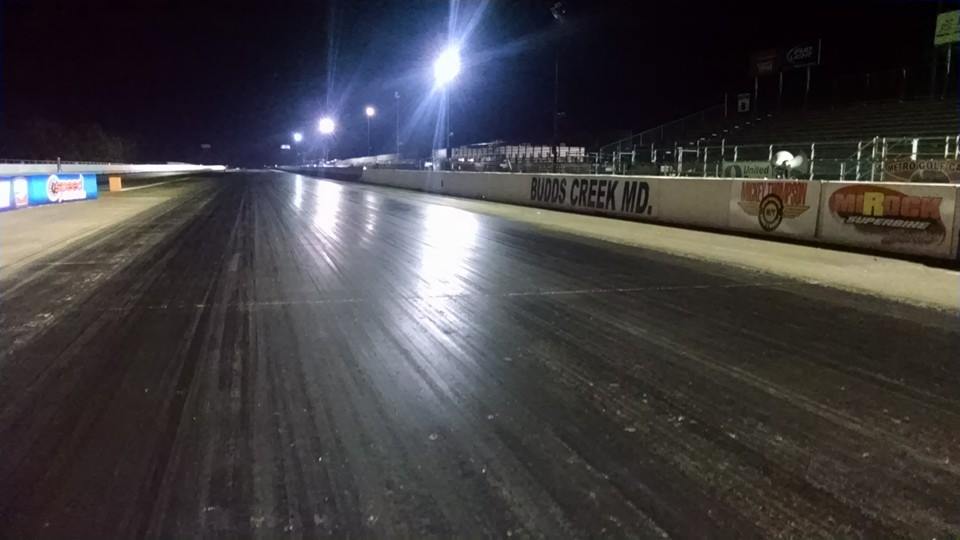 But for this weekend's much-anticipated MIROCK Fast by Gast Nationals, Oct. 3-5, where the nation's premiere Pro Street racers will assemble at Maryland International Raceway to fiercely vie for $10,000 in the Battle Royale, an original slogan would be more appropriate, "you better be in the sixes."
In fact, with over 40 competitors expected, performances constantly improving and a favorable forecast for one of the nation's quickest tracks, it could very well take six-second runs all throughout eliminations to reach the winner's circle.
In Friday's unofficial testing Pro Street racers were already laying down awe-inspiring numbers. Joey Gladstone ran a 6.85 at 219 mph right off the trailer, PST newcomer Justin Doucet stunned his colleagues with a 6.86 at 207 mph and Rob Budgell and Terance Angela both ran 6.99s.
The class has advanced at a brisk pace given just three years ago Ryan Schnitz became the first PST racer to record a sub-seven second e.t. at the 2011 Fall Nationals.  Now a total of 12 Pro Street riders have recorded six-second runs in official competition, and just last weekend at the NHDRO race in Indianapolis, Jeremy Teasley shattered Gladstone's 6.903 record by six hundredths with a 6.843.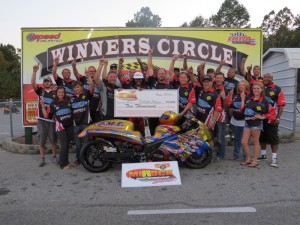 From a historical perspective, astoundingly, the final qualifying data will look much like an AMA Prostar Pro Mod motorcycle rundown from just a decade ago.  It's astonishing considering Pro Street bikes don't use wheelie bars or 11-inch/10.5-inch wide slicks. The machines apply horsepower to the dragstrip through a 190/50 17 street tire, which only has about a six-inch contact area.
To go back even further, in the 90s an eight-second streetbike was considered a marvel. It could take a low 6.80 to win this weekend.
Last season Aruba's Terence Angela scored the $10,000 prize with a final round 6.95 to 6.98 victory over Massachusetts' Tony Ficher.  It was the quickest side-by-side Pro Street run at the time. It's now the third.
Let's take a closer look at the 12 competitors who have been in the sixes in official competition.
1) Jeremy Teasley  (Turbo Hayabusa, career best 6.843) Although the dragstrips in Clermont, Ind. and Mechanicsville, Md. are about 650 miles apart and conditions may vary, how could anyone argue Teasley didn't cement himself as the clear Battle Royale favorite after recording four passes in the 6.80s and finishing with a new world record of 6.84. Teasley, a three-time Real Street champion has long been respected as one of the most talented no-bar racers in the country.  Early in the season, owner John Drake, who purchased the famous Hayabusa from Rodney Williford, struggled to iron out some issues, but it's crystal clear the team now has the machine running at its peak. Like a NASCAR driver or NFL team entering the playoffs on a win streak, Teasley is hot at the right time.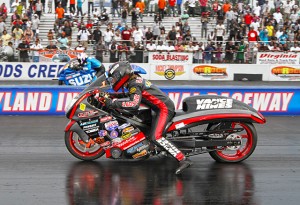 2) Joey Gladstone (Turbo, Haybusa, career best 6.90)  Nobody cringed harder when Teasley ran a 6.80 than Gladstone. The young rider on the stealthy and dominant DME/Vance and Hines Hayabusa recorded many 6.90 passes at MIR this season and expressed his strong desire to be the first to the 6.80s. Gladstone warned, "We need to make it happen because we are not always at the same races as everyone else." Those words proved prophetic as Gladstone followed Indy results from his phone.  Team DME will be out for redemption. Gladstone's father Skip builds the motors and will no doubt serve his son the best power plants possible. Also, no one has been more impressive at MIR this season. Gladstone enters the Battle Royale with a commanding 131 point lead, having won four out six races.
3) Ryan Schnitz (Nitrous Hayabusa, career best 6.90) Some have proclaimed Schnitz to be the greatest no-bar racer ever. The HTP team rider honed his skills in the AMA Prostar 600 Supersport class where rider finesse was vital.  Schnitz has even won on a NHRA Pro Stock Motorcycle. The irony here is the first rider into the six-second zone has seemed to have a harder time than anyone getting back below the seven second mark . MIROCK rules forced Schnitz to add 25 pounds to his machine since the 6.90. For 2014 crew chief Cecil Towner, as he put it, "changed everything except the VIN" on Schnitz's nitrous Hayabusa and has struggled to return to form. The team's best run this season is a 7.00. Will the team step-up when it matters most?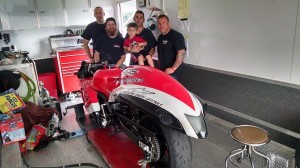 4) Tony Ficher (Supercharged Hayabusa, career best 6.90)  Proudly representing the category's lone blown entry, Team DAS finished runner-up at last season's MIROCK Battle Royale.  After the season the motorcycle was sold to Team Drag 965 of the Middle East and shipped overseas to Qatar.  The team began development on a radical, generation two, blown Hayabusa and made a substantial change, turning the cylinder head around, a performance design coined by legendary innovator Elmer Trett and still in use on today's Top Fuel Motorcycles. After arduous research and development proved somewhat disappointing and caused an absence from competition for the season, the team has returned to the conventional set-up used last year. DAS has tested the new machine but no numbers have been released. Ficher will be this weekend's wild card in his season debut.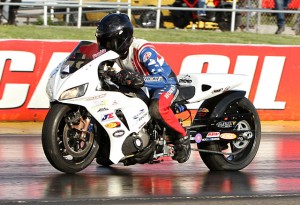 5) Frankie Stotz (Turbo CBR 1000RR, career best 6.908)  The category's only Honda is not to be taken lightly. Stotz is coming off a runner-up/6.91 weekend in Indy. In 2011, Stotz became the second PST rider to join the six-second club and he benefits greatly from the guidance and tuning of his father Kent Stotz, multi-time champion and legend of the class. The elder Stotz may be one of the most experienced turbo tuners in the pits. He has been innovating and pioneering "hairdryers" since serving as a crewman on T.J. Hofmeister's Mr. Turbo Funny Bike team in the early 80s.
6) Rodney Williford (Turbo Hayabusa, career best 6.91) Like a crafty MLB pitcher who always wins in October, Williford seems to thrive when the stakes are the highest. He's great on the tree, a three-time PST champion and a four-time series champion.  After selling his record-setting motorcycle to John Drake, Williford hit an early season slump on his new equipment.  Recently revealed as the mastermind behind Teasley's 6.84, one has to wonder if Williford is now capable of performances of that ilk himself?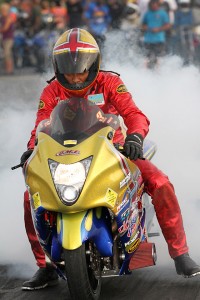 7) Terence Angela (Turbo Hayabusa, career best 6.95)  His career best run could not have come at a better time.  It earned him $10,000 last year.  The defending Battle Royale champion has been one of this season's most consistent racers.  Angela enters the event ranked No. 2 in the points series with one win and three final round appearances. He receives great support from team DME and crew chief Andy Sawyer.
8) Bud Yoder (Turbo Hayabusa, career best 6.97) – Although primarily a Midwest racer, 20-year plus motorcycle drag racing veteran Yoder is not a stranger to success at MIR. In 2009 he entered the Fall Nationals and left with a new MIROCK record of 7.11.  Yoder competed under Ronnie Mitchell Racing for several years with much success and now rides for McIntosh Machine and Fab.
9) Jason Dunigan (Turbo Hayabusa, career best 6.97) Any rider on MIROCK's version of John Force Racing, Team DME, should not be taken lightly.  The four-motorcycle squad is equipped with more resources and parts than any other. The team helped push Dunigan into the six-second zone earlier this season at the Manufacturers Spring Cup, making him the quickest 200-pound plus PST competitor.
10) Walter Sprout a.k.a Harold Finklemyer (Turbo Hayabusa, career best 6.97) An accomplished tuner and rider who worked with streetbike expert Coby Adams for many years is looking to continue moving up on the list.
11) Doug Gall (Turbo Hayabusa, career best 6.97) A multi-class competitor and last season's NHDRO champion, Gall ran his career best last weekend at Lucas Oil Raceway. Gall has been to a pair of MIROCK finals this season and enters the race ranked No. 3 in the points series.
12) Tyler Fisher (Turbo Hayabusa, career best 6.98) The son of accomplished bracket racer Doug Fisher, Tyler jumps on a Pro Street bike any chance he gets. Fisher has filled in on a Ronnie Mitchell Hayabusa this season. Winning $10,000 could be a game changer for the young rider's program.
Others to watch – Mark Paquette (Turbo Hayabusa, career best 7.00 (NHDRO Indy)), Darion Payne (Turbo Hayabusa, career best 7.03,) Ehren Litten, returning from a crash earlier this year in Rockingham (Turbo Hayabusa, career best 7.03), Richard Gadson (Turbo Hayabusa, career best 7.04 (NHDRO Indy)) Rob Budgell (Turbo Hayabusa, 7.05)  and Danny Cox, winner from MIR's June race (Nitrous Suzuki, career best 7.08)
For the complete list of confirmed riders click here