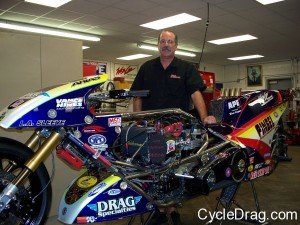 Top Fuel Motorcycle legend Larry "Spiderman" McBride hit the books over the winter.
Like a college student preparing for a final exam, the 10-time world champion studied every aspect of his team's performance.  McBride broke down video of his runs, scrutinized the data from his motorcycle's on-board computer, consulted with other nitro experts, researched past tune-ups and inspected every component on his record-breaking motorcycle.
It is safe to say the Spiderman is highly motivated to reach new heights.
"We found a lot of horsepower last year.  Our problem at the last race (The Manufacturers Cup in Valdosta, Ga., last Nov.) was figuring out how to get that power to the track," McBride said.  "It wasn't until the final that we quit smoking the tire."
Despite over-powering the drag strip for most of the weekend and abnormally qualifying on the bottom half of the ladder, McBride used some good fortune and tireless work to overcome adversity and win the first-ever Manufacturers Cup.   McBride is hoping for a less stressful road to victory at the forthcoming Spring Manufacturers Cup, Apr., 7-10, from Valdosta, Ga.
"We are expecting another great turnout in Top Fuel.  It isn't going to be easy," McBride said.  "I'm hoping we can find more consistency than we found last time.  It will be important to make a good pass early and get to the top of the ladder."
The only off-season work left to complete for McBride is refurbishing four of his 1500-horsepower plus engines.  In total, McBride will bring six engines to the Cup.
"We are going to make some updates to each motor and ensure everything is fresh," McBride said. "We will put all new valve seats in the head, replace the pistons and rings, rod bearings, main bearings and whatever else needs done."
McBride and his brother Steve left the mechanical work for last because for them, that's the easy part.  McBride hopes the team's off-season studying will make the biggest difference and yields the results he has been waiting for.
"I'd love to retire this bike with a 5.60 run," said McBride, who plans to debut a new Top Fuel motorcycle later this year.  "We have the power to do it.  Hopefully we have the right tune-up.  If not, we will keep working until we find it."
McBride thanked; Pingel Enterprise, Drag Specialties-Parts Unlimited, Red Line Synthetic Oil Corporation, K&N Air Filters and Web-Cam as well as his other sponsors.
Trim-Tex Drywall Products, Vance & Hines Motorsports, PR Factory Store, Muzzys Performance, Ferrea Valves, Kibblewhite, Precision Machine, World Wide Bearings, Vanson Leathers, Performance Machine, Belt Drives Ltd, Street & Competition, Simpson Race Products, Nitrous Express, APE, EK Chain, Arias Pistons, R/D Spring Corp, Autolite, MSD, Protect ALL, Whipple Industries, Cometic Gaskets, B&J Transmission, Carolina Cycle, L.A. Sleeve, PJ1, Mickey Thompson Tires, Valco, Goodridge, Carlisle Belts and Gates Belts.